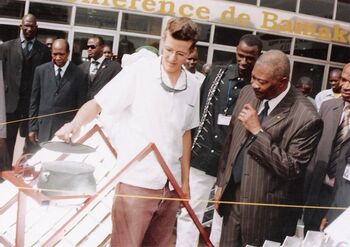 The Iron Butterfly is Lorin Symington 's adaptation of the Papillon cooker developed by Dipl. Ing. J. Dessel in collaboration with Prof. Bernd Hafner and the Solarinstitut Jülich in Germany.
The goal was to build a similarly convenient and powerful cooker that can be built with materials available anywhere in the world. Lorin's solar cookers are primarily mirror arrays on steel frames. Mirror and steel profiles are available in nearly all countries and are familiar working materials for many people.
The Butterfly performs very well, boiling 4L of water in 35 minutes. The sturdy construction means that it is stable in even windy conditions.
Lorin built the Butterfly at the request of the Malian Minister of Women's Promotion, Children, and Family Sina Damba Maiga. The butterfly was later presented to the President of Mali, Amadou Toumani Touré during the SAHABA conference in Bamako in 2008.
If you would like a step by step construction manual contact Lorin Symington, or try the link below:
External links
Edit
See Lorin Symington.