Deutsch, Ελληνικά, Español, Français, Indonesian, Italiano, Kiswahili, Kreyòl ayisyen, Melayu, Português, Русский, Soomaaliga, Tagalog, Tiếng Việt, Türkçe, தமிழ், नेपाली, 中文, اردو, 한국어, 日本語, العربية, فارسی, עִברִית, हिन्दी, ไทย, বাংলা, తెలుగు, ગુજરાતી, ລາວ
We invite you to take a
short survey
to help us improve this website.
Last updated: May 1, 2014      
News and recent developmentsEdit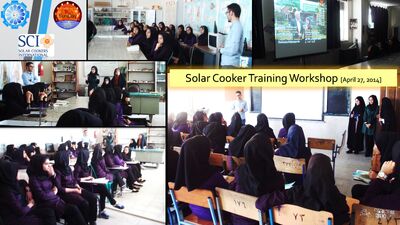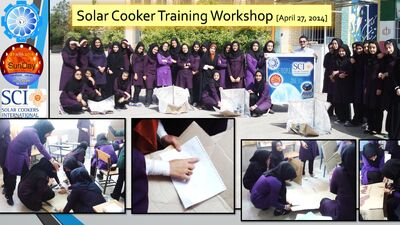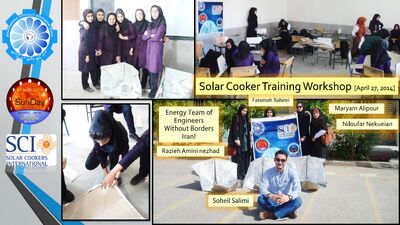 April 30, 2014 Soheil Salimi, founder of Engineers Without Borders - Iran, conducted a solar cooking workshop at Hafez high school for girls. Other members of the Energy team included Razieh Amini nezhad, Fatemeh Rahimi, Niloufar Nekueian and Maryam Alipour.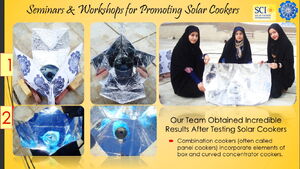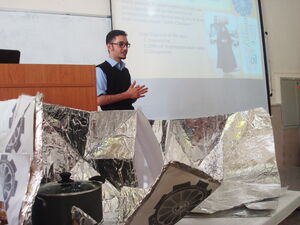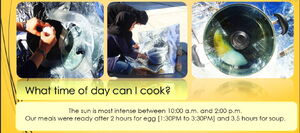 December 2013: Engineers Without Borders - Iran (EWB-Iran) participated in "Research Week" (Dec. 14 - 20, 2013) at Fasa University, highlighting the importance of solar cookers. In this seminar they informed students and professors about the different types of solar cookers and their efficiency. The team included Soheil Salimi (Founder and Lecturer), Razieh Amini nezhad (Food Science and Technology student), Niloufar Nekueian (Mathematics student), and Fatemeh Rahimi (Mechanical engineering student). They tested two types of solar cookers. The Suntastic Panel Cooker, which raised the internal temperature of an empty 4-liter black pot with a clear glass lid to 150° C (302° F) in about 30 minutes, and 3 liters of water heated from 26° C (79°F) to pasteurization point, 70°C (158°F), in about 50 minutes. They also teseted the Dual-Setting Panel Cooker (DSPL), which has two different settings to better concentrate sunlight according to the sun altitude.

More information can be seen at User blog:Soheil Salimi
Climate, culture, and special considerationsEdit
ResourcesEdit
July 2006: Solar Picnic (Presented by Amir Komarizade at the Granada Solar Cooking Conference)
Translations of English documents into FarsiEdit
DocumentsEdit
Articles in the mediaEdit
Web pagesEdit
Iran contactsEdit
Non-governmental organizations (NGOs)Edit
Government agenciesEdit
Educational institutionsEdit
IndividualsEdit
Manufacturers and vendorsEdit
ReferencesEdit