Deutsch, Español, Français, Hausa, Igbo, Indonesian, Italiano, Kiswahili, Kreyòl, Malagasy, Melayu, Português, Русский, Soomaaliga, Tagalog, Việt, Türkçe, Yorùbá, Ελληνικά, தமிழ், नेपाली, 中文, اردو, 한국어, 日本語, العربية, فارسی, עִברִית, हिन्दी, ไทย, বাংলা, తెలుగు, ગુજરાતી, ລາວ, ਪੰਜਾਬੀ, සිංහල, پښتو
Most significant projects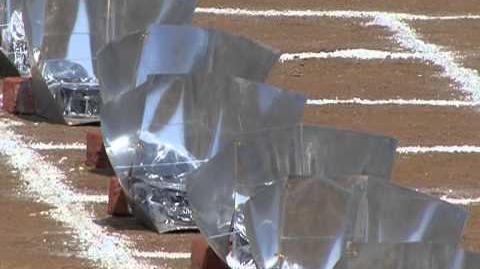 RAHHHHHHHHHHHHHHHHHHHHHHHHHHHHHHHHHHHHHHHHHHHHHHHHHHHHHHHHHHHHHHHHHHHHHHHHHHHHHHHHHHHHHHHHHHHHHHHHHHH
Events
NEW: 

January 16-22, 2017: (Vadodara, Gujarat,) Solar Cookers International is organizing the next solar cooking conference to take place at the Muni Seva Ashram in Goraj (near Vadodara), Gujarat, India from 16-22 January, 2017. Topics to be addressed include: solar cooking, solar food processing, energy policy, and solar thermal industrial applications. More information...
See also: Calendar of events
News and Recent Developments
September 2013: The Oil and Natural Gas Corporation (ONGC), a public company in Ahmedabad, India, is distributing solar box cookers to villagers as part of a conservation program designed to make people aware that by using solar cookers to bake and simmer they can save their LPG for specific cooking needs and save money by reducing their consumption of this expensive fuel without having to give it up entirely. For more information, contact Devang Joshi at Rudra Solar Energy.
July 2013: Scheffler solar kitchen installed at Mt. Abu spiritual center -The Scheffler Community Kitchen has been installed as a collaboration between the Academy for a Better World and Brahma Kumaris World Spiritual University, with technology from Solare Brücke, Germany. With 84 receivers and cooking at 650 degrees, the system can produce up to 38,500 meals a day when the sun is at its peak. Read more...
May 2013: It was a solar week at Barli Development Institute for Rural Women in which a week-long solar cooker training of SK-14 solar cookers was organised at the Institute's campus (5-11 May 2013). The training was attended by 26 trainee-women of the outgoing 104th batch of women trainees. The rural and tribal women trainees eagerly learnt the process of assembling the solar cookers, cooking various dishes, and maintaining the cookers. The training was conducted by Mr. Yogesh Jadhav (Chief Operating Officer, Barli Institute) who took over from Mr. Jimmy McGilligan when he retired from the Institute in April 2011. After the training each of the trainees promised to save the environment and use the solar cookers.
April 2013: LPG cylinder replacment is slow and unpredictable - Gautam Raja reports that is his area gas customers will first receive two cylinders of fuel when they establish their gas service. But when they run out, replacement can take over two weeks. Deliveries arrive unannounced, so the customer may miss it, and have to start the process all over again. Many residents have switched over to electrical induction cook tops, but the power supply can be less than reliable. Concerned about missing his morning chai, Gautam then discovered solar cookers, and was amazed by their capabilities. They help fill the gap, that is until the monsoon season. Read more...
February 2013: Solar cooking and processing workshops in India - Celestino Ruivo, of the Instituto Superior de Engenharia da Universidade do Algarve in Portugal, traveled to India at the end of January to attend the 1st International Solar Food Processing Network workshop at the Muni Seva Ashram in Goraj, Vadodara, Gujarat, India. He brought with him 50 kg. of solar cooking bagage: 8 black pots, 16 glasses of windows cloth washing machines, corrugated sheet metal, reflective foil and tools to make low cost and effective portable funnel cookers. Creatively, Celestino used his suitcase as the mold to construct examples of his solar funnel cooker in concrete. He also gave a lecture about solar cooking and how to construct a funnel cooker at the CT institute in Punjab for more than 300 students, as well teaching solar cooking for ladies in domestic context at Jalandhar. The eight funnel cookers were donated to friends in Hyderabad, Mumbai, Muni Seva Ashram, Vadodara, Jalandhar and New Delhi.
February 2013: The Solar Food Processing Network (SFPN) held a regional workshop in January 2013 at the Muni Seva Ashram in Goraj, Vadodara, Gujarat, India. This gathering was a follow-up to the 2009 AFPN conference held in Indore, India in 2010. Workshop participants heard from food marketing and technology experts. Conference organizers, Deepak Gadhia and Rolf Behringer held discussions on local and international marketing, village industries, packaging, policy interventions, R&D, and effective monitoring and evaluation of projects. Attendees discussed the formation of an international solar food standard and shared their own practical experiences using solar technology for food processing. Visit the Solar Food Processing Network to see a muscial video of the event and videos of solar food processing projects in Burkina Faso.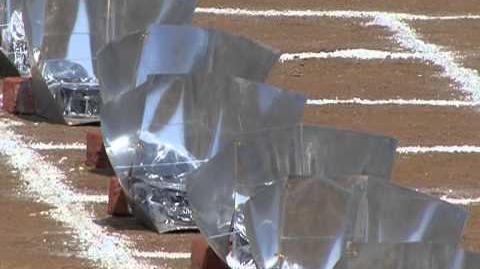 January 2013: World's largest solar cooking class takes place in India - On January 19, 2013, middle school students gathered on the grounds of JES College in Jalna, India to be trained in the use of a simple solar panel cooker. After a quick breakfast, and guidance from 205 trainers, a record-breaking 2,044 students assembled their own solar cooker and placed prepared ingredients inside to cook. After speaker presentations, they were able to enjoy the lunch they had cooked themselves. This event, sponsored by Simplified Technology for Life, demonstrates that India is quite serious about introducing solar cooking to young students.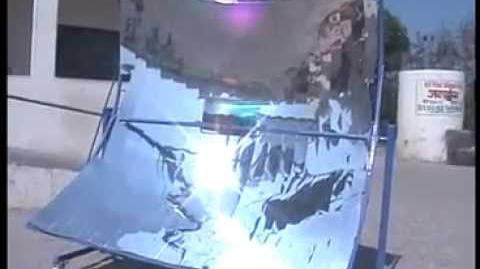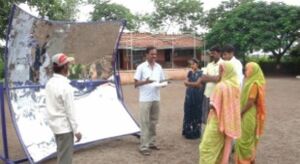 January 2013: Parabolic community solar cookers used for midday meals in rural schools - WOTR is a nonprofit organization that has been operating in five Indian states since the early nineties. They have untaken a unique solar cooking project targeting Zilla Parishad primary schools in the Sangamner and Akole taluka of the Ahmadnagar district. The objective was to find ways to help prepare their midday meal. Currently, twenty-three solar cookers are in service. After a careful study of all options, it was decided to deploy the PRINCE - 40 parabolic solar cooker, designed by Ajay Chandak, for the pilot installation in fifty-three villages across three states – Maharashtra, Andhra Pradesh, and Madhya Pradesh. Most of the schools where these cookers are installed are using them as main source of energy for the mid-day meals. Read more about the project at: A Report on Deployment of Parabolic Community Solar Cookers for Midday Meals in Rural Schools
December 2012:  Indian Government's Ambitious New Solar Cooking Policy - Deepak Gadhia reports that the Indian government has announced a very ambitious Solar Cooking Policy under the Jawharlal Nehru National Solar Mission,  JNSSM Phase II Targets for "Solar Cookers and Steam Generating Systems will include: At-least 100 institutions that would deploy solar cookers  (Likely Solar Steam and Thermic Fluid System Cooking Systems for Institutional Cooking for 500 + people); Around 25,000 installations of solar cooking devices in schools for mid day meals. (Likely Scheffler Cookers, PRINCE 40, 60 and other mid-size solar cookers that can cook for 50+ people; An overall target of deployment of 50,000 solar cookers would be set in Phase II of JNNSM. (Likely the SK 10/ Sk 14/ Prince 15, etc. for domestic cooking).
November 2012: Regional Solar Food Processing Network to be established in India - Rolf Behringer reports that the German NGO WISIONS has agreed to support the establishment in India of the first regional Solar Food Processing Network. A workshop to inaugurate this effort will take place in early 2013 (date and location to be announced). The aim of the Solar Food Processing Network (SFPN) is to establish a global network of interested parties (NGOs, governments, farmers, and manufacturers) to develop and promote efficient methods of solar food processing and conservation. These are intended to help reduce poverty, improve local economic opportunities and health, and decrease environmental damage. In countries with high solar insolation, effective solar thermal production technologies will contribute to the sustainable development of small rural communities. SFPN is managed by the German NGO Solare Zukunft (Solar Future in English). It is financially supported by WISIONS, an initiative of the Wuppertal Institute for Climate, Environment and Energy to foster practical sustainable energy projects.
November 2012: The Times of India reports that the Akshardham temple in the capital has switched from piped natural gas to solar technology for cooking its daily quota of close to 4,000 meals every day. The solar concentrator, named ARUN®100, produces steam which powers the cooking process. Read more...
May 2012: The Telegraph of Calcutta reports that State Animal and Fish Resources Minister Giriraj Singh will not be affected if the government of India cuts subsidies for LPG cooking gas and kerosene. He has started using solar cookers to prepare meals at home. Fearing a rise in cooking gas prices, he has already started using solar cookers. He has also urged the state energy minister, Vijendra Prasad Yadav, to come up with a plan to reduce the dependence of government buildings on traditional sources of power. Solar energy, the minister suggested, would be a suitable alternative.
March 2012: To save the Golden Temple from the ill-effects of pollution the Punjab Energy Development Agency(PEDA) is developing a plan to prepare a daily meal of Langar dal with the help of a solar steam cooking system. PEDA is the governmental agency promoting renewable energy within Punjab, India. To prepare Langar dal for 50,000 to 60,000 devotees daily at the Golden Temple, requires one ton (909 kg) of dal to be cooked each day. A recent study has shown cooking dal with the help of steam will save at least 25 LPG cylinders and also keep the environment pollution-free. PEDA chairman Manjeet Singh said they would bear the entire project cost.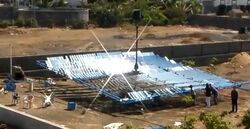 February 2012: The Solar Fire TinyTech Concentrator has been developed by the TinyTech company for use as either a village power source, or to generate steam for institutional cooking. It measures 90 sq. meters and is a fixed focus completely folding concentrator, not requiring any foundation in the ground.
February 2012: Medical colleges including those owned by the State Governments across the country are gearing up to do their bit to tackle climate change by adopting environment-friendly measures. the Medical Council of India (MCI) has proposed that colleges give emphasis to promotion of national bio-gas and manure management programs (NBMMP), national biomass cook-stove programs (NBCP), and solar cooking systems according to their suitability to ensure sustainability." Read More... - The Pioneer
February 2012: Union Minister for New and Renewable Energy, Farooq Abdullah, noted at a recent seminar in Ambala, India, that the rapid rise in the use of fossil fuels has threatened exhaustion of conventional energy sources in the country. He said most of the energy required in the industry, transportation and agriculture field is generated from fossil fuels like coal, petroleum and natural gas. Farooq said his ministry had chalked out a detailed plan to promote solar cooking. - IBN Live
January 2012: Private equity firm Zephyr Peacock has reportedly invested $11,000,000 USD in Mumbai-based Gadhia Solar in India.. The solar energy company provides energy solutions by using parabolic concentrated technology and has implemented some of the world's largest solar thermal systems during the past two decades. Read more...
January 2012: Ajay Chandak reports that in the Indian government's

12th five year plan, 2012-2016, 30000 million INR (approx. 600 million USD) is budgeted for solar cooking in a half a million schools. This will not only help in saving environment, but will expose millions and millions of school children to solar cooking and build the confidence that these systems work.

This project is included among Most significant solar cooking projects.
November 2011: The World Intellectual Property Organization commissioned an extensive report on the state of solar cooking, prepared by Scope e-Knowledge Center Private Limited based in India. Released in August 2011, the report validates the viability of solar cooking, a technology well-suited for a growing portion of the world's population. It also provides a number of examples of various designs that have applied for patents.
October 2011: The latest PRINCE newsletter announces a scheduled training for Scheffler Reflector Solar Cookers coming January 21 -27, 2012. Next, PRINCE founder Ajay Chandak has received an Energy Conservation Award from the Government of Maharashtra. Also, PRINCE has organized a networking workshop for all stakeholders in the renewable energy business on January 25 - 26, 2012. PRINCE Biogas Plants now approved by MNRE. Read more about these items: PRINCE newsletter, Fall 2011
June 2011: First Solar Cooking Training on World Environment Day - Janak McGillian reports that Sanawdiya, a village located at the historic Devguradiya Temple, is increasingly affected by smoke from toxic dumps. On World Environment Day, June 4th and 5th, Janak organized a program to combat this smoke. With many guest speakers, the highlight of the program was a demonstartion of solar cooking with a SK-14 parabolic solar cooker. There was considerable interest from the villagers from Sanawadiya and farmers from the surrounding area. Read details of the event at: First Solar Cooking Training on World Environment Day
January 2011: Government clears plan for sixty solar cities. The Centre will kick off an ambitious scheme to develop sixty solar cities in two years. It will be done in collaboration with city corporations, municipalities and district councils. The focus will be on renewable energy devices such as kitchen waste-based plants, solar water heating systems, solar cooking systems, solar steam generation, drying and air heating systems, solar air-conditioning, bio-mass gasification based systems and biogas.
January 2011: RNCOS Report Predicts Growth of Solar Cookers in India. RNCOS, market research and information analysis company, in its recent report titled, "Indian Solar Energy Market Outlook 2012", studies the latest trends in the industry by utilizing inputs from the state and central regulatory background of the country. According to the report, the solar cookers in India will witness a Compound Annual Growth Rate (CAGR) of 6% in 2010-2013. The report details the rapid growth of solar industry in India and predicts that it will grow more in future. There is a growing demand for solar products in rural areas, and the trend will continue in the future too. The report quotes that the Solar Cookers International has rated India as the foremost country with abundant solar cooking potential. It mentions the various steps taken by the Ministry of New and Renewable Energy in India in popularizing the usage of solar cookers in government organizations, villages, societies, hostels and hotels. The report also discusses various factors that push the growth of solar cooker market in India.
December 2010: Institutional solar cooking gains momentum in India. A news release from the Ministry of New and Renewable Energy, reporting on important activities in 2010, states: Solar concentrating systems, comprising automatically tracked of parabolic dishes, have been found to be useful for generating steam to cook food for hundreds and thousands of people in community kitchens especially at religious places such as Shirdi, Mount Abu, Tirupati etc. The world's largest system is functioning at Shirdi for cooking food for 20,000 people/day. These systems have found good applications for air conditioning and laundry also and a few demonstration plants have recently been installed. A total of around 80 concentrating systems of different capacities covering 25,000 sq.m. of dish area are functioning in the country, largely for cooking purpose. During 2010, 15 such systems were sanctioned covering a dish area of around 3000 sq.m. More Information...
July 2010: The Ahmedabad-based Self Employed Women's Association has joined forces with the Sierra Club to provide new green jobs and technology for SEWA's 1.5 million members in India. Ninety-three percent of India's workforce remains in the informal sector, said Nanavaty, executive director of SEWA. "The Indian economy is growing tremendously, but how do the rural poor also avail of these opportunities?" Sailesh Rao, president and founder of the San Jose, Calif.-based Climate Healers, said his non-profit organization had come up with two solar cook stoves, one that could slow-cook a meal like rice and daal throughout the day, and another that could prepare rotis almost instantly. Women using the solar stoves could also generate an income by selling their carbon credits, Rao told India-West after the talk, envisioning a plan where the credits could be sold for $11 per metric ton, netting rural women about $4.
June 2010: India's richest temple - Tirumala Tirupati Devasthanam (TTD), at Tirumala is relying entirely on clean energy to feed over 70,000 people everyday. The temple has installed solar powered lights, solar cooking system, windmills and a water recycling station. "The basic principle is conversion of water into steam energy. We're converting the solar energy into steam energy. The water flows through the pipes and the solar dishes concentrate the solar energy to the concentrators. In the concentrators the water is converted into steam and that steam is utilised for cooking," says Deputy Executive Engineer (Mechanical) KV Raman Rao. The solar array is similar to to the one recently installed in Shirdi, and also uses the Scheffler parabolic solar oven as the basis for their system.
May 2010: Installation of solar cooking devices at the Vigyan ashram near Puna, India.. A project proposal for the installation of solar cooking devices(16sqm scheffler concentrator, PRINCE 40 solar parabolic cooker, tunnel drier, 12 sqm solar batch drier, Bakery / oven , biogas generator) at the Vigyan ashram was submitted to INDUSA. The proposal has been accepted for VA campus for the year 2010. The civil and foundation work are currently underway. More Information...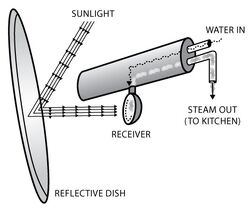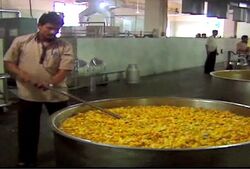 April 2010: Gadhia Solar Energy Systems Pvt. Ltd. recently completed installation of an enormous solar steam cooking system, capable of cooking 40,000-50,000 meals per day. It is located at Shirdi Saibaba temple in Shirdi, Maharashtra, India. With nearly 30,000 visitors each day, the temple's dining halls are some of the largest in India. The solar steam cooking system is comprised of 73 rooftop-mounted reflective dishes of 16 square meters each. The dishes concentrate sunlight on receivers that contain water, generating steam that is piped down to the kitchen for cooking purposes. To maintain constant focus with the sun, the dishes automatically rotate throughout the day after being manually aligned once each morning. The solar steam cooking system is retrofitted to existing liquid petroleum gas-powered steam boilers that are still used in the evening and during prolonged periods of inclement weather. Though the solar steam cooking system cost nearly $300,000, government subsidies reduced the temple's portion to about $170,000. Liquid petroleum gas use has been cut by roughly 100,000 kilograms each year, for an annual savings of approximately $45,000. The temple should recoup its investment in three to four years. According to company founder Deepak Gadhia, the solar steam cooking technology was originally developed in Germany. However, the equipment does not contain imported components and is manufactured with local machinery and labor, creating much-needed jobs. Gadhia has adapted the system for use in India, and has installed 50 such systems of varying sizes over the past two decades. The March edition of CNN's Eco Solutions program highlights the Shirdi Saibaba temple solar steam cooking system.
The History of Solar Cooking in India
India, Asia's second largest country, next to China, has also the second largest number of solar cookers. The situation in India is more complex than that of China. More is also known about Indian programs. The Third World Conference on Solar Cooking was held in India, permitting the history and progress of solar the technology's uses to become better known around the world.
An official government report informs the reader that the Ministry of Non-Conventional Energy Sources (MNES), Government of India, was established in 1982, first as a Department and later as a Ministry. The Ministry's mandate extends well beyond solar cooking, including fuel efficient wood and charcoal stoves, power from other renewable sources, energy from industrial wastes, research and development in a number of related fields (photovoltaics, biogas, and pollution prevention, for example). MNES began seriously to promote solar cooking in the early 80s, with an initial focus almost entirely on the box cooker.
The population of India is roughly 70% rural. MNES states that "cooking accounts for a major share of the total energy consumption in rural homes (Singhal, correspondence, 2003, p. 1). Sources of that energy are largely fuelwood, animal dung, or crop residues, all of which emit smoke, pollute the atmosphere, and are deterimental to health and safety of family members, particularly women. Fuelwood is become scarcer each year. FAO data show that 21.6% of the Indian land mass is forested, and conservation efforts are in place to reverse previous loss. The effort is affected by the large and dense population and a slowing but still substantial birth rate (continuing to increase at 1.7% per annum, or 17% in a decade). Solar cooking has been viewed as one way to alleviate a number of India's problems and as such was supported by government efforts.
The Press Bureau of the Government of India reported in 2007 that there are 525,000 solar cookers installed in India.[1] The Press Bureau also reported in 2003 that, "The solar cooker programme has been expanded by introducing new designs for community use. Three solar steam cooking systems based on automatic tracking concentrating collective technology for cooking food for 600-3,000 people per day, and one system based on 'Solar Bowl' technology, have been installed. World's largest solar steam cooking system has been installed at Tirumala Tirupati. The system is designed to cook two meals for 15,000 persons in one day. Another system for 2,000 people was erected at Brahmakumaris Ashram in Gurgaon in July, 2002. Three community cookers for indoor cooking have been installed at a training hostel and an NGO's establishment in Leh. In all, six such systems have been installed under the MNES demonstration scheme. A total of 500 dish solar cookers and 60 community solar cookers have been installed so far."[2]
Climate, Culture, and Special Considerations
Solar Cookers International has rated India as the #1 country in the world in terms of solar cooking potential (See: The 25 countries with the most solar cooking potential). In the year 2020, the estimated number of people in India who will suffer from fuel scarcity is 157,400,000, but these people will have ample access to the sun. In December 2007, the Indian Government instituted a program of rebates on various renewable energy devicesincluding solar cookers. Solar cooking has been recommended even in the Rig Veda which says: "All edibles ripened or cooked in the sun's rays change into super medicine, the amrita."

The Economic Times of India reports:
While 300 million people live below poverty line, making do with energy inefficient dung cakes, twigs and branches, and occasional bits of coal, the urban middle class and the rural rich are splurging on cheap petrol and diesel and even cheaper kerosene and liquified petroleum gas.
The subsidy is massive - hidden by a disingenuous device called oil bonds. Here are some rock solid facts. IOC, HPCL and BPCL are currently losing $137 million a day (i.e., Rs 582 crore per day at Rs 42.50 = $1). They lose Rs 16.34 for each litre of petrol, and Rs 23.49 for each litre of diesel sold in Delhi.
The subsidy on kerosene at Rs 28.72 per litre is over three times the current retail price; and the subsidy on a cylinder of cooking gas at Rs 306 per cylinder exceeds the retail price. The total under-recovery for the oil marketing companies for 2006-07 was over $19 billion. With oil prices touching $135, under-recoveries can be $50 billion this year, unless retail prices are substantially increased.[3]
The Telegraph (UK) reported in September 2013 that, "Food and fuel subsidies are gobbling up much of the budget, while investment atrophies."[4]
In a report presented during the Asian Clean Energy Forum in June 2008, Soma Dutta, Asia regional network coordinator for the Amsterdam-based ENERGIA International Network on Gender and Sustainable Energy, says that only 45 percent of India's 70 percent rural population have access to electricity, and over 80 percent still rely on firewood as their main cooking fuel. The long hours and big effort spent simply gathering firewood give these women little time for education or employment, she adds.[5]
Another take on the social acceptance of solar cooking in India:
Technologies have been failing in the villages for many reasons, but most commonly due to a lack of market knowledge on the part of the innovator. One example is the solar cooker, which was first developed about 20 years ago. This technology never caught on despite the purported cost savings because it was not created in a way that suited the lifestyles of the individuals using it. The solar stove was most powerful at the times of the strongest sunlight, which was mid-day and early afternoon. The population it was made for were largely village farmers who consumed their big meals by early to mid-morning and then again late at night, after the sun had gone down. In addition to this the stoves were not made in a way that was conducive to Indian-style cooking. The stove had four separate chambers which could boil or slow cook food. Indian cooking is mostly with oil (with the exception of rice) and requires frequent temperature manipulation and flipping and turning which was not possible with the solar stove.[6]
There does however, appear to be references of solar cooking written in ancient Vedic texts:
Sun cooked food improves cellular health and longevity of life. It strengthens health and mind removes three major physical disorders to do with digestion, blood and respiratory system, balances inner body temperatures, life, glows aura and keeps various obstacles away. Sun cooked food has great medicinal value. It enhances intellect, genius. : ' Rig Veda'. - Reference from the princeindia.org website. See: PRINCE
See also
Resources
Blogs
Possible funders of solar cooking projects in India
Reports
Articles in the media
August 2013: Solar cooking technology - The Hindu
June 2013: 'Go solar for healthier food' - The Times of India
April 2013: Vintage Visakha organized a demonstration of solar cooking at its office at Abidnagar. Solar cooking demo held - The Hindu
March 2013: Solar City on the beam - The New Indian Express
November 2012: Sun fuels hearth at Akshardham - The Times of India
October 2012: Major Indian pilgrimage centres going green - AAJKI KABAR
June 2012: Gujarat septuagenarian taps solar power - Daily News and Analysis
June 2012: Ambaji temple goes green - The Times of India
April 2012: Soon, Golden Temple may dish out solar-cooked langar - The Indian Express
February 2012: Medical colleges into green mode for change - The Pioneer
February 2012: Farooq for encouraging renewable energy sources - IBN Live
December 2011: Plan to reap benefits of solar cooking system - The Hindu
June 2011: Shirdi's Prasadalaya achieves a first, using solar energy to make meals for devotees - Daily India.com
May 2011: Gurgaon goes green - Hindustan Times
August 2010: Sierra Club Helps Bring Green Jobs to India - The Bay Citizen
July 2010: Renewal Energy Park in India Set to Open During October 2010 - A to Z Cleantech
June 2010: Smoke-free solar cooker cooks up interest in this tiny hamlet - The Times of India
November 2009: "Every [Indian] individual/household should have a solar cooker," says Arvind Virmani, Chief Economic Advisor, Ministry of Finance, Government of India.
October 2009: Mass-market U.N. carbon scheme finds favor in India - Reuters
July 2009: Economic Survey urges Indian Government to eliminate cooking fuel/kerosene subsidies and ensure rural households have a solar cooker and a solar lantern - The Hindu, Business Times
July 2009: Solar energy to cook 30k meals at university - The Times of India
February 2008: Bharat hot on solar cookers, new energy - The Times of India
February 2008: Yes They Could, So They Did - New York Times
July 2008: India's Temples Go Green - Time Magazine
June 2008: India tackles climate change with renewable energy - The Guardian (UK)
June 2008: Cooking with the sun - The Hindu
June 2008: Kitchen for poor kids go high-tech (solar) in state homes - Express India
June 2008: Gujarat industry opposed fuel price hikes - Thaindian News
March 2008: Rewriting the Books in Ladakh - Cultural Survival Quarterly
March 2008: Black carbon pollution emerges as major player in global warming - Scripps Institution of Oceanography
February 2008: Fiscal policy to act as a tool to lighten the oil shock - The Economic Times
February 2008: Govt looking for consultants to tap CDM benefits - The Economic Times
January 2008: Everything under the sun - The Times of India
July 2007: Holy smoke! Religious places too earning carbon credits - The Times of India
April 2007: UN engages banks to light up rural India; Solar loans, energy access transform life for poor - EurekAlert
March 2007: Solar cookers save Indian emissions - NDTV.com
Audio and Video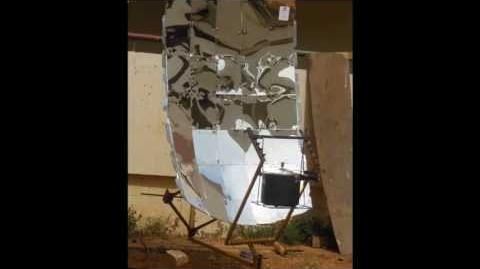 03:08

The Smokeless Village

June 2006: Video showing the Smokeless Village where all inhabitants cook with solar cookers
left|425px Deepak Gadhia's efforts promoting various solar powered projects.

External links
Indian solar cooking blogs
Contacts
NGOs
Manufacturers and vendors
Government agencies
Educational institutions
Individuals
See also
References
Gallery of manufacturers and vendors