Using the Special:Promote feature — which is only available to administrators — you can easily promote your wiki on Wikia's main page and see your wiki's information appear on Wikia mobile apps. It allows you to upload images and description of your wiki, which will then be displayed on the "Mix it up!" grid on Wikia's front doorstep and be presented in the mobile apps.
Promoting your wiki is easy. Just follow the steps and guidelines below!
Write a description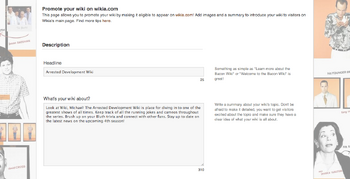 You must first create a description of your wiki. This can reflect the personality of your wiki. Try to keep your description fun and welcoming to attract new users. You can always come back to edit or update the text.
Create a Headline
Craft an exciting headline for your wiki. This can be as simple as "Learn more about the Bacon Wiki" or "Calling all dog lovers!" Get creative! Just remember that your headline must be more than 20 characters.
What's your wiki about?
Use this space to showcase some of the highlights of your wiki. Have you recently hit 24,000 pages? Now's your chance to brag! Just keep in mind that your description of your wiki needs to be at least 300 characters.
Upload Images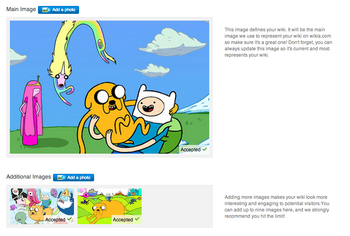 The upload process is super-simple. Just go to Special:Promote#Add Images. There, you'll find two areas where images can be uploaded. The biggest area is the one for your main image. Using the best practices below as a guide, find and upload the image that works best for your wiki. Make sure to use a high quality image as it will appear in multiple sizes across multiple browsers.
The other upload area is for the smaller images — up to nine of 'em! — that help to illustrate the wikia.com page that people get if they choose to examine the wiki. In other words, these pictures display when people hit the icon of a magnifying glass rather than the picture of an arrow. These nine images do not get rotated into the main image. They are only visible to those who choose to find out more about your wiki.
Once you've uploaded all the images that you want — both main and supplementary — hit the "Publish" button. This will then submit all your images, at once, for review by Wikia Staff. It's better to submit all your pics at once than to hit the "Publish" button every time you add a new pic. Please note that images take 2-4 business days to be approved. Feel free to check your status at Special:Promote on your wiki.
Also, even after you're approved, keep in mind that there are thousands of wikis on Wikia. If you hit the "remix" button at wikia.com, it could take awhile before yours appears.
Wikia Mobile
As mentioned in the intro, updating the Special:Promote page is crucial for a good display in our mobile apps. The guidelines are no different than the promotion on the Wikia home page and the results are reflected in My Wikia and Game Guides
Best Practices for Images
Do
Do not
Choose the single image that is most symbolic of your wiki's topic

Just like Batman has a simple bat, Jim Kirk has the shield of Starfleet, or McDonalds has the golden arches, you need a simple image — a logo, even — that makes people want to click on your wiki.

Submit an image with just plain text, or a simple screenshot of your wiki

Such images will be rejected.

Submit images that are precisely 480px wide x 320 px tall.

The system will make an attempt to adapt pictures of other dimensions, but using these precise dimensions will ensure that the images aren't stretched, warped, or truncated when displayed at wikia.com.

Submit images that have important information at the extreme right and left borders

Though most of the frames of the wikia.com "grid" have a 16:9 aspect ratio, two of the bigger ones are portrait-oriented. So your image must have enough non-essential information at the side to work in both widescreen and portrait orientations.

Make sure that the image is of a technically high quality

Remember, this is an advertisement, so put your best foot forward! Make sure the image is crystal clear!

Include a URL

Folks will be able to get to your wiki simply by clicking on the image.

Make a simple, bold design

Remember that most visitors are going to spend about one second looking at the page. Ask yourself whether your image is something that clearly conveys the topic of your wiki in that amount of time

Try to squeeze too much in the frame

Most of the time, your image is going to display at much less than 480x320. Test your image on your wiki by putting it onto a regular page as a thumbnail. If it's too complicated at that size, it won't work well at wikia.com. Don't give readers' eyes more than about 2 individual things to look at — be they characters, books, product logos or whatever your wiki is into.
Above all, get creative! Feel free to draw and design your own images to represent your wiki.
And remember, once submitted your wiki will be represented on the main page of wikia.com. Please follow our terms of use and stay within those guidelines.
Next Pages
Further Help and Feedback