Once you've built your wikia, you'll undoubtedly want to begin attracting contributors. After all, wikias are community projects, so you definitely want to make sure you get others involved whenever you can! Learning the art of promotion is one of the most important things to do as a founder if you want to create a successful community around your subject.
Why promote?
Why not promote? Wikias are at their best when they are collaborative, community-based projects. Unless you promote your wikia in some way, you will have very few visitors—including both readers and contributors. One or two people can construct a wikia by themselves, but most of a wikia's objectives are best achieved with more people. This is especially true when it comes to community building.
To do that, you want to make sure people can find your wikia. You will want to identify places where potential contributors could be attracted and then talk about it there. Founders and the early contributors will likely carry a lot of this weight themselves, but only at first. Once more users start to join the wikia, more people will be able to spread the word and help the wikia grow.
How to promote
Before you even begin promoting your wikia, you want to make sure there is something to promote. It's not enough to go through the wikia creation process. You need to begin creating the content of the wikia. It's important to get your basic structure, help pages, and forums sorted out, as well as the most content you can. The more and better content you have, the more attractive your wikia will be to search engines.
Once all of that is done, there are any number of ways to promote your wikia. Just remember that there is no single "best way" to promote a wikia, so you should choose whatever seems appropriate to your topic and the community you wish to build. Having said that, here are a few ways you might be able to promote your wikia:
Use the promote tool to feature your wikia on Wikia.com.
Talk about the wikia on websites that have similar topics, and explain that the wikia can be a common effort for all fans of that topic.
Be welcoming to visitors and encourage them to become part of the wikia.

Encourage the best contributors to contribute even more!

Once you have 200 pages, you can apply for a Wikia Spotlight to advertise your wikia on similar communities.
Create an awesome theme for your wikia so potential readers and contributors can see a great looking wikia when they arrive.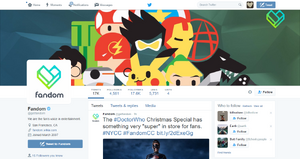 Create a Facebook fan page for your wikia so readers, contributors, and others can "Like" your page. Be sure to post about your wikia's Facebook page here.
Create a Twitter page for your wikia and spread the word to your followers in 140 characters or less! Be sure to post about your wikia's Twitter page here.
Make a YouTube account for your wikia so you can upload interesting but relevant videos, and create an appealing channel to invite users to subscribe to.
Next pages
Further Help & Feedback