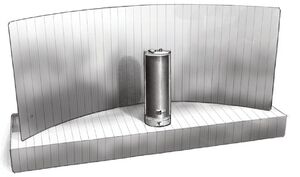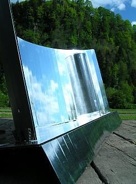 Hartmut Ehmler lives in Potsdam, Germany, and is the designer of the Lightoven. He began experimenting with solar cooker designs in 1991, but set it aside, until he rediscovered his interest in 2010. He wished to design a solar cooker that would be lightweight and compact, easily taken camping or for other outdoor activities. This lead to the design of the Lightoven.
Besides using the Lightoven, he also cooks with a Global Sun Oven. He began teaching solar cooking in 2010, and he has taught 50 people to solar cook up to the summer of 2013.
Recent news and developments
July 2013: Hartmut is working on refining the Lightoven to increase its versatility and at the same time decrease the price for production by incorporating design simplifications. He feels his design may be an option for finding a more durable version of the CooKit solar panel cooker.
See also
External links
Contact
Hartmut Ehmler
Mendelssohn-Bartholdy-Str. 42
14480 Potsdam
Germany
Tel.: + 49 0331-6004566
Email: ehmler@lightoven.de