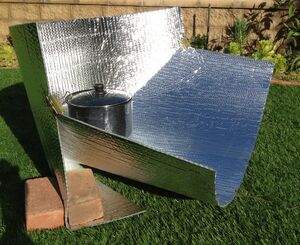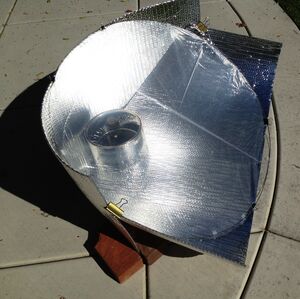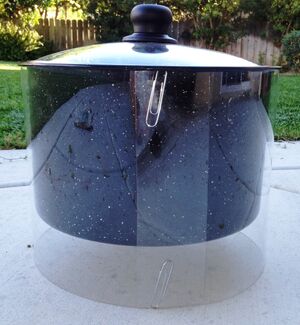 The Haines Solar Cooker combines the power of a Funnel cooker with stability of the traditional CooKit. It has been designed by Roger Haines of San Diego, California, USA. The cooker is made from a mylar-coated bubble insulation material which is unaffected by boiling water, so it should be more durable than a cardboard design. It requires only two cuts for cooker assembly. Testing has shown it to maintain hotter temperatures than the CooKit. .
The base of the cooker should be anchored with rocks or bricks. In windy conditions, an oval wind screen made of clear nylon plastic makes it quite stable while protecting the cooking pot from the wind.
The Haines Polycarbonate Sleeve eliminates the nylon cooking bag commonly used in solar cooking. This sleeve is a cylinder of polycarbonate plastic film (about the thickness of card stock paper), which encloses the bottom and sides of the pot but not the top. The pot must be round, with no handles, and it must have a top rim that can rest on the top of the cylinder. The cylinder elevates the pot above the surface of the cooker, allowing the sun's rays to bounce off the cooker and be absorbed by the bottom of the cooking pot. It also provides an insulating "greenhouse" making a traditional cooking bag unnecessary. Haines's testing indicates that a pot with a glass lid heats faster than one with a metal lid.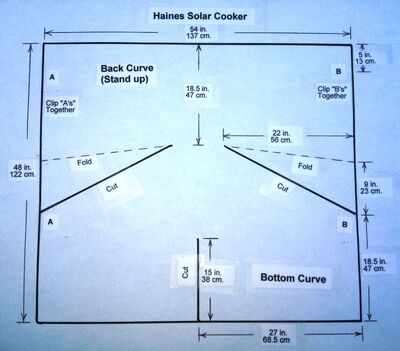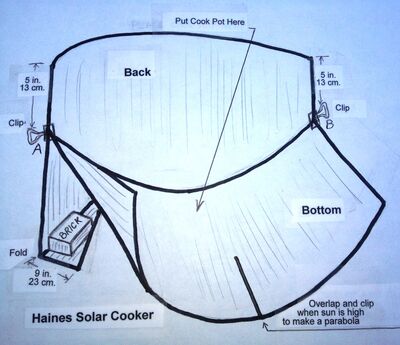 See also
Contact
Roger Haines
Tel.: +1 (858) 736-5505
Email: bhaines@san.rr.com