Haines Foam Insulation Cooker
Talk

0
1,865pages on
this wiki
Deutsch, Ελληνικά, Español, Français, Indonesian, Italiano, Kiswahili, Kreyòl ayisyen, Magyar, Melayu, Português, Русский, Soomaaliga, Tagalog, Tiếng Việt, Türkçe, தமிழ், नेपाली, 中文, اردو, 한국어, 日本語, العربية, فارسی, עִברִית, हिन्दी, ไทย, বাংলা, తెలుగు, ગુજરાતી, ລາວ
Last updated: 10, 2014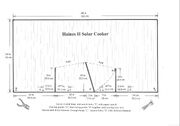 The
Haines Foam Insulation Cooker
was designed by
Roger Haines
, a resident of San Diego,
California
,
USA
. The cooker is made of IXPE (cross-linked polyester) foam insulation bonded with reflective metalized polyester film (MPET film / 3mm IXPE foam / white PET film). The reflective polyester will not oxidize, cannot be scratched off, and has a high melting point. Importantly, the new material is easy to recycle and is environmentally safe through the whole production and recycling process without pollution. In the U.S., this material is used to make high-end auto windshield sunshades. In bulk, the material can be purchased in
China
for about $3 USD per square meter. Alternatively, the reflector can be made from reflective bubble insulation, or any other flexible reflective material.
The reflector is made from a 2-foot by 4-foot (61 cm. x 122 cm.) rectangle of reflective material, with three scissors cuts as shown in the template. Overlapping the cuts as shown produces the proper shape, and the material is then secured with two brass paper fasteners (brads) inserted through holes punched with an ordinary paper punch.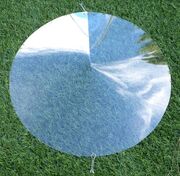 The windscreen (barely visible in the cooker photo) is made from a 2-foot (30 cm.) diameter circle of .020-inch (0.5 mm) UV-resistant polycarbonate film. For increased rigidity, a radius cut is overlapped two inches to form a flat cone like an oriental hat. The overlap is secured by an "R-clip" (a cotter pin that looks like the letter "R"), which is inserted into holes (punched in the windscreen with a paper punch) and then attached to the reflector material. The windscreen makes the cooker quite rigid in windy conditions, and creates an "oven-like" atmosphere around the cooking pot.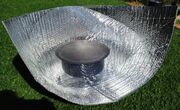 Cooking sleeve
. Instead of a cooking bag, the black cooking pot is enclosed in a "sleeve" of .020-inch (0.5 mm) UV-resistant polycarbonate film. A 6" x 36" rectangle of polycarbonate film is rolled into a cylinder slightly bigger than the cooking pot, and secured with ordinary paper clips. The top rim of the cooking pot rests on the top edge of the cooking sleeve, which insulates the cooking pot and elevates it off the surface of the reflector, allowing the sun to be reflected onto the bottom of the pot.
Roger Haines bhaines@san.rr.com (858) 736-5505
See also
Contact
See Roger Haines.