Last edited:
23 August 2016
Events
International conferences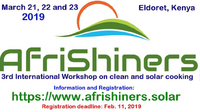 NEW: 

21-23 March 2019: AfriShiners - The AfriShiners 3rd International Workshop is taking place in Eldoret, Kenya. (Unfortunately, registration is full for this event). More information...
See also: Global Calendar of Events and past events in Guinea-Bissau
News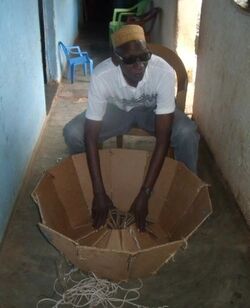 2010: Jorge Seidi is a citizen of Guinea-Bissau in western Africa. Economic conditions are quite difficult there, and Jorge has been doing what he can to promote solar cooking in the area. He has experimented with information he has gathered from this website, to make a few solar panel cookers from local materials he has been able to salvage. According to Seidi, 90% of the country relies on charcoal as the primary cooking fuel. He would like to work with a local youth group to be able to make more cookers, encouraged by similar projects underway in Somalia and Chad.
History
Archived articles
Climate and culture
See also
Resources
Possible funders
Reports
Articles in the media
Web pages
Contacts
SCI Associates
NGOs
Government agencies
Manufacturers and vendors
Individuals
Government agencies
Educational institutions
See also
References