Grupo de Energías Renovables Aplicadas
Talk

2
1,829pages on
this wiki
Deutsch, Ελληνικά, English, Español, Esperanto, Français, Indonesian, Italiano, Kiswahili, Kreyòl ayisyen, Magyar, Melayu, Polski, Português, Русский, Română, Tagalog, Tiếng Việt, Türkçe, தமிழ், Հայերեն, 中文, اردو, 한국어, 日本語, العربية, فارسی, עִברִית, हिन्दी, ไทย, বাংলা, తెలుగు, ગુજરાતી, ລາວ
We invite you to take a
short survey
to help us improve this website.
Last updated: January 10, 2013      
The Grupo de Energías Renovables Aplicadas (Applied Renewable Energy Group or GERA), University of the East, was founded in 1997 under the direction of Professor of Physics Jorge Bonzon in Cuba. He has been working on the issue of renewable energy applications for considerable time and has earned several awards in the field. Their work includes the dissemination and promotion of renewable energy as a way to sustainable development and independence from fossil fuels and to encourage the younger generation to develop an environmental conscience.
News and recent developments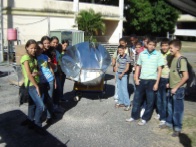 January 2013: Utilization of solar cookers in the Basic Secondary School in Santiago de Cuba, Cuba - The Applied Renewable Energies Group (GERA) have successfully been using their versatile solar cookers to introduce solar cooking to seventh grade students at the Basic Secondary School in Cuba. The group feels it is an excellent time to introduce alternative energy strategies to these younger students. At the end of the school year, parents are invited to attend a solar festival at the school to see how the students have put their training into practice. Read more about the project at: GERA student project in Santiago de Cuba, Cuba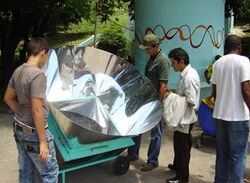 August 2011: Two models of solar cookers demonstrated at the amusement Park 26 de Julio in Santiago de Cuba. This is only a part of the a project to introduce to the people to the use and practical advantages of solar cooking. This is the beginning of a big project, where we will introduce the solar cooker in many places of our city, like beaches, camping, work center, rural communities and schools. The mirror is of EverBrite, a special reflecting material. The cooker body is strong and compact and can be left in outside the home in all weather conditions. Read more at: Applied Renewable Energy Group, Cuba: Summer 2011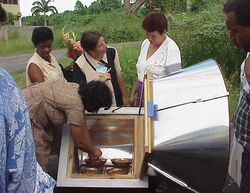 External links
Contact
Jorge Bonzon or Orlando Escalona Costa
Grupo de Energías Renovables Aplicadas
308 12 th St.
Santiago de Cuba, Vista Alegre 10400
Cuba
Tel.: +53-22-643461
Email: bonzon04@yahoo.es or orlandoesc@yahoo.es
Web: http://www.fim.uo.edu.cu/gera