Gregor Schäpers works in Mexico with women's cooperatives and Scheffler reflectors to promote the creation of solar-cooked agave syrup.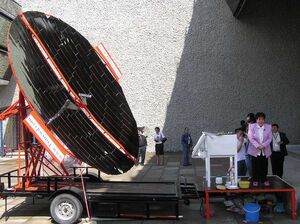 News and recent developments
Documents
See also
External links
This website has pictures of the Six Schefflers Gregor Schäpers built for the San Andreas Solar Coop that processes the liquid women harvest from the maguey cactus then boil down to syrup (reduction to 10%), a health food used as a sugar substitute, which is excellent for diabetics. Here is a direct link to the images.
Contact
Trinysol
A.P. 84
42300 Ixmiquilpan / Hidalgo
Mexico
Telephone: 0052 – 1771 1199 280
Email: gregorio@trinysol.com or gregorschaepers@gmx.net