Last updated: November 8, 2014      
The Green Humans Team is an organization to promote solar cooking founded by Ankit Ramoliya, a mechanical engineer living in Surat, Gujarat, India. Since 2014, they have taught 15-20 people to solar cook.
Recent news and developments
Edit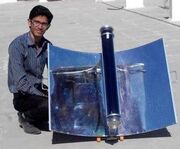 March 2014: Dead model Presentation of Heat Pipe Solar Cooker with capacity of surface heating, suitable for Indian food cooking at Pandit Dindayal Perolium University (PDPU), Gandhinagar, India
External links
Edit
See Ankit Ramoliya.