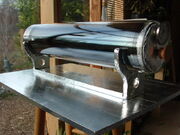 SunFireOvens are
Evacuated Tube
Solar Ovens large enough to
put food into
and cook, bake or boil with ease.
Magic Solar Oven Tubes
Cook with the power of the Sun
No burning unhealthy, smoky, smelly expensive fuel.
Cooks the same as gas oven - no special recipes required
Reaches temperatures of 400-600 degrees Fahrenheit
Self cleaning, just leave it in the sun for a while.
3 square foot cooking area.
Inner and outer glass tubes are heavy duty 3mm thick Pyrex type glass.

File:Brown Rice in a SunFireOvens Flame One

Inner cook area is glass with no smelly coatings.
Vacuum between two tubes traps heat better than any other solar oven.
UV radiation doesn't affect glass or aluminum.
15 Year Manufacturer's Warrant
Product Specifications
Estimated service life 20 years with proper care
Magic solar oven can last a lifetime
Holds >200 degree C (>400 degrees F) all day
4 degree per minute preheat (conventional solar ovens are <1/2 degree per minute)
Maintenance: Self cleaning inside, wipe with sponge to clean outside.
Health: All benefits of conventional solar cookers with twice the heat.
Safety: Oven tube is made from 3mm thick heavy duty glass but it will break if abused.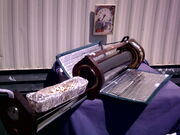 The Flame One case design is an elegant, user friendly and sturdy oven. How many Solar Ovens do you know of that have a sliding drawer in them? The Flame One Oven really is The Microwave Oven of Solar Cooking!
External links
Contact
Email: info@sunfireovens.com
Web: http://www.sunfireovens.com