GloboSol was founded in 1985 as a nonprofit association to promote small technological development of solar energy. Thanks to the classic club structure all management activities are carried out free-of-charge. Only the projects themselves receive an allowance. The money comes from members, patrons and Sponsorbeiträgen. The target of the program is called "Appropriate Technology", sustainable development that is impossible without the use of solar energy. But the way into the solar age should not be pursued exclusively with expensive cutting-edge technologies, which can not afford the majority of people. Solar experts from GloboSol therefore always seek the simplest and most useful solutions which are tailored to local conditions, and Bedürfnisse.Solares cooking as Denkanstossglobosol also supports the spread of solar cooking in Europe. Solar cooking is a form of solidarity for us.
News and recent developments
January 2011: Solar Project Tiloo, founded in 2006, started a new program at the end of 2009: 7 pilot schools in different regions received one solar oven each. They obliged to use the oven for one year in various ways. In doing so they have to earn at least 1,250 Fr. by selling solar products. When the contractual aim is successfully reached, the students receive a certificate and a new solar oven, which is then in turn given by them to another self determined school under the same conditions. In this way a snowball-effect is started designed to engender the countrywide distribution of the solar oven among the young generation. On 23rd January 2011 that moment was attained: The first certificate ceremony was celebrated with public figures, representatives of seven schools and guests from all over the country.
January 2011: GloboSol reports on solar ovens at a school of Malicounda (Senegal): The project has developed in a way that deserves admiration: From a group of mothers of school children who started to work with solar ovens a few years ago, there arose an association with the goal of teaching women in themes like use of alternative energies against deforestation, advertising strategies to learn selling solar production of marmalade, syrup, soap and scouring agent as new resources of income; to learn book-keeping skills and relations with the banks etc. At the same time meals for the schoolchildren are regularly cooked. The 25 active women, assisted by U.v.Albertini, elaborated clear instructions which they follow with fierce determination. Since even the president of the community had become aware of the group, the women receive regular financial support for their further development courses.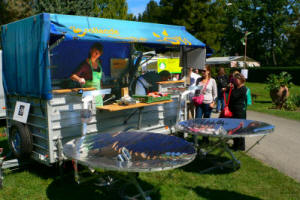 July 2009: Ulrich Oehler's pioneering work in the 1980s inspired a wave of Swiss solar cooking promoters. For many years, Oehler's house in Basel even served as the country's main solar cooker information center, maintained by the ULOG group. From 1997 to 2007, the Centre Neuchâtelois de Cuisine Solaire (CNCS) in the small town of Neuchâtel served as the country's information hub. Visitors could see a variety of solar cooker models or ask questions of the centre's leader, Michael Götz. In addition to this resource, ULOG group and GloboSol maintain a travelling solar crêperie in which they prepare solar pancakes for music festivals and ecology fairs throughout Switzerland. 2008 was a year of changes and new opportunities. The information center moved to a prominent location in the international city of Geneva. Götz is thrilled with the location. "Finally we have a room with a shop-window, only a few steps from Geneva's train station!" Alain Cassani, Annick Steiner, and Yves Ronchetti of the association SOLEMYO manage the shop and information center, conduct solar cooker construction trainings, and schedule solar crêperie events, while Götz, operating as ExSol, works on consulting, education, technical development, and other projects.
See also
External links
Contact
GloboSol
Postfach 5
CH-4011 Basel
Switzerland
Email: info@globosol.ch
Web: http://www.globosol.ch