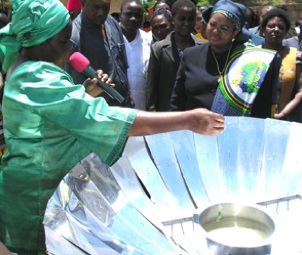 Global Resource Alliance (GRA), a Californian non-profit organization, is partnering with Solar Cookers International (SCI) to promote solar cooking in the Lake Victoria Region of Tanzania. GRA and SCI organized their first workshop in October 2008 in collaboration with Brother Sergio Vasquez from the Catholic church. The workshop was lead by Solar Cookers International East Africa Office. John Amayo was the main teacher. The workshop was an excellent introduction to solar cooking for the community, and since then, hundreds of people have taken solar cooking workshops sponsored by GRA. Many participants have purchased subsidized Solar Cookits to continue on at home.The Cookit can save users over $15 per month on charcoal – not to mention prevent deforestation, eliminate deadly indoor smoke and provide nutritious meals with very little attention required.
In September 2009, SCI's Director of International Program Development, Karyn Ellis, from California, and the Director of SCI Eastern Africa, Margaret Owino, taught a training of trainers workshop at the GRA office in Musoma. They lead an advanced course for more than 25 certified teachers with emphasis in training other members of the community in solar food preparation techniques and water pasteurization, as well as creating income generating opportunities with solar cooking for themselves.
In August 2010, GRA won the first place regional award and second place national award at "Nane Nane" - Tanzania's largest farming and agriculture expo! Every year over ten thousand people gather for the three day Nane Nane (8/8) celebration. GRA was invited by the Tanzanian government to present permaculture, solar cooking and rammed earth block construction. Our exhibit was received by over 1,000 attendees who were treated to samples of solar cooked meat and sweet potatoes. GRA's staff educated people on the many benefits of solar cooking from smokeless cooking to preventing deforestation to easy water pasteurization. On the final day, GRA presented a solar cooked cake to the Guest of Honor and other government officials.
In May 2010, GRA received funding from The Ferguson Foundation (TFF) to offer 50 free, one-day solar cooking workshops to rural Tanzanian residents in 2011. TFF also provided funding to subsidize approx 1,300 solar cook kits for very poor families. After one or two months, workshop participants will be invited to another free workshop to share recipes, cover any questions they may have and receive further training and encouragement to continue enjoying the benefits of solar cooking.
GRA Tanzania has a beautiful office space on a half acre compound provided for free by the government. Here they are able to store the solar cooking materials, assemble cookits, provide solar cooking classes, teach permaculture, provide a meeting place for participants in their orphans program and store equipment for the GRA water project. With the help of Solar Cookers International, GRA's office in Musoma has become a well established Solar Cooking education site of Tanzania.
News and recent developments
See also
External links
Contact
Global Resource Alliance, Inc.
963 Oso Rd.
Ojai, CA 93023
USA
Tel: +1 (805) 646-4439
Email: globalresourcealliance@gmail.com
Web: http://www.globalresourcealliance.org