Forno de Sol, Solar Oven
Talk

0
1,972pages on
this wiki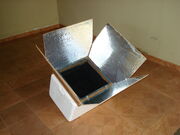 gnWrite the first paragraph of your article here.
Section heading
I have always liked solar powered produ.cts, for the main reason that the power is FREE AND CLEAN. Today
I have the following solar powered units: solar radio, lighter, flashlight, panel (19 volt/.61Amp) and oven. I use all of these specially when I go camping with my family.
Section heading
I recently bought a solar oven and after using it for a while, I was sure that I could make a similar unit using the materials available locally
here in Palmas, Tocantins, Brasil. For almost a year, l had made several prototypes until I finally came to the above shown model.
The oven body is made of sheet metal number 28 (0.43 mm) the main part bent in four places and the two sides rivited into place, forming
a well sealed oven chamber. The hardest part of this ordeal was to find the best type of insulation in order to maintain oven temperature,
which reaches an overwhelming 165 (C) 330(F) which is sufficient to cook any type of meal. This assembly is then placed into an easily
found starfoam box (or cooler) and the insulation not only helps the oven, but also keeps the starfoam from melting. The unit is completed
with 4 plywood reflectors, lines with foil on one side and varnished on the other. These are easily folded for storage.
Cooking with a solar oven is not an easy task, since you have to get used to using it after some trials. Once you have learned how to use it,
you'll find it hard to go back to a standard gas/electric oven. Furthermore, you are making your personal constribution to a much better
world in the future.
Below I'll give you some tips I have learned with my solar cooking:
1) Heat your oven to atleast 250 (F) before placing food in it.
2) In some way mark the position you are using the oven in order to be used in the same way the next day.
3) Never place frozen or ice cold food to be cooked, minimum at room temperature.
4) Make a log of your solar cooking which should be part of your recipies, specifically: at what temperature, for how long,
air temperature and moniter the liquid content.
Feel free to contact me: www.fornodesol.com