Last edited:
23 August 2016
Events
International conferences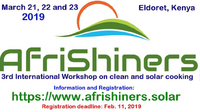 NEW: 

21-23 March 2019: AfriShiners - The AfriShiners 3rd International Workshop is taking place in Eldoret, Kenya. (Unfortunately, registration is full for this event). More information...
See also: Global Calendar of Events and past events in Finland
News
April 2015: Finnish social enterprise GoSol.org has launched a crowdfunding campaign called #FreeTheSun (http://www.gosol.org/FreeTheSun). They are crowdfunding to freely publish the designs of their multifunctional, scalable solar concentrators, as well as to mount projects around the world with their partners.
January 2014: Finnish food visionary Antto Melasniemi, and Catalan designer Martí Guixé have been successfully operating the traveling Solar Kitchen Restaurant since 2011. The Solar Kitchen Restaurant has followed the sun through Europe, visiting a range of cities where it presented this extraordinary culinary concept.
April, 2011: Sheela Kiiskilä, from SciFun, introduced Solar cooking to Tampere IB highschool students along with visiting students from France and showed them a few examples of solar cookers. The students are divided into groups and are tasked with designing, making and testing solar cookers. There will be an exhibition of solar cookers on April 29th, 2011 at the school premises. Along with high school students, preschool students from IEEC, Tampere also got introduced to solar cookers and are creating their own solar cookers to display on 29th.
History
Archived articles
Climate and culture
See also
Resources
Possible funders
Reports
Articles in the media
Web pages
Audio and video
Contacts
SCI Associates
NGOs
Government agencies
Manufacturers and vendors
Individuals
Government agencies
Educational institutions
See also
References