The news items featured below demonstrate successful solar cooking projects, either by impacting a significant number of lives of people in need, finding new strategies to help with solar cooking promotion, developing new technologies for effectively cooking for large groups, or by finding new ways to use solar cooking for income generation.
2013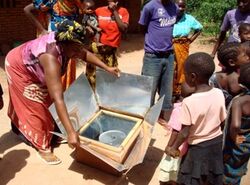 .
Solar Circle uses barter system to distribute 3000 solar cookers in Tanzania - The NGO Solar Circle has learned many things from their solar cooking program in Masasi, southern Tanzania. People will use solar cookers if they are efficient and affordable, which is often a problem for subsistence farmers who are most in need of the cookers even when the cookers are heavily subsidized. However, they have also learned that people will work hard to earn a solar cooker. The group has created a bartering system with community leaders. The community chooses a service project and the beneficiaries organize and oversee the effort. Participants earn an solar oven for their involvement. So far, the program has distributed more than 3000 solar ovens, and built 40 houses for people who are sick, elderly, widowed, or disabled. Because the community chooses the project and beneficiary, there's an eagerness to work together. Surrounding villages have heard of the cookers and the program, so spreading the word has been easy. They cannot keep up with demand. The barter program relies on external help with finances, but community service represents the same effort that of money earned in outside employment. Solar Circle values that effort, and raises what money it can from friends to expand the program.
Large-scale use of solar cookers in northwestern China shows promise - Solar Household Energy has tracked the Chinese government's efforts to reduce carbon emissions in the region, because in rural China the predominant fuel for cooking and heating is usually coal. The government has utilized the carbon credit trading program of the Clean Development Mechanism to encourage investors to become involved, and results have proven to support a profitable business model. At this point, it is estimated over two million people are benefiting from receiving and using 500,000 parabolic solar cookers. The thermal efficiency of the solar cookers averages 65% compared with 12.3% for traditional unimproved coal fires. It is estimated the solar cooker use has reduced emissions equivalent to taking 200,000 automobiles off the road. Manufactured at a unit cost of $44USD, the cookers are locally manufactured, require no externally sourced parts, and components are recyclable. For those who perceive solar cooking as happening only at a village level, this report confirms that solar cooking continues to grow as a valuable resource to significantly help reduce global carbon emissions. Read more details of the report at: Solar Cooking in China: A CDM Project
2012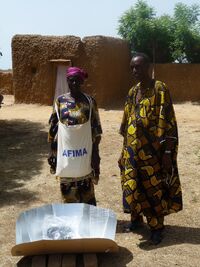 A successful Integrated Cooking project cooking in Ségou, Mali - In 2009, KoZon, a Dutch NGO promoting solar cooking in the Sahel, and AFIMA, a Malian NGO promoting the development of rural women, began a joint project in Ségou, a region of Mali where solar cookers had not been introduced. In five villages (Dioro, Babougou, Koila Bamanan, Kominé, Soké), they trained four groups of 25 women (selected by the village chiefs) in the practice of Integrated Cooking. They received kits containing: two CooKits, to cook meals when the sun shines; a fuel-efficient woodstove, for use when there's no sun; and a heat-retention cooker to allow even more food to be cooked in the first two. In addition to a short hands-on training workshop, the project ensured that all participants were visited several times after the course to solve problems, and provide extra tips, and encouragement. In the final evaluation, in May 2012, external experts established that more than 80% of the participants--in some villages nearly 100%--used these technologies daily. As intended, they are now saving some 1,800 tons of fuel wood per year. The evaluators also found that many women appreciate having more free time each day, since they do not have to tend a fire when solar cooking or using the heat-retention cooker. They use their time for other activities including running small businesses. Buying less firewood also saves them a lot of money. It's no surprise that the evaluators spoke of integrated cooking as a great means of relieving poverty!
Indian government makes major investment to teach solar cooking in schools - Ajay Chandak reports that in the Indian government's five year plan, 2012-2016, 30,000 million INR (approx. $600,000,000USD) is budgeted for solar cooking instruction in 500,000 schools. This will not only help in saving the environment, but it will expose millions and millions of school children to solar cooking and build the confidence that these systems work.
South Dakota, USA nonprofit has delivered thousands of solar cookers to Haiti - Haiti Solar Oven Partners passed a milestone this spring by delivering another 1000 solar cookers as part of the relief effort resulting from the 2010 earthquake. This brings the total number of cookers they have taken to Haiti to over 5000. They had begun having solar cooking workshops in the country before the earthquake and have since stepped up their efforts. Currently, they are conducting an evaluation of their Haiti projects.
2011
Bolivia Inti-Sud Soleil reports a decade of success - Bolivia Inti-Sud Soleil reports they have distributed more than 20,000 ecological appliances since 2000. From these 20,000, 14,000 have been solar cookers, mainly distributed in the South American countries of Peru, Bolivia, Chile, and Argentina. Additionally, 5,000 Rocket Stoves were distributed in the African countries of Benin, Chad, and Guinea, as well as to the South American countries. Besides solar cookers and stoves, they have also provided fireless cookers, solar food dryers and solar showers. On November 5, 2011, the organization is sponsoring a national conference addressing deforestation in Africa to be held in their hometown of Nantes, France. Registration and program information.
2010
Institutional solar cooking gains momentum in India - A news release from the Ministry of New and Renewable Energy in India, reporting on important activities in 2010, states: Solar concentrating systems, comprising automatically tracked of parabolic dishes, have been found to be useful for generating steam to cook food for hundreds and thousands of people in community kitchens especially at religious places such as Shirdi, Mount Abu, Tirupati etc. The world's largest system is functioning at Shirdi for cooking food for 20,000 people/day. These systems have found good applications for air conditioning and laundry also and a few demonstration plants have recently been installed. A total of around 80 concentrating systems of different capacities covering 25,000 sq.m. of dish area are functioning in the country, largely for cooking purpose. During 2010, 15 such systems were sanctioned covering a dish area of around 3000 sq.m. See Scheffler Community Kitchen.
The Solar Cooker Project helps to improve the lives of Darfur refugees. In May, 2006, Jewish World Watch began a partnership with Solar Cookers International (SCI) and the KoZon Foundation to expand access to solar cookers for Darfur refugees and improve the lives of over 4,000 families at Iridimi Refugee Camp in Chad. The project improves the safety and survival of women in the refugee camps and is run on the ground by the NGO Tchad Solaire ("Chad Sun"). Below is a recent video describing their efforts.
Solar cooking "Avon Ladies" in Zambia - The Solar Health and Education Project (SHEP) began in 2007 to fund solar cooking workshops in rural areas of Zambia, and also with the urban poor in the Livingstone area. The main goal of the workshops was to introduce solar cooking methods to the community in a sustainable fashion. Most at the workshop have little education, but are completely sold on harvesting the sun for their daily needs of cooking fuel. The team, with direction from Alison Curtis, developed a system to appoint a local leader at the workshop to follow-up with a group of participants to help and encourage using the new cookers. Now, three years later, the solar team has ten excellent leaders who take turns spreading the solar news by setting up at shows, events, museum gatherings, school playgrounds, clinics and so on. These unschooled women leaders have learned to fill in a simple form, which SHEP developed with their input, so they have the knowledge to complete a request for funds themselves. The headmaster at the nursery school reads these requests and grants the money from SHEP to hold the demonstration or workshop. The women do the shopping, keep receipts, hold the event and then fill in a very basic report. They are paid for their workshop day @ $2.00 per event. The women are quite resourceful, as they have learned to make Cookits from cartons and reflective Crisp wrappers found in the trash.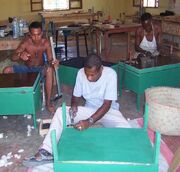 Long term investment in Madagascar has created a thriving solar cooking enterprise- The team of the Association pour le Développement de l'Energie Solaire (ADES) started its solar cooking program in Madagascar in 2001 with a small carpentry shop under a party tent, two motivated carpenters and an instructress. Today they operate six centers with manufacturing facilities, a new retail outlet in Antananarivo, the capital and a coordination center in Tuléar. ADES now employs 85 people, and has additionally created about 50 jobs in external enterprises. An average family of 20 people is living off the salary of one employee. Southwestern Madagascar experiences about 330 sunny days per year and is a nearly ideal region for solar cooking. Since they began their program they have taught the people of Madagascar to build and use more than 50,000 solar cookers, reducing local wood consumption by 65%.
The world's largest solar cooking system was recently put into service - It is located in the holy town of Shirdi, India. Feeding the pilgrims that make an annual visit to the town has historically been done with conventional ovens, with recurring issues of fuel supply and air quality. Through the efforts and engineering of Deepak Gadhia and his wife, Shirin Gadhia, they have brought this largest solar cooking installation constructed to date, to Shirdi. They began working on the design in Germany before bringing the technology to India. Deepak is a specialist in energy conservation and management, and Shirin has a doctorate in genetic engineering. They worked with the proven designs of of the Scheffler parabolic solar oven as the basis for their system. The array incorporates seventy-three large parabolic dishes connected and coordinated with a tracking system to efficiently create the steam for cooking. Talking with CNN correspondent Mallika Kapur, Deepak said that "We soon realized what India needed was appropriate technology, not high technology". This region in India benefits from approximately 320 sunny days per year. During the monsoon season the existing boiler is used for cooking for the few days without sunshine.
2007
30,000 parabolic solar cookers distributed in Indonesia with CDM funding to reduce kerosene consumption - Jakarta Indonesia officials plan to reduce kerosene consumption by distributing 30,000 parabolic solar cookers as part of a Clean Development Mechanism project, according to a recent Jakarta Post article by Adianto P. Simamora. The pilot phase of the project will take place in Kepulauan Seribu (Thousand Islands) regency, where sunshine is plentiful. As reported in the article, "Jakarta consumes about 2.7 million liters of kerosene a day. A family using one liter of kerosene per day emits two tons of carbon dioxide (CO2) each year." Kerosene is available to consumers at a state-subsidized price of Rp. 2,000 per liter (about $0.22). "The solar cookers will be provided for free by German company EnerXi GMbh to support the city's attempts to take part in the Clean Development Mechanism (CDM) project," writes Simamora. Through CDM projects, developing countries can earn Certified Emission Reductions (CERs) based on the resulting amount of CO2 reduction. (One CER is equivalent to one ton of CO2.) To help meet Kyoto Protocol targets, developed countries can then purchase CERs from developing countries. According to the article, the price of one CER is between $5-10.