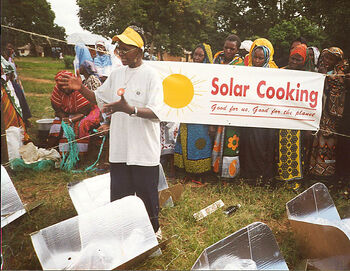 Faustine Odaba is the Director of Natural Resources and Waste Management Alliance (NAREWAMA).  Formerly, Ms. Odaba was Head Trainer at the former Solar Cookers International East Africa Office. When Solar Cookers International (SCI) hired Faustine Odaba as a Field Assistant in 2000, she had already proven her mettle.
In the very early 1990s, Faustine was an active member and a leader of the Amagoro Housewives Group in the Busia District of western Kenya. The group soon met up with US Peace Corps volunteer Barbara Ross, who brought with her a wooden solar box cooker obtained from Trans World Radio (TWR).
The members of the group shared the cooker, and soon learned to be expert solar cooks. They quickly realized that one solar cooker was not enough and began searching for ways to acquire more, but were unable to afford the TWR cookers. When they heard of Solar Cookers International, they contacted us for information about making low cost solar box cookers from cardboard.
After receiving basic instructions from SCI, the group followed up with several more correspondences seeking additional tips, including how to test aluminized gift wrap, which was very easily available, as a substitute for aluminum foil. (Tip: heat a small sample of the gift wrap by conventional means or in an existing solar cooker. Many aluminized gift wraps will melt. Others will hold up fine in temperatures of 300° to 400°F (150° to 200°C).)
By 1992, Faustine and her colleagues were demonstrating solar cooking at fairs, agricultural shows, markets and even along roadsides. In 1993, Faustine explained to a reporter from the Kenya Times that, "after using it in our homes, we did not want to keep this information to ourselves."
She also told the reporter that solar cookers work well for arrow root, sweet potatoes, githeri, and ugali from both cassava flour and from maize flour. The recipe she gave for ugali was "for every cup of unga, put two cups of cold water, stir it well, place it in the cooker and leave it for a while. After one and a half hours, it will be well cooked and hard. This cooker saves us time as well as having a smoke-free environment." (Note: preferences for ugali's texture apparently vary from region to region; not all people will necessarily enjoy Faustine's ugali recipe.)
In 1994, Faustine and other members of the Amagoro Housewives attended the first Kenya-wide solar cooking conference. As the only seasoned Kenyan solar cooks in attendance, they were stars of the show, overwhelming the doubts of skeptics with their first-hand experience of solar cooking success.
When SCI launched the world's first solar cooking refugee camp field project in Kakuma Refugee Camp in 1995, Faustine was there, one of three volunteers who led the initial teaching program. Faustine was also a key volunteer when SCI launched its first project for settled communities in Zimbabwe in 1996.
Again, in 1997, Faustine was deeply involved with the launching of SCI's project at the Aisha Refugee Camp in Ethiopia.
Faustine began service as Field Supervisor for the Nairobi East "SOLACOOK" solar cooking program. She also continued to help out with SCI's field projects. In 1999, she distinguished herself again while on a working trip to Kakuma by helping to convince a depressed refugee to not commit suicide.
NAREWAMA continues to provide solar cooking training to communities throughout Kenya. In 2013, Ms. Odaba  and traveled to Liberia at the request of Marylanders for Progress (Liberia) to introduce solar cooking to communities eager to learn about this technology.
Experience, commitment and great heart! SCI is indeed proud to have Faustine Odaba as a partner in East Africa. In 2012 and 2013, NAREWAMA partnered with SCI to provide quality solar cooking training to several communities in the Nairobi area.
News and recent developments
October 2013: Faustine Odaba and Nicholas Okeya present a solar cooking and haybasket during a festivity of the Catholic Church in Nairobi.
August 2008: With support from the Richard and Rhoda Goldman Fund, the long anticipated "training of trainers" water testing and solar pasteurization workshop was held in June at Tom Mboya Labour College in Kisumu, Kenya. Participants included 20 top staff members each from the Water Resources Management Authority (WRMA) and the Ministry of Public Health and Sanitation (MPHS). Solar Cookers International (SCI) staff members Margaret Owino, Faustine Odaba, Elijah Achola, Dinah Chienjo, Simon Ogutu, John Amayo and Karyn Ellis were instrumental in the success of this workshop, as was John Rimberia from Embu. Microbiologist and SCI Board President Dr. Bob Metcalf led the workshop. Topics included a review of bacterial properties and growth, pasteurization principles, use of the bacterium Escherichia coli as a contamination indicator, properties of the Colilert® and Petrifilm™ tests for E. coli, and solar pasteurization using the CooKit solar cooker and SCI's wax-based, reusable Water Pasteurization Indicator (WAPI).

Audio and video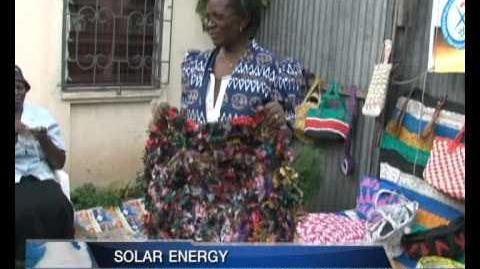 Contact
Email: faustine_odaba@yahoo.com
Facebook: http://www.facebook.com/#!/MamaSolarAfrica