Deutsch, Español, Français, Indonesian, Italiano, Kiswahili, Kreyòl ayisyen, Melayu, Português, Русский, Soomaaliga, Tagalog, Tiếng Việt, Türkçe, Ελληνικά, தமிழ், नेपाली, 中文, اردو, 한국어, 日本語, العربية, فارسی, עִברִית, हिन्दी, ไทย, বাংলা, తెలుగు, ગુજરાતી, ລາວ
Last updated: April 28, 2015      
This page lists events related to solar cooking throughout the world. To add your event to this page, email event information to webmaster@solarcooking.org.
Awards and grants
Edit
Through May 1, 2015: BBVA Foundation Frontiers of Knowledge Awards: Solar Cookers International has a unique opportunity to nominate projects from SCInet members for the 2015 BBVA Foundation Frontiers of Knowledge Awards. The BBVA Foundation Frontiers of Knowledge Awards seek to recognize and encourage world-class research and artistic creation, awarding contributions of lasting impact for their originality, theoretical significance, and ability to push back the frontiers of the known world. For consideration for nomination, please email Solar Cookers International with the Subject Line "BBVA Awards" for nomination instructions. Final applications must be received no later than May 1, 2015. All materials must be in English. Read more...
August 14-16, 2015: (Riebau) The Solar Festival e.V. will be taking place at the former army barracks in Riebau, between Altmark and Wendland. The event will cover all things solar with demonstrations and musical entertainment. More information...
November 10-13, 2015: (Accra) Join 400 global leaders and practitioners gathered to help accelerate adoption of cleaner, more efficient cooking solutions at the Clean Cooking Forum sponsored by the Global Alliance for Clean Cookstoves. The bi-annual event will bring together stakeholders to share knowledge, learn best practices and forge new partnerships during four-days of informative sessions, networking, site visits, and clean cooking demonstrations. More information...
April 26-28, 2015: (Petra) Jordan will be hosting their first solar cooking forum and competition in cooperation with the Arabian Green energy company in Petra, Jordan. Cash prizes will be awarded for best solar cooker design, best research in solar cooking, and best cultural interaction. More information..., See also: Mohammed Al Ta'ani, General Manager of the Jordanian Renewable Energy Society
January 18-21, 2016: (Abu Dhabi) The World Future Energy Summit (WFES) is an annual event hosted by Masdar, which is dedicated to advancing future energy, energy efficiency and clean technologies. It will be held at the Abu Dhabi National Exhibition Centre. The summit is the Middle East's largest gathering on future energy and one that drives actionable solutions to the world's energy challenges. Now in its ninth edition, WFES 2016 will attract upwards of 30,000 delegates from 170 different countries, representing expertise from industry, technology, finance and government. More information...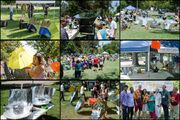 Saturday, July 18, 2015: (Sacramento) The 2nd annual Sacramento Solar Cooking Festival will be held once again in William Land Park from 10 a.m. - 3 p.m. The event is free and open to the public. Solar chefs interested in cooking at the festival are required to pre-register, which will begin in May, 2015. Attend mini solar-cooking classes, learn how solar cooking helps families around the world, and learn how to make a solar cooker yourself. A video of the 2014 festival can be seen at: Sacramento Solar Cooking Festival 2014
NEW: 

Saturday, August 8, 2015: (San Diego) Jim La Joie, designer of the All Season Solar Cooker, will present a 2 p.m. free class about solar cooking at the City Farmers Nursery located at 4832 Home Ave. He will cover the different types of solar cookers available and cooking techniques. When registering for the class you are offered a reduced price on an All Season's Solar Cooker. Sign up for this option prior to the class. More information...
April 2015: (Dodgeville) An exhibition of Solar Energy Architectonics by Joel Goodman is scheduled at the Iowa County Courthouse (both floor levels), in Dodgeville, Wisconsin, USA for the month of April. Drawings and model photographs will be presented including: the BIETR (building interior evacuated tubes and reflectors) project, building integrated nonimaging reflector troughs (interior and exterior), thru-wall solar cookers, heliostats (2-axis tracking and 1-axis tracking linear Fresnel systems), spherical reflector segment bowls, and thermal storage.
See also
Edit