In category: Africa | East Africa
Deutsch, Español, Français, Hausa, Igbo, Indonesian, Italiano, Kiswahili, Kreyòl, Malagasy, Melayu, Português, Русский, Soomaaliga, Tagalog, Việt, Türkçe, Yorùbá, Ελληνικά, தமிழ், नेपाली, 中文, اردو, 한국어, 日本語, العربية, فارسی, עִברִית, हिन्दी, ไทย, বাংলা, తెలుగు, ગુજરાતી, ລາວ, ਪੰਜਾਬੀ, සිංහල, پښتو
Events
News and Recent Developments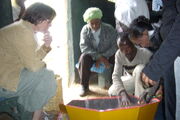 December 2012: A new Solar Cooking Business is started in Awra Amba, Ethiopia an exceptional community north Ethiopia. Together with Solar Cooking Netherlands the action plan is completed and the construction of the production centre is started in the village's distinctive building style: a wooden construction finished with a mixture of available loam and soil. The production of CooKits, hay baskets and wood-saving stoves is to start next spring. Solar box cookers will be introduced and produced as well. After about three years, the project will be financially independent.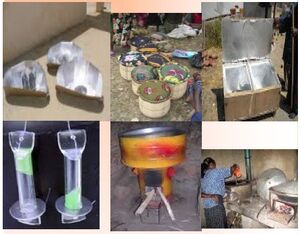 November 2012: Partnership for Integrated Sustainable Development Association(PISDA) promotes solar cookers in Ethiopia – PISDA a non-government, local organization, has re-registered as Ethiopian Residents Charity Association. PISDA was initially established with the name Donkey for Development organization in May 27, 1999. PISDA is a member of the Consortium known as Christian Relief and Development Association. The organization was established by individuals who acknowledged the needs of female heads of households who support their children by collecting and selling firewood, cow-dung and grass/straw for small amounts in the market. It is believed that the current EU project will enable PISDA to promote the Integrated Sustainable Fuel Saving Stoves particularly the CooKit on a wider scale. To date, they have distributed 3,686 CooKit solar cookers, 2,139 Mirt and 1,540 Rocket Stoves, and 1,929 Hay baskets. Read more about Ethiopia Donkeys for Development.
July 2012: Fikirte Regassa Beyene is working as representative for Solar Cooking Foundation the Netherlands (SCN) on HOAREC/N's team for the eu-energy-facility-project as Integrated Solar Cooking Project Officer in Addis Abeba. She is appointed since several months to ensure SCN's role as advisor and technical assistance in this project .
Febuary 2012: The first National Project Steering Committee (NPSC) organised by HOAREC/N took place in Addis Ababa. The NPSC has the overall responsibility on quality control, development and - assurance related to the objectives of the European Union RET / EE project for Integrated Solar Cooking in Ethiopia in three areas. The target group is 10,000 households. Solar Cooking Foundation the Netherlands (SCN) is Associated Partner in this project and member of the NPSC.
February 2012: The Horn of Africa Regional Environment Centre has posted a job listing for an experienced 'Integrated Solar Cooking Project Officer' to work on programs in Addis Ababa, Shoa, Ethiopia. MA/BA: in business management, environmental sciences, geography, environmental management or a related field is required. More Information...
April 2011: Europastry is working with Sol Solidari to reduce poverty and desertification in Africa (English, español)
March 2011: Big success of the sale of subsidized solar ovens in Lalibela,Ethiopia. The people in this area now have seen the cookers function, and understand the benefits of these solar ovens, that we began to offer to them on a subsidized basis in early 2011. (Read more)
November 2011: At the beginning of this year, Horn of Africa Regional Environment Centre and Network (HoA-REC/N) invited Clara Thomas and Henk Crietee to provide training in various locations in Northern and Southern Ethiopia. Representatives of participating NGO's, mainly women, learned about the Integrated Cooking Method, public promotion, and project planning, as well as how to create a small production enterprise. Mesfin Kinfu, from HoA-REC/N, accompanied Clara and Henk and acted as translator and co-trainer. In October Clara and Henk attended a workshop in Ethiopia at the start of the large renewable energy project. Their contribution was important and highly appreciated by the participants.
October 2011: A few years ago, Addis Ababa University consolidated all environmental activities in the Horn of Africa under the umbrella of one organisation. This included scientific institutions as well as private civil society organisations and led to the creation of HoA-REC/N. At present, more than 50 institutions and organisations from Ethiopia, Somalia, (Eritrea), Djibouti, Kenya and Sudan have become HoA-REC/N. members.Its principal objective is to stimulate and coordinate environmental activities "on the ground". Partnership programmes in the field of renewable energy play a central role. The European Union and the Netherlands Embassy. The Netherlands development organization SNV and the German organisation GIZ (German International Development) provide technical support. Solar Cooking Foundation The Netherlands, SCN provides support solely in the field of Integrated Sustainable Solar Cooking. At the end of this year, HoA-REC/N is moving to a new building in the Gullele Botanical Garden close to the centre of Addis Ababa. This building is part of a projected eco-village. This will simultaneously promote environmental
awareness among the public at large and a number of environmentally friendly technologies such as solar
energy, bioenergy and various energy-saving building techniques. A large project financed by the European Union focuses on the creation of a number of so-called Renewable Energy Technology Centres in Ethiopia. HoA-REC/N takes on the management and coordination of the centres. The NGOs involved in the project, take on the implementation. SCN provides technical assistance to the Project and some co-financing.
October 2010:A new Integrated Sustainable Solar Cooking (ISSC) project in the Horn of Africa is coordinated by Horn of Africa Regional Environment Centre and Network (HoA-REC/N). They are part of Addis Ababa University's environment department and last year organised a very successful Integrated Cooking Method conference in which 24 NGOs from the Horn of Africa participated. One of the results of this conference is a new project now being developed in the Horn of Africa, in Ethiopia.
The Burayou technical school outlined an excellent project proposal with a budget of € 16,000. The Ethiopian NGO Agohelma, as a member of HoAREC/N, has concluded an agreement with the technical school to implement the project and to provide the funds as well. For many years now, the school in Burayou has been developing wood-saving cooking appliances, including a production line. It did not therefore come as a surprise that there was considerable enthusiasm for the
production of solar ovens and hay baskets. The project proposal has allocated the various responsibilities of the school, HoA-REC/N and NGO Agohelma as follows:

HoA-REC/N is responsible for the coordination of the various Solar Cooking (ISSC) projects and the
exchange of technical expertise, as well as for the organisation of training programmes and funds;
The NGO Agohelma is responsible for the provision of financial means, the ordering of production materials and the progress and final reports;
Agohelma and the technical school will jointly arrange for the promotion and distribution of the newly produced solar and other cooking appliances in less-favoured urban districts of Addis Ababa and vicinity;
The Burayou Technical School will act as entrepreneur for the time being and is responsible for the production and storage of cooking appliances. They will assist in the promotion of and information about the ISSC concept through the school's information centre. The school will handle the training of female ISSC instructors and be involved in the organisation of instruction programmes for end-users and customers.
Solar Cooking foundation the Netherlands SCN can organise on request training in all fields mentioned. Requests for financial support can be submitted to SCN for project proposals, including detailed budgets, in consultation with HoA-REC/N.
December 2009: Our project began when a friend went to the area on an "eco-tourism" vacation. She saw that there were some real needs in the area outside of Addis Ababa related to cooking food. Ethiopians have to spend hours a day looking for cooking fuel or they have to sell a portion of their food to pay for fuel. Lung conditions and eye problems are rampant from cooking indoors. Jane Farley, David Robinson, and a few others are taking trips every 3 months to see if they'll use solar cookers and then teach them about solar cooking. Each time they go they plan to take Solar Cooking International's CooKit kits and will be teaching a graduating class at a trade school how to make them this March. So with a combination of CooKits and solar cookers made from materials found in country they are spreading the good news about solar cooking and its benefits. They left 5 cookers in January with 5 families and part of the goal for March is to see how the families are using them and see if any re-training will be required. It's just an example of how a small group of civic-minded people can affect positive change on the other side of the world.
November 2009: Initial pioneering work by Ato Guillilat, executive director of Partnership for Integrated Sustainable Development Association, led in 2007 to a small-scale integrated solar cooking pilot project with Solar Cooking Netherlands (SCN) in villages around Debre Zeit. According to SCN Chairwoman Clara Thomas, initial results were promising. In 2008, plans were developed for a regional production and promotion center for integrated solar cooking and water pasteurization. The center, which opened in March 2009, includes space for training, assembly, sales, and cooking demonstrations. In the pilot project, approximately 1,500 households across four villages have adopted integrated solar cooking methods, maximizing their cooking fuel savings by using solar CooKits whenever possible, fuel-efficient stoves (based on a design by GTZ) when necessary, and retained heat devices to continue cooking after food is removed from either heat source. Janny Poley, first secretary for environment and water for the Royal Netherlands Embassy in Addis Ababa, was impressed by the project and introduced it to Horn of Africa Regional Environment Centre and Network (HOAREC/N) at Addis Ababa University. Under Poley's leadership, HOAREC/N held an integrated solar cooking workshop in March 2009. For more info...
January 2009: In Ethiopia Steve Harrigan of Solar Clutch made solar cookers with the Ethiopian and Somali people at the Agape Reading Center. The Somali people are already refugees in Ethiopia and in great financial need. Solar cooking is a free source of energy to that allows them to cook without having to use firewood. An Ethiopian couple also was excited to learn how to make solar cookers because they run an orphanage near the Somali boarder and have 30 little mouths to feed 3 times a day! We made cookers from the wheel chair boxes that had been donated to the handicap people of Ethiopia. A double use of the resources God has put at our disposal. If you would like to help provide solar cookers for this orphanage please contact Solar Clutch.
November 2007: Solar Cooking Netherlands (SCN) has teamed up with Partnership for Integrated Sustainable Development Association (PISDA), a local non-governmental organization, to introduce solar cooking in four rural villages around Debre Zeit. PISDA has worked with female heads of households on a number of projects, such as tree planting, fuel-efficient wood stoves, and savings and credit associations. SCN's Clara Thomas, along with PISDA's Ato Guillilat, left early mornings on a two-wheeled horse wagon to visit the four rural villages. They first introduced solar cookers to village elders, and then spent a week training a group of solar cooking instructors. A year-long initial program was agreed upon to ensure continued follow up in the form of monthly collective solar cooking meetings to share experiences and advice. The project will likely expand next year. A local solar fabricator in Addis Ababa — Bereket Solar — will produce CooKit solar cookers by hand for the project. Towards the end of 2007 he will transfer his experience and knowledge to the women in rural areas so that they can make their own CooKits. Injera, a pancake-like bread, is a local staple that cannot be cooked with simple solar cookers. (It requires a 60-centimeter diameter pan and baking temperature of at least 220°C.) A research program is underway to find a solar method for baking injera. The present cooking culture does not permit introducing collective solar injera baking through a large bakery or otherwise. In the meantime, injera will continue to be baked three times per week on a fuel-efficient wood stove.
January 2007: EG-Solar reports that in the spring of 2006 it asked its supporters to donate money to pay for materials to build 150 parabolic solar cookers for poor Ethiopians. The children of these lucky families now do not have collect firewood and can attend school. EG-Solar is accepting donations to bring cookers to more families in Ethiopia this year.
The History of Solar Cooking in Ethiopia
Ethiopia has much to show in terms of work with solar cookers. Two activities stand out, and will be discussed initially. The first is a long lasting, though now ended, program in a refugee camp located near the border with Somalia and Djibouti, in a place known as the Aisha refugee camp.
The solar cooking work in Aisha was initiated at the request of the United Nations High Commissioner for Refugees, through a staff member named Christopher Talbot who had seen the project in Kakuma refugee camp in Kenya. At that particular time, the UNHCR was being severely criticized for the massive destruction of forests caused by refugees from the southern Africa civil wars in Mozambique and Angola. A UN "pledging" meeting had been held for the purpose of raising millions of dollars to restore terrain ravaged by refugees in camps run by UNHCR in that part of Africa. Funds were in fact given for additional refugee work, of course, but with the strong admonition to UNHCR and its allied organizations and governments to take great care to see that damage to the environs of camps from uncontrolled collecting of firewood by refugees be strictly curtailed. UNHCR was thus urgently seeking solutions. Seeing the solar cooking project in Kakuma led them to undertake an experimental program in a small camp in an isolated corner of Ethiopia.
The camp's inhabitants are almost entirely refugees from nearby Somalia; the camp is located near enough to the border that it was even possible for refugees to make visits to their former homes from time to time. The area was one with limited forest cover even at the time the camp was established, and soon the landscape was nearly desolate. Refugees who at first could make a fuel gathering trip and back in a/day soon had to change to a pattern of using draft animals to go longer distances requiring two or three day trips. Fuel gathering thus ceased to be one in which women and children gathered wood nearby to one in which commercial arrangements were made by entrepreneurs who hired woodcutters and draft animals, then sold the wood to refugees. The difference was immaterial to the environment, of course, which suffered substantially from both practices.
Aisha was not large, as refugee camps go. It housed around 2,000 households and between 14,000-15,000 individuals. The site itself was far from Addis Ababa, both difficult and time consuming to reach. But the site also offered a place where need was great, where sunshine was abundant, where the population was relatively stable (for a refugee camp), and where careful and detailed evaluation would be possible. A baseline study of fuelwood use was done for later comparison, and the project began in 1998.
The project in Aisha continued until 2002, by which time all refugees who were interested had been supplied with cookers and trained in cooker usage. Refugee women and men were trained to be the trainers of others and an Ethiopian coordinator oversaw the project for SCI. Before formally closing the work as an SCI sponsored project, a final evaluation of the project was undertaken by an Ethiopian social scientist, with noteworthy results. About 95% of all householders in the camp used solar cookers, at least part of the time. Spending for fuel declined by 42% from pre-project days.
Refugees spend substantially less time gathering wood, allowing children to attend school and women to engage in community and income generating activity. Additional details of the project's operation, management, and outcomes are provided for the reader in the case study on this project. Aisha Solar Cooking Project
Climate, Culture, and Special Considerations
Solar Cookers International has rated Ethiopia as the #4 country in the world in terms of solar cooking potential (See: The 25 countries with the most solar cooking potential). The estimated number of people in Ethiopia with fuel scarcity but ample sun in 2020 is 24,200,000.
Climate makes a big difference in how much value is derived from solar cookers. All of Ethiopia is close enough to the equator to get plenty of solar power whenever the sun is shining (not counting the first hour or so after sunrise and before sunset). To get more good use from solar cookers, one wants not only ample hours of sunshine during daylight, but predictable sunshine--reducing the guess work about whether one's food will cook with solar power today or not. With the lower cost cookers made of cardboard, surprise rain can also damage the cookers severely.
In one of our field projects--in Kakuma, in northwestern Kenya--our field staff kept track of the weather on a daily basis for years and figured there were about 200 sunny days good for solar cooking in that climate. People could reduce their use of combustible fuels by 40% or more annually with that number of sunny days, and the people who learned solar cooking were grateful. They were using the low power, cardboard CooKit type cookers.
Twelve months of sunshine is not a necessary condition for successful solar cooking. But clearly, 300 sunny days per year will enable more fuel savings than 200, and 200 will be better than 120. How does one decide whether the local climate is sunny enough? From an economic point of view, it would depend on the cost of the cookers over their lifetime compared to the amount of fuel they would save over their life time and the price of that fuel. So one can afford to pay more for cooker A compared to cooker B if cooker A lasts sufficiently longer or if it saves more fuel. Also, one can pay more for cookers and still save money on fuel costs in places where fuel prices are higher.
The question becomes very local. How much sun do I get, at what time of the day, when do I cook, how many people do I cook for at once, how much does cooking fuel cost?
As far as I know, there is no definitive science that tells us the cost/benefit ratios for the many different variations on solar cookers that exist today, nor can it be said that cooker X is definitely best for this climate or that economic niche. A process of discovery is gradually unfolding. Making choices for your project will not be fool-proof, but familiarity with local conditions, habits and attitudes coupled with reasoning and gathering feedback from a variety of sources should help. Also, it would be great to talk to the people who will be doing the cooking to find out how they feel about switching to a new system and what sort of system they would want.
When one thinks of cooking in Ethiopia, one thinks immediately of njera bread, which must be cooked with fairly high heat. If the ethnic groups you work with are not eating an njera-based diet, then you probably don't have a problem--but if njera is a staple, then you will need to be sure that your cooking system can handle it. Open "panel cookers" like SCI's CooKit are not njera-friendly, and neither are the simpler, home-made box cookers. Parabolic cookers should be able to cook njera. I would think the Scheffler reflector system would have no problem making njera bread, but I think I would double check with the designers and be sure to include temperatures suitable for njera when you discuss your specifications for what you want. The type of fluid (and its particular boiling point) that circulates carrying heat in a Scheffler system could make an important difference in the maximum cooking temperatures you could get, and therefore those desired temperatures would be something to discuss with designers of Scheffler type systems.
Availability of materials
Cardboard: Locally produced cardboard is available, but it is of very poor quality.
Aluminum foil: Needs to be imported.
Plastic bags: Heat-resistant bags are produced locally.
See Solar Bereket for more information on obtaining these materials.
See also
Resources
Integrated Sustainable Solar Cooking
Project evaluations
Audio and video
Contacts
NGOs
Manufacturers and vendors
Government agencies
Educational institutions
Individuals
See also
References