Deutsch, Español, Ελληνικά, Français, Hausa, Igbo, Indonesian, Italiano, Kiswahili, Kreyòl, Malagasy, Melayu, Português, Русский, Soomaaliga, Tagalog, Việt, Türkçe, Yorùbá, தமிழ், नेपाली, 中文, اردو, 한국어, 日本語, العربية, فارسی, עִברִית, हिन्दी, ไทย, বাংলা, తెలుగు, ગુજરાતી, ລາວ, ਪੰਜਾਬੀ, සිංහල, پښتو
Last updated: 5 November 2014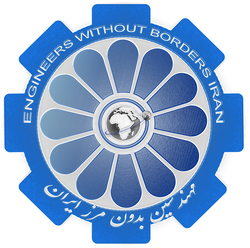 Engineers Without Borders - Iran was founded by Soheil Salimi in 2012. They are located in Shiraz, in the Fars Province, Iran, which is well-suited for solar cooking, receiving many days of abundant sunshine.
Engineers Without Borders-Iran is a non-profit, non-governmental organization which believes that one of the easiest way to help others is to simply share your knowledge . You don't have to be in front of a classroom to teach .Everywhere and everyday there is an opportunity to educate someone about your area of expertise. Our professional members are try to use their knowledge to seek solutions. Today's we inherited a world characterized by pressing global challenges . We must be prepared to focus our intellectual skill on problems of world health , food security , unequal access to resources , environmental degradation .what's more EWB Iran works in other subjects such as sustainability, astronomy and peace.
Recent news and developments

August 8, 2014 Soheil Salimi (Founder/President of Engineers Without Borders - Iran) organized an education program for promoting Solar Thermal Cooking in a poor region, Tal e Zard village, Abadeh Tashk, Iran. Razieh Amini nezhad and Fatemeh Rahimi accompanied him during this event too. Local women, girls and children were the attendees of the program on Friday Aug. 8, 2014. Additionally, Soheil talked about "Water Distillation" by Sun since their water has high salt concentration. More information about this training...
April 30, 2014 Soheil Salimi, founder of Engineers Without Borders - Iran, conducted a solar cooking workshop at Hafez high school for girls. Other members of the Energy team included Razieh Amini nezhad, Fatemeh Rahimi, Niloufar Nekueian and Maryam Alipour.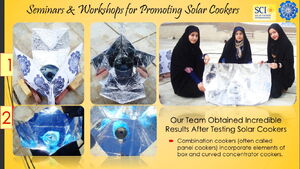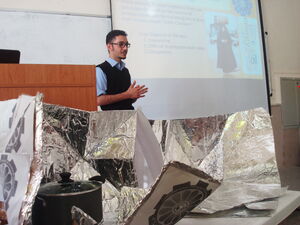 December 2013: Engineers Without Borders - Iran (EIB-Iran) participated in "Research Week" (Dec. 14 - 20, 2013) at Fasa University, highlighting the importance of solar cookers. In this seminar they informed students and professors about the different types of solar cookers and their efficiency. The team included Soheil Salimi (Founder and Lecturer), Razieh Amini nezhad (Food Science and Technology student), Niloufar Nekueian (Mathematics student), and Fatemeh Rahimi (Mechanical engineering student). They tested two types of solar cookers. The Suntastic Panel Cooker, which raised the internal temperature of an empty 4-liter black pot with a clear glass lid to 150° C (302° F) in about 30 minutes, and 3 liters of water heated from 26° C (79°F) to pasteurization point, 70°C (158°F), in about 50 minutes.

They also teseted the Dual-Setting Panel Cooker (DSPL), which has two different settings to better concentrate sunlight according to the sun altitude.

More information can be seen at User blog:Soheil Salimi
November 2013: The group is organizing their efforts, and plan to hold solar cooking workshops and seminars at several universities, schools, or other public places in Iran to introduce this valuable technology.
See also
External links
Contact
Engineers Without Borders - Iran
Soheil Salimi
Founder and President

No 11 - Parnia Apartments- Abrishami Street
Shiraz - Fars Province, 7144718173
Iran
Tel.: +98 917 387 1452
Email: soheilsalimi.ewb@gmail.com
Web: https://www.facebook.com/EWBIran