Last edited:
32 January 2015
Events
International conferences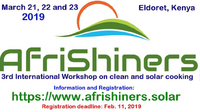 NEW: 

21-23 March 2019: AfriShiners - The AfriShiners 3rd International Workshop is taking place in Eldoret, Kenya. (Unfortunately, registration is full for this event). More information...
See also: Global Calendar of Events and past events in Egypt
News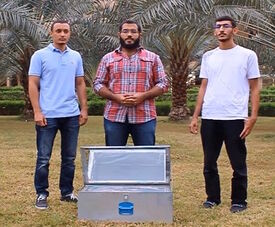 January 2016: Mahmoud Mousa, Abdullah Osama, and Ahmed Essam of E-Innovation won second place overall in the Kuwait Global Technopreneurship Challenge for their solar box cooker design. The event was organized by Wamda, a group dedicated to supporting entrepreneurs in MENA (Middle East and North Africa region). E-Innonation sees their design as a good solar cooker option for low-income families and intends to explore Egypt as the initial market.
December 2013: Egyptian solar inventor Ahmed Megahed received the 2012 Energy Globe award as well as the Arab Organization for Industrialization Award, and he was short-listed for several other awards for his prototype design of a multiple-use solar thermal cooking device. More information...
History
Archived articles
Climate and culture
Resources
Possible funders
Construction plans in Arabic
Reports
Articles in the media
Web pages
Contacts
SCI Associates
NGOs
Government agencies
Manufacturers and vendors
Individuals
Government agencies
Educational institutions
See also
References