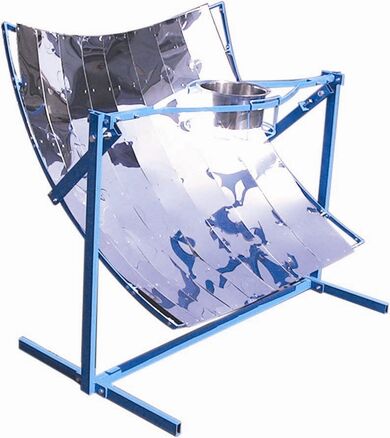 Tinytech Plants manufactures the Domestic Parabolic Solar Cooker for domestic cooking. Specifications and salient features are as under:
Entire cooker is of folding design which is our unique facility making transport very easy and cheap. It is despached in corrugated paper box packing.
Packing size is 52" x 11" x 8" only. So 400 cookers can go in a 20 ft container.
Weight of the cooker is only 20 kg.
You can assemble entire cooker in 10 minutes. But tying of 8 reflector strips will take further 10 minutes.
Reflector frame is square of 1.2mtx1.2mt and it is made of only parabolic strips and parabolic round bars.
Supporting stand is made of rectangular pipes of 38x19mm cross section.
Reflector sheets are anodized aluminium sheets imported from Germany. So it is highly efficienct in cooking. In 30 to 40 minutes, you can cook for a family.
Reflector dish has parabolic square shape. So it looks very attractive just at a glance.
Entire cooker is powder coated in attrctive colours.
A video CD is provided with every cooker for guidance.
Retail price is US$ 100/-, but for full container load of 400 cookers, discount of 16% is possible.