Dolios Solar Cooker
Talk

0
1,877pages on
this wiki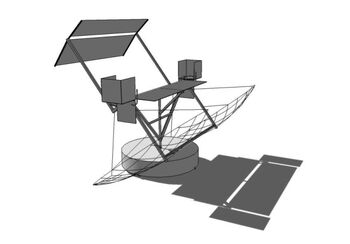 The Dolios Solar Cooker is a solar concentrator with two focal points, making it as practical and easy to use as your kitchen! Equipped with a counter top, shelves and a light protection for the user, the Dolios outputs about a kilowatt at a temperature 300°C at each focus, enough to boil two liters of water in fifteen minutes.
Two rotational axes allow concentration throughout the day by manually following the sun along its traversal of the sky. The entire machine turns to follow the azimuthal angle, while the reflectors rotate to compensate for the angle of elevation. Unlike the Petisos reflector, the Dolisos reflectors rotate about an axis through the focal point, keeping them permanently optimized.
The materials necessary to build a Dolios are simple and easy to find, usually as scrap. The parabolic reflector owes its shape to a skeleton of rebar bent by hand. For the reflective surface, ordinary bathroom mirror works extremely well and is widely available in the northern hemisphere. We dont use any glue or toxic epoxy.
The complete Dolios construction guide is freely available, like every Solarian guide. With a couple visits to your local junkyard and some scrap mirror, you can build a Dolios with about 40 euros!
The above text from: - http://solaria.pro
See also
External links
Contact