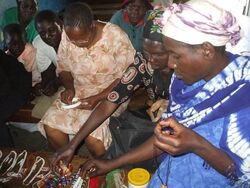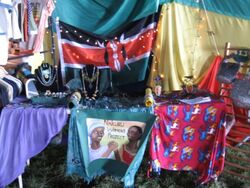 The Development Pamoja, founded in 2006, is based in Nakuru Kenya, a region that has a a maximum life expectancy of only 44 years due to a devastating combination of extreme poverty and HIV/AIDS. Its mission is aspiring to improve the lives of those living with HIV/AIDS in Nakuru through education, micro-lending and small enterprise.
The group began in 2006, founded by a group of HIV/AIDS positive women living in the Nakuru area. Life for these women is was particularly difficult. Many women may have been exposed to HIV/AIDS while forced due to poverty to work a life of prostitution. Once diagnosed as HIV/AIDS positive they may be abandoned by their husbands and left with children and dependent elderly relatives to care for. Their aim was to work their way out of poverty by creating a jewelery and accessory making co-operative. Each woman taught another woman a new skill and learned the intricate art of east African beadwork to make : necklaces, bracelets, bangles, earrings, belts, watch straps and badges. Also weaving to make beautiful basket weave bags as well as beautiful eco-friendly bags woven out of recycled materials such as refuse sacks and sweet wrappers.
Using the profits of the sale of these goods at local markets and at small markets in Ireland a micro-lending scheme has been founded. In this way any member of the project and their family may propose to borrow a small sum of money from the project funds in order to, for example, start their own business, mend a roof etc. The sum of money is then paid back by the borrower over an agreed period of time at zero interest.
News and Recent Developments
Contact
Email: nakuru_project@live.ie