This is a solar cooker I build in spring 2009. It is a sort of Funnel Cooker, with a 70 degree cone. In addition it has an inner reflector, also a cone. Temperature is measured up to 240 C with a reflector of reflective gift paper I bought on the street. All materials were bought in Congo-Brazzaville and it was built locally. Take a look at the model in 3D here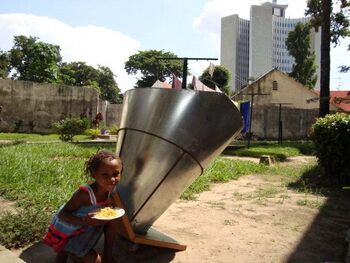 I have designed other types of double funnel solar cookers in 3D with the same principle. Check out this one!
Ad blocker interference detected!
Wikia is a free-to-use site that makes money from advertising. We have a modified experience for viewers using ad blockers

Wikia is not accessible if you've made further modifications. Remove the custom ad blocker rule(s) and the page will load as expected.