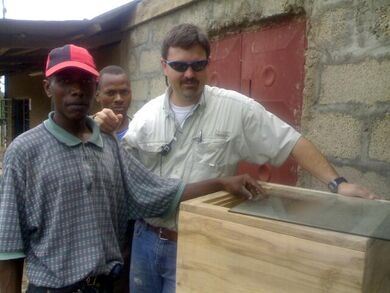 I am from North Carolina in the
USA
but have been working in
Tanzania
since 2002. I first studied about solar cooking and appropriate technology at Appalachian State University in the early 90's and then also did some work as an info. specialist at the NC Solar Center's Solar House at NCSU campus.
I have met the Margaret Owino, Solar Cookers International's director in Kenya and visited their office and I am VERY keen on promoting solar energy and cooking here in Africa through my work here!
I am supporting a solar business start up in Western Tanzania. Daniel Mayunga is starting the Tabora Solar Company. We are researching solar box cooking together. He has a plan of business, and now has 6 ready to sell. We hosted a small development seminar here in Arusha that focused on solar cookers and building an efficient solar cooker that is appropriate to Africa.
News and recent developmentsEdit
External linksEdit