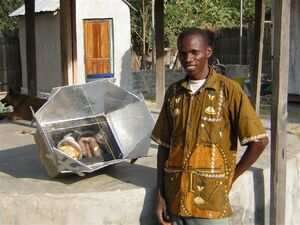 Sunuser Solar Industries reported in late 2006 that Daniel Mayunga was experimenting with a solar cooker that he built and researched together with another worker as a development project in Tabora, Tanzania.
Daniel is working with a development center in Tabora to research and make plans in swahili for a solar box cooker that can be easily reproduced here in the Tabora region.
Tabora is home to many forest resources and he has also been trying his hand at tree nursery projects. He hopes to work with the development center in town to make a small reproducible solar box cooker factory.
In June 2008 Daniel started the Tabora Solar Company. Around that time he and Dean White hosted a small development seminar in Arusha that focused on solar cookers and building an efficient solar cooker that is appropriate to Africa.
[This text was borrowed from http://www.visualcommunicationstechnologies.com/tech/20060908-2.html.]
External linksEdit
Daniel Mayunga
P.O. Box 1526
Tabora
Tanzania