Calendar of events
Talk

7
1,863pages on
this wiki
Deutsch, Ελληνικά, Español, Français, Indonesian, Italiano, Kiswahili, Kreyòl ayisyen, Magyar, Melayu, Português, Русский, Soomaaliga, Tagalog, Tiếng Việt, Türkçe, தமிழ், नेपाली, 中文, اردو, 한국어, 日本語, العربية, فارسی, עִברִית, हिन्दी, ไทย, বাংলা, తెలుగు, ગુજરાતી, ລາວ
Last updated: March 25, 2014      
This page lists events related to solar cooking throughout the world. To add to this page, click the "Edit" button above or email event information to webmaster@solarcooking.org.
Renewable Energy for the Developing World is a class offered online by Solar Energy International. The six week course will explore different applications for renewable energy technologies in developing countries. Participants will learn how to successfully accomplish sustainable development projects with renewable energy. Case studies will be presented on solar cooking, rural household electrification, appropriate building technologies, rural health care and micro-enterprises utilizing renewable energy. Start dates include November 4th, 2013, and April 21st, and November 10th, 2014. More information.
Classes throughout the year (Quito) The Ecuadorian Research and Training Institute (IECAIM), under the direction of Fabiola Cuvi, has scheduled six workshops on solar cooking for 2013, one every two months. These classes are open to the public, and participants of all ages are encouraged to attend. Their objective is to train 180 people this year. For more information contact Fabiola Cuvi.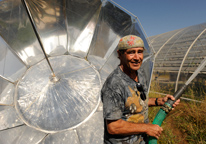 April 12-18, 2014: Setting up models of autonomy - Tamera's technology team is happy to host the first "Introduction Week" of 2014. As in every introduction week we will offer a brief and yet profound look into Tamera as a whole. Key members of the various project groups will introduce our approaches to ecology, food, water, energy, community, love, sexuality and partnership and the creation of models which integrate all aspects of life in a healing way as one answer to the world situation.
May 9-11 & May 16-18, 2014: (Platbos) Once again the Greenpop - Solar for Trees Platbos Reforest Fest is happening twice in 2014, one weekend fest for families and one for friends! Camp in Africa's southernmost forest, help plant thousands of trees to reforest the surrounding area, dance to live music and be part of growing Platbos Forest back to its original abundance. In conjunction with teaching solar cooking, Greenpop - Solar for Trees sponsors planting sessions to help offset the trees lost to development and fuel usage. Meals and musical entertainment is included. More information...
Sunday, April 20, 2014: (Huesca) Join Manolo Vilchez at a solar cooking workshop to be held at El Taller Natural located at Aren 22583 Noguera from 9am - 3pm. Manolo writes for various publications on sustainable living. He will share his experiences with solar cooking and explain about the efficiency and potential of parabolic solar cookers as well as how these technologies are being used around the world. The group will participate in menu selection and preparation their own solar cooked meal. More information...
Saturday, April 26th, 2014: (Tucson) Join Citizens for Solar to experience the flavors of solar-cooked food and learn about solar by viewing solar appliances and exhibitions (ovens, fountains, coolers, lights, electrical systems) and solar arts at Catalina State Park, 11570 N. Oracle Road, near Mile Post 81. Oven set-up will begin at 9:30am, and the event opens to the public at 10am. The potluck will begin at 5:30pm. The cost of the Solar Potluck is free; $7/car to get into the Park. The event is co-sponsored by Catalina State Park and Arizona State Parks. For inquiries, email Bruce Joseph at chair@citizensforsolar.org
Saturday, April 19, 2014: (Glendale) Wilson Middle School, 1221 Monterey Road, will host the Solar Discovery Faire from 10am - 2pm. This free event is open to the public. Sponsored by the nonprofit Rahus Institute, demonstrations will include solar cooking, solar etching, solar whirligigs, medallions and much more. The Rahus Institute seeks to provide clean-energy solutions for a sustainable world. More information...
July 17-18, 2014: (Sacramento) The SCInet Solar Cooking Convention 2014, sponsored by Solar Cookers International with support from Agua Fund, Inc., is encouraging solar cooking project directors, promoters, designers, researchers, and manufacturers with experience in the transfer of solar cooking technologies to gather in Sacramento, California, USA for an exchange of information convention. The format will include presentations, panel discussions, working groups, and public demonstration of solar cookers. It will be held at the California Automobile Museum, located at 2200 Front Street. The Sacramento Solar Cooking Festival will follow on Saturday. Details and Event registration information...
Saturday, July 19, 2014: (Sacramento): The Sacramento Solar Cooking Festival, sponsored by Solar Cookers International, is open to the public at no charge. Local solar cooks are encouraged to participate. It will take place from 10am - 3 pm. at Land Park, the corner of Sutterville Road and Freeport Boulevard. Event registration information...
Thursday, April 24, 2014: (Arlington) Is the day the National Guard Bureau Headquarters will be holding its annual Earth Day / Take Your Child to Work Day celebration. This year they are highlighting sustainability technologies that are applicable to their domestic response mission. Afzal Syed, a volunteer with Solar Cookers International, will be demonstrating solar cooking as appropriate emergency technology. More information...
June 15 - July 6, 2014: (Livingstone) Greenpop is hosting the third annual Trees for Zambia Festival of Action. Thousands of trees will be planted. The three week festival will also be a gathering place for individuals and organizations to provide workshops that help provide solutions to environmental challenges. Greenpop has sponsored solar cooking programs in the past, and would welcome solar cooking workshops at the festival. Festival participation information..
See also
Edit