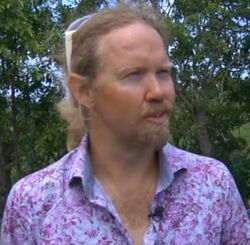 Crosby Menzies is the director of SunFire Solutions and Solar Cookers for Africa in South Africa.
News and recent developments
July 2010: Solar Cookers for Africa: Solar Caravan 2010 - SunFire is a NGO in South Africa that has partnered with Solar Cookers for Africa to create the Caravan as a way to reach the portions of the population that live in areas typically difficult to reach. Led by Crosby Menzies, it will be a convoy of knowledge, experience, and partnerships in the area of sustainable household and community technologies and practices. The Caravan will start in Mozambique, to eventually cover most of Southern Africa. Far from relying in the knowledge and resources of a few, the Caravan will link experts, product suppliers, communities and funders. Starting in August 2010, a core team of 4 people from 3 countries will start traveling from Johannesburg, South Africa, towards Beira, Mozambique. In each community the Caravan visits, its members will be presented with a flexible curriculum of applied introductory workshops and demonstrations about the core topics and technologies. One fixed workshop module concerns clean energy; another food security, waste management and nutrition. To learn more, see how your experience may be of value, and offer to financial support see: Solar Cookers for Africa: Solar Caravan 2010
May 2009: The Solar Health and Education Project (SHEP) funded a very successful workshop run by Manda Chisanga and Crosby Menzies in Mfuwe, Zambia in June 2009. Read project report.
Audio and video
[[Video:Free solar cooking in South Africa|thumb|none|425px|Crosby Menzies explains the recent activities of Solar Cookers for Africa.]]
| | |
| --- | --- |
| | September 2008: Manda's Prize (Part 1): Video showing Crosby Menzies's solar cooking work work with Manda Chisanga, a Safari guide in Zambia's South Luangwa National Park |
| | |
| --- | --- |
| | September 2008: Manda's Prize (Part 2) |
Articles in the media
See also
Contact
SunFire Solutions
18 Vardon Rd., Greenside
Johannesburg 2193
South Africa
Tel: +27 82 954 0144 or +27 (0) 11 624 2432
Email: sunfire@sunfire.co.za
Web: http://www.sunfire.co.za