Deutsch, Español, Ελληνικά, Français, Hausa, Igbo, Indonesian, Italiano, Kiswahili, Kreyòl, Malagasy, Melayu, Português, Русский, Soomaaliga, Tagalog, Việt, Türkçe, Yorùbá, தமிழ், नेपाली, 中文, اردو, 한국어, 日本語, العربية, فارسی, עִברִית, हिन्दी, ไทย, বাংলা, తెలుగు, ગુજરાતી, ລາວ, ਪੰਜਾਬੀ, සිංහල, پښتو
Last updated:
28 August 2014
Solar cooking is being used to cook for large numbers of people. Below is a description of how this is being done around the world. Cooking can be done with a number of smaller cookers, with a single large solar cooker, or with an integrated institutional solar cooking system.
Build a number of smaller cookers
This is an effective strategy for refugee situations. the Iridimi Refugee Camp in Chad, thousands of CooKit solar panel cookers are being used to cook for over 17,000 people each day. These cookers are built by the refugees themselves. This method is also used by the Villaseca Solar Restaurant in Chile.
See Solar cooker plans.
Build larger panel cookers
More foil will cook more food or heat more liquid. If they are available, extra-large truck size windshield shades can be used to make cookers that will effectively handle up to two gallons of food or liquid (great for dishwater in camp) or cook at least 8-10 pounds (4-5 kg) of meat or poultry, bake full-size cakes, larger pans of rolls, brownies, cornbread, etc. An arrangement that allows for light to get under the pot makes it even more efficient.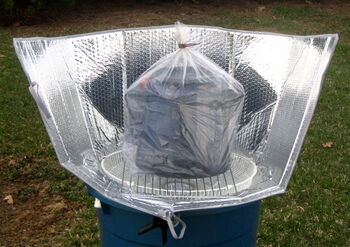 Single thickness corrugated, unless of very good quality, might not stand up to the structural load of getting too much bigger than a CooKit or HotPot reflector, especially if gusty winds are a factor, but laminating/gluing two layers of cardboard with the corrugations cross-hatched might do the job. If it is too stiff to bend, cut apart and hinge with strips of cloth and glue. Thin plywood panels, hinged at the joints, are another possibility. One good way to foil them would be to trace and cut matching panels out of paperboard/poster-board, foil them, and then tape or clamp their edges to the plywood. Then, when the foil eventually dulls, it can be easily replaced without mess of old glue and shreds of foil stuck to the plywood.
Some pots and roasters of this capacity will fit in a turkey bag. Since little heat is lost through the bottom, it is often enough to just tuck the bag over the top and sides of the pot. Larger 24" x 30" (60 - 75 cm) cooking bags, made for the restaurant trade, will hold almost any two gallon (9 liter) pot or comparable roaster. These bags can be ordered in quantities of 100 or more from the Webstaurant Store. Solar Cookers International's online store offers them in quantities of 5.
A panel/trough hybrid might be possible using a 55 gallon (208 liter) metal drum cut in half lengthwise and foiled, possibly with an additional vertical reflector at the back. This might take two large pots.
Build a very large box cooker
Sun Ovens International makes a giant solar box cooker with propane back-up, which it markets as a village bakery. I think several hundred of these have been installed in various parts of the world. Some members of Rotary International have formed a project that seems to specialize in buying these cookers to donate to selected villages. The company is called Sun Ovens International, and the giant box cooker is called the "Villager" or Villager Sun Oven. They are large capacity solar cookers. The cost is somewhere around 11 thousand USD.
Others have build very large box cookers that can be used to cook large amounts of food or bake dozens of loaves of bread at one time.
See also
Build a Scheffler Community Kitchen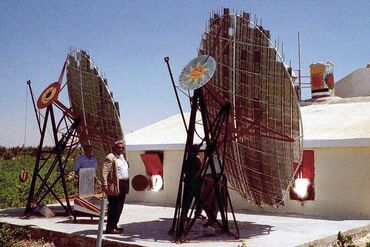 Scheffler Community Kitchens can cook for hundreds or even thousands of people per day. There are specialists who design and install institutionalized solar cooking systems that cook for large groups. Several years ago, a system was installed near Mt. Abu in India that reportedly cooks for 30,000 people. The concept is called the Scheffler Community Kitchen, named after its creator, Dr. Wolfgang Scheffler. As with Mt. Abu, they can be made for extremely large kitchens or for smaller ones. I really don't know how small they can go before their cost-effectiveness deteriorates.
The basics of the system are as follows: One or more very large parabolic reflectors are built next to the kitchen, outside in the bright sun. These reflectors are equipped with motors that cause the reflectors to track the sun and focus the reflected light through a hole in the wall of the kitchen. The powerful beam of focused light is directed onto a reservoir that holds a liquid such as water or vegetable oil, making it very hot. Pipes distribute the heated fluid (in some cases as steam for steaming rice and vegetables) to various cooking stations in the kitchen, where the heat is used to cook food. If several of these large reflectors are used, it seems likely to me that you would need several holes in the wall and several places where the beams of light could heat up the reservoir containing the fluid. These systems are not cheap, and people have to be trained to maintain the reflectors and the equipment for tracking the path of the sun.
Experts in the field are Wolfgang Scheffler (Germany), Dr. Deepak Gadhia, and Heike Hoedt, who is building Scheffler reflectors to boil down maguey syrup in Mexico.
Reports
Combine heat-retention cooking with solar cooking
Heat-retention cooking increases the amount of food that can be cooked in one day in a solar cooker because after food has been heated to cooking temperature, it is placed into an insulated box where it will continue to cook until it is done. Heat-retention cooking is often introduced along with solar cooking since it further reduces the use of traditional fuels such as firewood, and the use of this method allows much more food to be cooked each day in a solar cooker. This method of cooking is also known as retained-heat cooking, fireless cooking, haybox cooking, or wonder box cooking.
Heat-retention cooking is an age-old method that can be used to conserve energy not only during times of crisis, but anytime. Depending on the food item and amount cooked, the use of a haybox or insulated cooker saves between 20% and 80% of the energy normally needed to cook a food. The longer an item usually takes on a stovetop, the more fuel is saved. For example, with a haybox, five pots of long-cooking dry beans will use the same amount of fuel to cook to completion as just one pot cooked without a haybox.
Use a pre-heater
It is also possible to preheat one pot of food as another is cooking in the solar cooker. The illustration shows a simple preheater that can be made from one corner of a cardboard box.
See main article: Preheating

See also
Ad blocker interference detected!
Wikia is a free-to-use site that makes money from advertising. We have a modified experience for viewers using ad blockers

Wikia is not accessible if you've made further modifications. Remove the custom ad blocker rule(s) and the page will load as expected.