Events
International conferences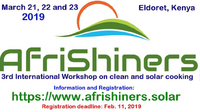 NEW: 

21-23 March 2019: AfriShiners - The AfriShiners 3rd International Workshop is taking place in Eldoret, Kenya. (Unfortunately, registration is full for this event). More information...
See also: Global Calendar of Events and past events in Colombia
News
November 2012: In Colombia, the weather conditions are highly variable, and at any time, a sunny day can easily become a rainy day. For Colombian urban dwellers, solar cooking is still considered a great option in sunny conditions, but it still falls short of a complete cooking solution for families. It requires open access to good sunshine, and as of yet, offers limited thermal storage. Therefore Proyectos Solares Inteligentes has been working for years on a model that meets the demanding requirements of modern man and yet is also a solution for rural dwellers. The type of solar cooker is called Nevehorno. A patent application is in process for this hybrid solar/electric cooker. The oven can be used at nighttime or indoors using 500 watts of energy, which is about a quarter of the use of a similarly sized conventional oven. If there is no electricity, the oven can run off charcoal, biomass, or wood like a barbecue. It can also function as a passive refrigerator that keeps food cold for relatively long periods without consuming energy.
History
Archived articles
Climate and culture
Resources
Possible funders
Reports
Articles in the media
Audio and video
Eternal links
Grupos de discusión Facebook
Contacts
SCI Associates
NGOs
Government agencies
Manufacturers and vendors
Individuals
Government agencies
Educational institutions
See also
References