Cocina Solar
Talk

0
1,833pages on
this wiki
Translate to:
Česky, Dansk, Deutsch, English, Français, Hrvatski, Italiano, Nederlands, Norsk, Polski, Português, Русский, Română, Suomi, Svenska, Tagalog, Türkçe, العربية, Български, ‪中文(中国大陆)‬, Ελληνικά, हिन्दी, 日本語, 한국어
We invite you to take a
short survey
to help us improve this website.
Last updated: August 28, 2014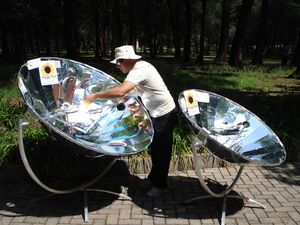 Cocinar con el sol: Beneficio para todos. Hoy padecemos la sobre explotación de nuestros bosques y selvas, así como las enfermedades causadas por la contaminación generada al quemar combustibles fósiles, leña, carbón vegetal y gas; sin embargo, la energía del sol es gratuita y abundante.
En México para el año 1996 se consumían más de 36 millones de metros cúbicos de leña. De acuerdo a estudios recientes, la inhalación de grandes cantidades de humo producido por el uso de leña duplica el riesgo de que un niño contraiga una infección respiratoria grave y tiene relación con los resultados negativos de embarazos, por ejemplo, muertes prenatales y bebés nacidos con bajo peso. ¿Qué podemos hacer? ¿Es posible reducir la contaminación por partículas PM10, y bióxido de carbono producidos por el uso de carbón vegetal, leña y gas usados comúnmente para cocinar y sustituirlos por energía solar?
La tecnología para cocinar con el sol está al alcance de la mayoría y las cocinas solares son un complemento ideal a las estufas ahorradoras de leña.
Energía Libre, S. de R.L. de C.V., es una empresa mexicana joven, entusiasta y comprometida que contribuye al progreso autosustentable de México, y para tal fin fabrica y comercializa cocinas solares y otras ecotecnologías.
External links
Edit
Salvatierra 37
Col San Bartolo Atepehuacán
México D.F. C. P. 07730
Tel: +52 55 5586-5799; Cel: 04455 1727-7395
Email: cocina.solar.mexico@gmail.com
Web: http://www.cocinasolar.net - (English version)