Last updated: February 7, 2016      
As education is probably the most important component in spreading the benefits and uses of solar cooking, Classroom resources will be the location for materials, and other appropriate resources, used for learning, and teaching others, about solar cooking.
Lesson plansEdit
In this activity, students will learn about using the Sun's energy to meet our needs. They will be introduced to concepts around solar energy needed for solar cooking (heat) – dark colours for absorbing sunlight, greenhouse effect, light colours for reflecting sunlight and insulation. Using this science knowledge, they will then construct and use a solar oven. Making a Solar Oven
Solar Cooking Lesson Plan, grades 6-8 Students experiment with a virtual solar cooker to discover the mathematical relationships among reflection, transmission and absorption. Students then apply their knowledge to building and testing a solar oven of their own invention.
Practical activities to investigate how the sun can be used for food preservation and cooking Provides a range of activities, suitable for mid-primary through to senior secondary school, allowing teachers to choose the level of activity most appropriate to their students' needs. A little background information for teachers is also provided, as well as a list of additional resources that will provide teachers with more in-depth background information, ideas for assignments and/or more practical activities. Compiled by Queensland Sustainable Energy Industry Development Group, 2004.
Audio and videoEdit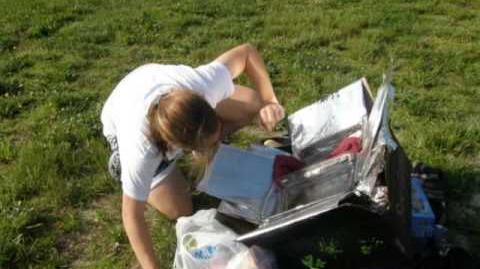 External LinksEdit