Deutsch, Español, Ελληνικά, Français, Hausa, Igbo, Indonesian, Italiano, Kiswahili, Kreyòl, Malagasy, Melayu, Português, Русский, Soomaaliga, Tagalog, Việt, Türkçe, Yorùbá, தமிழ், नेपाली, 中文, اردو, 한국어, 日本語, العربية, فارسی, עִברִית, हिन्दी, ไทย, বাংলা, తెలుగు, ગુજરાતી, ລາວ, ਪੰਜਾਬੀ, සිංහල, پښتو
Last updated: 13 January 2016      
| | |
| --- | --- |
| | The traveling Crêperie Solaire nourishes festival-goers while raising awareness about solar cooking. |
Events
See also: Global Calendar of Events and Past events in Switzerland
News
January 2016: Solemyo needs your help! Located directly behind Geneva train station, Solemyo is an information resource and non-profit business providing solar cooking equipment and appropriate technology. Solemyo manufactures and sells ULOG box cookers, dryers, and SK-100 parabolic cookers. They also offer self-construction workshops for ULOG cookers, and organize promotional events in French-speaking Switzerland and in France. You can help the association by becoming a member (CHF. 50./year), volunteering, or by purchasing products in their store. Vous trouverez plus d'informations ici - (English version)
November 2012: GloboSol annual report: Switzerland - The Rolling Solar Kitchen - Michael Götz reports that the GloboSol mobile kitchen has been used five times: First, as a provision-kitchen during the anti-nuclear demonstration in Kleindöttingen, then at the Permaculture Days in Rüfenacht, the summer-camp of Greenpeace in Trub, and as a Crêperie at the music festival "Hors Tribu" in Môtier and the "Fête de la Terre" in Cernier, Switzerland. Even though the operational accounting closed with a modest profit, it is regrettable that the cooks and the sellers hardly had time to explain solar cooking to interested guests, or to inform them about the work of GloboSol. Therefore we are looking for volunteers, who would like to participate at one or several of these events, to help spread the word about GloboSol. You can inquire at: http://www.globosol.ch
November 2012: GloboSol annual report: Switzerland - Solar cooking at the children's tent camp in Güttingen - From July 30th until August 10th, for a third time, a group of four boys aged ten and eleven dedicated themselves to solar cooking. The GloboSol workshop took place, even though there were other tempting offers at the summer camp on Lake of Constance in Switzerland. The weather turned out to be half sunny and half rainy. Nevertheless, the wet weather program also related to solar energy, with the building of a solar boat. This ensured one hundred percent motivation of the kids during the whole camp. - (Adrian Konrad and Niklaus Tschudin)
November 2012: GloboSol annual report: Switzerland/Germany - Partner-meeting "Skillshare" - As a "première", some of our closest friends and solar colleagues from various foreign countries were invited to visit Globosol with Michael Götz. In the course of a manifold study and sight-seeing program, they also became acquainted with parts of Switzerland and southern Germany. Unfortunately only two guests were able to participate: Lorena Harp from Oaxaca, Mexico, the co-organizer of the project "Food-stalls in Mexico", and Sourakatou Ouro-Bangna, head of the solar center "Solasol" in Sokode,Togo. It was a stimulating event that nevertheless raised questions and unfortunately required significant administrative expense.
December 2010: Carbon offset foundation partners with solar cooking project in Madagascar. The Swiss non-profit foundation, MyClimate, is a leader when it comes to voluntary carbon offsetting measures. They have recently partnered with Association pour le Développement de l'Energie Solaire (ADES), another Swiss non-profit, that manufactures and distributes solar cookers in Madagascar. The CO2 offsetting mechanism offered by MyClimate will enable the expansion of the initial ADES project, and growth into other provinces of Madagascar. Their projection over the next seven years, is to distribute up to 44,000 solar cookers and 8,600 energy-efficient supplementary cookers to realize a reduction of up to 190,000 tons of CO2.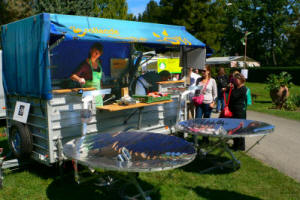 July 2009: Ulrich Oehler's pioneering work in the 1980s inspired a wave of Swiss solar cooking promoters. For many years, Oehler's house in Basel even served as the country's main solar cooker information center, maintained by the ULOG group. From 1997 to 2007, the Centre Neuchâtelois de Cuisine Solaire (CNCS) in the small town of Neuchâtel served as the country's information hub. Visitors could see a variety of solar cooker models or ask questions of the centre's leader, Michael Götz. In addition to this resource, ULOG group and GloboSol maintain a travelling solar crêperie in which they prepare solar pancakes for music festivals and ecology fairs throughout Switzerland. 2008 was a year of changes and new opportunities. The information center moved to a prominent location in the international city of Geneva. Götz is thrilled with the location. "Finally we have a room with a shop-window, only a few steps from Geneva's train station!" Alain Cassani, Annick Steiner, and Yves Ronchetti of the association SOLEMYO manage the shop and information center, conduct solar cooker construction trainings, and schedule solar crêperie events, while Götz, operating as ExSol, works on consulting, education, technical development, and other projects.
History
Archived articles
Climate and culture
Resources
Reports
Discussion groups
Articles in the media
External links
Contacts
NGOs
Manufacturers and vendors
Individuals
Government agencies
Educational institutions
See also
References