Deutsch, Español, Ελληνικά, Français, Hausa, Igbo, Indonesian, Italiano, Kiswahili, Kreyòl, Malagasy, Melayu, Português, Русский, Soomaaliga, Tagalog, Việt, Türkçe, Yorùbá, தமிழ், नेपाली, 中文, اردو, 한국어, 日本語, العربية, فارسی, עִברִית, हिन्दी, ไทย, বাংলা, తెలుగు, ગુજરાતી, ລາວ, ਪੰਜਾਬੀ, සිංහල, پښتو
Last updated:
13 December 2016
05:49

Solar Cooker Workshop in Darfur

Video showing the Darfur Peace and Development Organization solar cooking project. This is a solar cooker workshop in Nyala, Darfur. As the women look for firewood around the displacement camps they face the danger of rape and abduction. Solar cooking offers an alternative to using firewood for cooking.
Events
See also: Global Calendar of Events and Past events in Sudan
News
December 2016: Sudanese bank supports solar cooking initiative - The Solar Energy Enterprises Company under the direction of Salih Hamadto, has convinced the Sudanese Family Bank to participate in financing solar cookers through their microfinance program, which is well established in Sudan. After initial interest, Salih established a temporary solar cooking kitchen on the rooftop of bank headquarters in Khartoum. With three parabolic and four box solar cookers, they prepared meals for staff and visitors over a three day period. A business plan was established incorporating cost, logistical matters, advocacy, maintenance, and training of new trainers.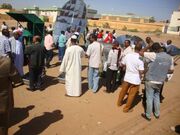 April 2016: Salih Hamadto writes: "Solar Cooking on Earth Day - We show some recent public lunches. They were meant to promote solar cooking, especially in the eyes of aid workers and government officials. The first post depicts photos of a public lunch thrown a few months ago during the celebration of the 50th anniversary of Practical Action, an NGO that has operated in Sudan for over 40 years. The main theme was "Technology Justice": The Global Right to Access Sustainable Technologies. Following a talk I gave, and the very comprehensive solar lunch, it was universally agreed that solar cooking is an overlooked opportunity for technology justice in Sudan and Sub-Saharan Africa. A dialogue was started to deal with this. The celebration was under the patronage of Dr Tahani Abdalla Attia, Minister of Communications and Information Technology."
December 2012: Jewish World Watch, originator of the Solar Cooker Project for Sudanese refugees, reviews their current programs at several of the refugee camps in Chad – As a result of a joint security force between Chad and Sudan, violence against women has declined some since the project began seven years ago. Cord, their partner at the Farchana refugee camp, sees solar cooking as a way to keep girls in school, and not spending hours finding fuelwood for cooking. For others, the project has meant help for the environment and the air quality conditions for women previously using open fires. When the Jewish World Watch contingent first visited the camps many years ago, the refugees had just arrived and the encampment was meant to be temporary. The hope and expectation was that within a few months or a couple of years at most; they would return to their homes. But now, seven years later, it is clear that returning to Darfur is not a reality and the camps are turning into permanent settlements. As a result, the programs for the refugees must begin to move away from survival resources and begin to address ways of achieving self-sufficiency and permanence. In other words, helping to create a life, not an existence. Future larger scale solutions will be needed to address and benefit the surrounding communities, as well as the refugee camps, to help with the integration of the Sudanese residents. Read more...
May 2010: Solar Energy Enterprises sponsored a solar lunch in Khartoum with a public demonstration. Lunch was served to 200 people.
May 2010: As part of it's continual program of training students, Solar Energy Enterprises (SEEC) has sponsored a B Sc graduation project in Khartoum, Sudan to research revenue-generating cooking using the recently developed SEEC solar box cooker. Two fifth year students produced quality pumpkin jam and cookies. Their project established cooking procedures for users. The results were backed by proper biochemical and microbiological analysis at the university labs. [Note: Only fruit should be canned in a solar cooker without pressure. See: Canning]
May 2010: Two years ago, Pat Hipp traveled to Yei, Sudan as part of a medical mission. Everywhere in Yei, the tops of trees had been cut out. This was because the wood was being used for cooking; and to buy charcoal, you had to deal with the black market. Currently they are raising funds to bring parabolic solar cookers to the community.
History
Archived articles
Climate and culture
Solar Cookers International has rated Sudan as the #11 country in the world in terms of solar cooking potential (See: The 25 countries with the most solar cooking potential). The estimated number of people in Sudan with fuel scarcity in 2020 is 6,600,000.
"[T]he availability of firewood in Darfur is dwindling, and women in North Darfur have all but stopped collecting firewood simply because there is none to collect, said Ms. Patrick. The Sudanese Forestry Department has reported total destruction of the environment up to a radius of an hour's walk around the internally displaced persons (IDP) camps in Darfur—there are virtually no trees and the mining of their roots has prevented regrowth. See: Alternative Fuels Take Root in Refugee Camps
See also
Resources
Possible funders
Reports
Articles in the media
Audio and video
09:59

Solar Cooking in Africa - A Remarkable Technology Transfer
05:24

Solar cooking in Kasab camp in North Darfur
05:49

Solar Cooker Workshop in Darfur
Construction plans in Arabic
Refugee camps with solar cooking projects
See Refugee camps.
Contacts
SCI Associates
NGOs
Manufacturers and vendors
Individuals
Government agencies
Educational institutions
See also
References
Ad blocker interference detected!
Wikia is a free-to-use site that makes money from advertising. We have a modified experience for viewers using ad blockers

Wikia is not accessible if you've made further modifications. Remove the custom ad blocker rule(s) and the page will load as expected.