Manufacturers and vendors
Category page
Talk

0
Deutsch, Español, Français, Hausa, Igbo, Indonesian, Italiano, Kiswahili, Kreyòl, Malagasy, Melayu, Português, Русский, Soomaaliga, Tagalog, Việt, Türkçe, Yorùbá, Ελληνικά, தமிழ், नेपाली, 中文, اردو, 한국어, 日本語, العربية, فارسی, עִברִית, हिन्दी, ไทย, বাংলা, తెలుగు, ગુજરાતી, ລາວ, ਪੰਜਾਬੀ, සිංහල, پښتو

There is a wide variety of solar cookers available in the marketplace today. Some designs are easy to build yourself with inexpensive materials, and plans can be found at solar cooker plans. Cookers that are available commercially can offer convenience, and are typically constructed from durable materials. Most self-made designs will not be waterproof. Basically, cookers can be divided into three groups: Box, Panel, Parabolic. The table below lists strengths and weaknesses of the most common types. Determine which type of cooker might best suit your requirements. It is always best to buy a cooker from a local source since shipping costs can be very expensive.
Below you will find a gallery of some featured manufacturers and vendors followed by a complete list of such. To see Manufacturers and vendors by country, first choose a country.
To be added to this list, write to webmaster@solarcooking.org or follow these directions to include an article about your company.
Choosing a cooker
 

Advantages
Disadvantages
General characteristics

Inexpensive
Many models are collapsible for easy transport and storage

Lower temperatures
Can't fry foods
Cooks only 1-2 pots of food
---
===
Box-style cookers
===
 

Advantages
Disadvantages
General characteristics

Can cook multiple pots simultaneously
Can be built from many different materials
Can cook large quantities of food
Don't have to be turned to follow the sun while cooking
---
===
Parabolic cookers
===
 

Advantages
Disadvantages
General characteristics

Cook as fast as a conventional electric burner
Can fry foods
Can bake bread in a dutch oven

More expensive than other models
Can blow over in the wind
Requires periodic realignment to the sun.
Bread baking requires dutch oven
Can damage eyes.
Box and Panel solar cookers are available through Solar Cookers International, the sponsor of this wiki, from their online ordering site: Solar Cookers International Marketplace. Proceeds help fund the many projects SCI is involved with around the world promoting solar cooking and water purification. Particularly in areas facing deforestation, and where smoke inhalation from traditional wood burning stoves is a serious health problem. A few of their offerings are listed below. See their site for a complete listing of solar cookers and accessories.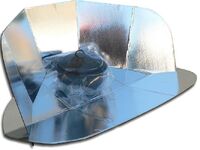 The CooKit is a lightweight, panel-style solar cooker. Convenient for home, camping and emergencies, it folds flat to 13"x13"x2". Made of cardboard and foil. Reaches temperatures in the mid-200ºFs. Comes with two high-temperature cooking bags, required for cooking. Use with a black, covered pot (not included).
A high performance solar box cooker made of durable molded fiberglass and kiln-dried hardwood for years of use. Anodized aluminum reflectors come with 15-year warranty not to rust. Reaches temperatures in the mid- to upper-300ºFs. Weighs 21 pounds and features a convenient carrying handle. Includes oven thermometer. Use with a black, covered pot (not included).
-Back of outer box is 14" high -Front of outer box is 9" high -Oven chamber is 11" high by 13.5" wide (levelator tray is 9.5" x 12.5") -Front of oven chamber is 7" high -Average depth of oven chamber is 9" high
The HotPot is a durable panel-style solar cooker and pot system. Comes with collapsible, anodized aluminum reflectors and custom five-liter black pot suspended in a tempered glass bowl for insulation. Glass bowl eliminates the need for heat-resistant plastic bag to surround the pot. Reaches temperatures in the mid- to upper-200ºFs.
A compact, durable two-pot solar box cooker made from recycled soda bottles. Reaches temperatures in the mid- to upper-200ºFs, higher with reflectors. Comes with two black pots, reflectors, and a Water Pasteurization Indicator (WAPI).
Construction materials:
Casing - rugged recycled plastic (post consumer soft drink bottles) Insulation - closed cell foam, does not absorb moisture Lid - double layer, with dead air space in between, enhances insulating qualities Benefits:
Holds two 10-inch round pots (three quarts each) Uses no fossil fuel - only the free energy of the sun The floor dimensions of the oven (for cookie sheets, etc.) are 9 1/4 inches x 17 1/2 inches. Reflectors are included to lengthen the cooking season, especially in areas further from the equator. Each sale of an SOS Sport will sponsor 10 trees through Trees for the Future, beginning with Haiti and spreading to other deforested countries. Package dimensions are 30" long x 22" wide x 15" deep. Weight is 23 pounds.
The Tulsi-Hybrid solar box cooker has a unique electrical backup allowing it to be used with or without sun. In backup mode, a built-in thermostat automatically adjusts the temperature as needed. Comes with four black pots.
Specifications:
Cooker size - 540 x 540 x 200 mm / 21.25 x 21.25 x 7.87 in Material - molded body made of UV-resistant fiber reinforced plastic Cooking capacity - 2 kgs, or 6-8 kgs per day / 4 lbs, or 13-17 lbs per day Total weight - approximately 13 kgs / 29 lbs, including cooking pots Tray material & coating - aluminum sheet, black painted for high UV heat absorption Cooking pots w/lids included - four stainless steel pots w/lids, hard black coated for UV heat absorption Energy source - solar & electric power for backup
Electrical consumption - low setting 0.2 kw/h, high setting 0.4 kw/h depending on amount of food being cooked & ambient conditions
Two power source - solar & electric 120 volts / 60 cycles
Electrical wattage thermostatically controlled:
Normal setting: 200 watts (2 amps) High setting: 400 watts (4 amps), (+/-10%)
Solar Cookers for sale by country
North America
USA
USA featured gallery
Canada
Mexico
Asia
China
China featured gallery
India
India featured gallery
Australia
Australia featured gallery
Europe
Belgium
Belgium featured gallery
Cyprus
Cyprus featured gallery
France
Germany
Germany featured gallery
Italy
Portugal
Portugal featured gallery
Spain
Spain featured gallery
Switzerland
Switzerland featured gallery
UK
UK featured gallery
Africa
Kenya
Kenya featured gallery
South Africa
South Africa featured gallery
Tanzania
Uganda
Uganda featured gallery
---
===Other continents and countries not featured above===
See also
Pages in category "Manufacturers and vendors"
The following 170 pages are in this category, out of 170 total.
3

A

B

C

D

E

F

G

H

I

J

K

L

M

N

O

P

Q

R

S

S cont.

T

U

V

Y

邢

青