Deutsch, Español, Français, Hausa, Igbo, Indonesian, Italiano, Kiswahili, Kreyòl, Malagasy, Melayu, Português, Русский, Soomaaliga, Tagalog, Việt, Türkçe, Yorùbá, Ελληνικά, தமிழ், नेपाली, 中文, اردو, 한국어, 日本語, العربية, فارسی, עִברִית, हिन्दी, ไทย, বাংলা, తెలుగు, ગુજરાતી, ລາວ, ਪੰਜਾਬੀ, සිංහල, پښتو
Last updated: May 31, 2016      
| | |
| --- | --- |
| | January 2016: World's largest solar cooking class takes place in India - On January 12, 2016, 5,760 middle school students from over thirty schools gathered for Maha Suryakumbh organized by Keshav Srushti. Held at MIT College in Aurangabad, India, the students prepared a simple meal and learned to use a simple solar panel cooker. The event is up for accreditation by the Guinness Book of World Records. Ajay Chandak reports that included in the Indian government's five-year plan for 2012 through 2016, 30,000 million INR (approx. $600,000,000 USD) is budgeted for solar cooking instruction in 500,000 schools |
Events
NEW: 

January 16-22, 2017: (Vadodara, Gujarat) Solar Cookers International is organizing the next solar cooking conference to take place at the Muni Seva Ashram in Goraj (near Vadodara), Gujarat, India from 16-22 January, 2017. Topics to be addressed include: solar cooking, solar food processing, energy policy, marketing & scaling up, coalition building & entrepreneurship, and solar thermal industrial applications. Applications for abstracts are still being accepted on these topics and others. See a complete list of topics and submittal information.
See also: Global Calendar of Events and Past events in India
Most significant projects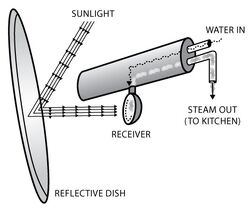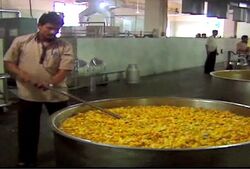 Roof-top solar installation feeds 50,000 people per day: Gadhia Solar Energy Systems Pvt. Ltd. completed installation of an solar steam cooking system, capable of cooking 40,000-50,000 meals per day. It is located at Shirdi Saibaba temple in Shirdi, Maharashtra, India. With nearly 30,000 visitors each day, the temple's dining halls are some of the largest in India. The solar steam cooking system is comprised of seventy-three rooftop-mounted Scheffler reflectors of sixteen square meters each. The dishes concentrate sunlight on receivers that contain water, generating steam that is piped down to the kitchen for cooking purposes. To maintain constant focus with the sun, the dishes automatically rotate throughout the day after being manually aligned once each morning. The solar steam cooking system is retrofitted to existing liquid petroleum gas-powered steam boilers that are still used in the evening and during prolonged periods of inclement weather. Though the solar steam cooking system cost nearly $300,000, government subsidies reduced the temple's portion to about $170,000. Liquid petroleum gas use has been cut by roughly 100,000 kilograms each year, for an annual savings of approximately $45,000. The temple should recoup its investment in three to four years. According to company founder Deepak Gadhia, the solar steam cooking technology was originally developed in Germany. However, the equipment does not contain imported components and is manufactured with local machinery and labor, creating much-needed jobs. Gadhia has adapted the system for use in India, and has installed 50 such systems of varying sizes over the past two decades. The March edition of CNN's Eco Solutions program highlights the Shirdi Saibaba temple solar steam cooking system.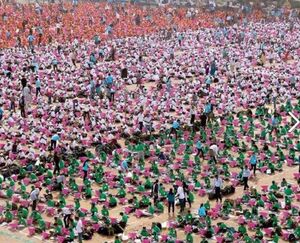 World's largest solar cooking class takes place in India - On January 12, 2016, 5,760 middle school students from over thirty schools gathered for Maha Suryakumbh organized by Keshav Srushti. Held at MIT College in Aurangabad, India, the students prepared a simple meal and learned to use a simple solar panel cooker. The event is up for accreditation by the Guinness Book of World Records. Ajay Chandak reports that included in the Indian government's five-year plan for 2012 through 2016, 30,000 million INR (approx. $600,000,000USD) is budgeted for solar cooking instruction in 500,000 schools. Read more about the event...
News
NEW: 

May 2016: Shirdi Temple wins solar thermal award - The Sai Prasadalaya, a community kitchen of Shri Saibaba Sansthan Shirdi has received the coveted Concentrated Solar Thermal (CST) and Solar Cooker Excellence Awards- 2016 by the ministry of new and renewable energy (MNRE). Shirdi Sai temple, which draws thousands of devotees every day, has one of world's largest Solar System Projects for community cooking installed in 2014. More information...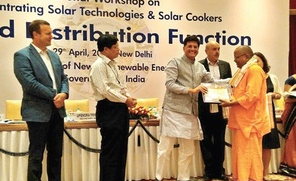 NEW: 

May 2016: Solar thermal excellence award - Ramakrishna Mission Students' Home in Chennai was recently conferred with an award for Concentrated Solar Thermal Excellence (CST) for their Solar Cooking System by MNRE, Government of India. The award was given for the school's installation of the ARUN 100 institutional solar steam generating and heat storage system. Award for excellence - NYOOOZ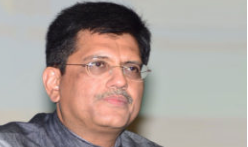 NEW: 

April 2016: India to lead in solar energy Piyush Goyal, Minister for State (Independent Charge) for Power, Coal and New & Renewable Energy, states India has exceeded solar targets by 116% this past year. Goyal said that India now will lead the world towards clean energy rather than follow. More Information...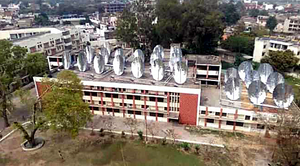 NEW: 

April 2016: The Institute of Technology in Roorkee has been using a solar installation to provide steam for student meal preparation for the past two years. They have saved the expense of as many as 5,000 LPG cylinders each year. Dean Dr Naveen Nawani said with the introduction of the solar steam cooking process, the quality of food has improved drastically. Read more...
March 2016: BENGALURU: The Union Ministry of New and Renewable Energy (MNRE) has invited applications and proposals from educational institutions to convert to green campuses...Solar cooking systems must be utilised for hostels/hospitals etc. All houses, hostels and kitchens must have solar water heaters. Read more...
January 2016: Keshav Srushti continues its extensive efforts to promote solar cooking in India. On January 24th, after this year's Maha SuryaKumbh, they will be opening an educational energy park in Uttan, a coastal town north of Mumbai. It will house an array of solar devices, including solar dryers and solar cookers. More information...
August 2015: According to a Times of India news article, the city of Ludhiana will get a boost of solar power as the Union government has included the industrial capital of Punjab among 50 cities to be developed as solar cities. As part of this part of this project, solar cooking systems must be utilized for hostels/hospitals etc. Read more...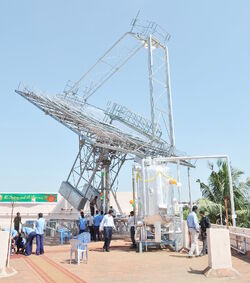 Investment brings large-scale solar cooking to Chennai school for orphans and underprivileged boys - Starting in 2013, a partnership between the UNDP, India's Ministry of New and Renewable Energy, and the Global Environment Facility, led to a project to install an ARUN®100 solar concentrator at the Ramakrishna Mission's Students' Home. The system provides enough energy to cook 3,000 meals per day and reduces LPG consumption by half, which leads to a savings of US$8,000 per year. Read more...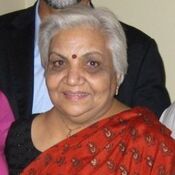 February 2015: India's Ministry of New and Renewable Energy (MNRE) is inviting comments on its Draft Solar Policy - Sunday, March 1, 2015 will be the deadline for comments. The ten-page document, available here, outlines some of the government department's thinking. "The Nodal Agency shall take necessary action to proliferate its application in feasible sectors including residential (solar water heaters, solar cookers, indoor air heating etc.), commercial & industrial sector (solar cooling, solar air dryers, large scale solar water heaters, large scale solar cooking utilizing solar concentrator technology, process heating etc.)." Read more...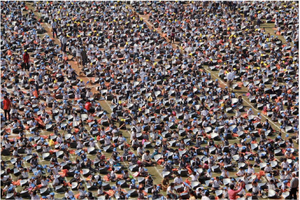 January 2015: 15,000 students in Mumbai solar cook and set world-record - 15,000 students from 80 schools in Mumbai, India set a new world-record for the largest ever solar cooking gathering organized by Keshav Srushti. Each student was given a solar cooker and taught how to use it as part of a national campaign to spread awareness of the importance of solar technology. C Vidyasagar Rao, governor of Maharashtra and Ashish Shelar, minister of state, Power, Coal & New Renewable Energy, attended the record-setting gathering. Read more at: Over 15,000 students create a new world-record in solar cooking
January 2015: Annual Maha SuryaKumba reaches for a lofty goal - The Bhayander based NGO, Keshav Srushti, is committed to spreading awareness of solar cooking. Under the banner of Maha SuryaKumba, they will be gathering students from 500 schools across Mumbai in Bhayander,India, and then will be taking the festival to remote tribal villages. Hoping this year reach the magic number of 100,000 solar-powered prepared meals! Keshav Srushti has been accredited by the Guinness Book of World Records for having conducted the largest solar oven cooking class in January 2014 with 3,639 participants from 62 schools. The new goal of reaching so many students from remote areas will require financial support beyond the means of Keshav Srushti. Please contact Keshav Srushti If you can help, it will be appreciated. The NGO has announced there will now be an annual Maha SuryaKumba held on January 15th. More information...
September 2014: Bhubaneswar: The state government will provide solar chullahs to 500 households inside Satkosia Wildlife Sanctuary. This was done to reduce load on firewood, which the villagers collect from the sanctuary. There are around 5,000 households in the reserve, but initially 10% will be provided with the solar cooking device. The panchayati raj and forest departments will jointly conduct survey to identify the families to be given the chullah. A private party will donate the chullahs to the forest department. - Read more... - Times of India
August 2014: International solar cooking expert, Ajay Chandak, has written about the recent installation of steam generating solar cooking systems at The Akshardham Temple located in New Delhi and at the Ram Krishna Mission Student's Home, Mylapore, Chennai. The Akshardham Temple system is now able to serve 2,000 - 3,000 meals on a clear sunny day, saving approximately 30 to 50 scm of PNG each day in operation. MNRE has partly funded this installation and Clique Solar has manufactured and installed the system. The system at the Ram Krishna Mission Student's Home as been adapted with the ability to store the excess heat generated mid-day to be able to cook very early in the day and after sunset. Read his reports: ARUN®100 Installation at Akshardham Temple, New Delhi and ARUN®100 with Thermal Storage at Ramkrishna Mission, Chennai - Ajay Chandak
August 2014: A Bhayander based NGO, Keshav Srushti, in a bid to spread awareness on solar cooking, will be gathering students from 500 schools across Mumbai to cook solar-powered dishes. Keshav Srushti has been accredited by the Guinness Book of World Records for having conducted the largest solar oven cooking class in January 2014 with 3639 participants from 62 schools. Invigorated by the success, the NGO has announced an annual Maha Suryakumbh on January 15, 2015, is aiming to reach 25,000 schools students. More information...
March 2014: Rural schools receive solar cooking sysytems - Ajay Chandak wants to update the solar cooking community that a Scheffler Community Kitchen has been installed and tested at the Aapla Ghar school for homeless rural children located in Naldurg, India. After cooking their first meal on this solar system the students and management were more than happy. He brings particular attention and notice of appreciation to the local M.P. Dr. Ashok Ganguly, who arranged financing of the project through their M.P fund, contributing $23,000 USD to the project. Also, another Scheffler system is to be opened soon at an orphanage located in Dhule.
February 2014: The Jawahar Navodiya Vidyalya school is saving $23,000 in annual fuel costs - The residential school Jawahar Navodiya Vidyalya located in Ladakh, India appreciates having their solar cooking system, which is saving them $23,000 USD in annual fuel costs. More than 570 students and staff members are served daily meals. "It is not only very easy to operate, but it provides us [with] hot water for washing the dishes in the cold season," says Tashi, one of the kitchen staff. The arid desert region is known as the "land of high passes". Previously, remote areas like this one have had to rely on kerosene and firewood for heating and cooking, and considerable money was being spent simply getting kerosene delivered. Read more... - Asia Times Online
January 2014: School in North Coimbatore begins solar cooking mid-day meals Two PRINCE - 40 institutional parabolic solar cookers will soon be cooking noon meals for students at a school in North Coimbatore. Each PRINCE unit (designed by Professor Ajay Chandak) costs 68,000 Indian rupees ($1,000 USD) and includes a 35-liter (32 quart) pressure cooker. The first two units will be used on a test basis. If successful, the municipality will order PRINCE cookers for all sixteen schools in the region. The Indian National Ministry of New and Renewable Energy provides a sixty percent subsidy for the solar cookers, which will cut expenses by reducing the consumption of LPG and wood. On December 9, 2013 Professor Ajay Chandak, a global leader in the solar thermal cooking sector, was elected to the Board of Directors of the International Solar Energy Society (ISES). Chandak will represent "Solar Heating and Cooling". ISES is a UN-accredited NGO that is active in over 110 countries.
January 2014: India raises the bar for the world's largest solar cooking class - "As many as 3,484 children from over 80 schools participated in the largest solar cooking initiative Suryakumbh on January 4th, which has qualified as an entry to the Guinness Book of World Records. The emergence of renewable sources of energy as an answer to the imminent exhaustion of conventional energy sources pushed a Bhayander NGO, Keshav Srushti, to start with the most influential members of society, children." - dna The class was held in Mumbai, India. Read more...
History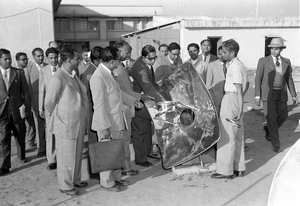 India, Asia's second largest country, next to China, has also the second largest number of solar cookers. The situation in India is more complex than that of China. More is also known about Indian programs. The Third World Conference on Solar Cooking was held in India, permitting the history and progress of solar the technology's uses to become better known around the world.
An official government report informs the reader that the Ministry of Non-Conventional Energy Sources (MNES), Government of India, was established in 1982, first as a Department and later as a Ministry. The Ministry's mandate extends well beyond solar cooking, including fuel efficient wood and charcoal stoves, power from other renewable sources, energy from industrial wastes, research and development in a number of related fields (photovoltaics, biogas, and pollution prevention, for example). MNES began seriously to promote solar cooking in the early 80s, with an initial focus almost entirely on the box cooker.
The population of India is roughly 70% rural. MNES states that "cooking accounts for a major share of the total energy consumption in rural homes (Singhal, correspondence, 2003, p. 1). Sources of that energy are largely fuelwood, animal dung, or crop residues, all of which emit smoke, pollute the atmosphere, and are deterimental to health and safety of family members, particularly women. Fuelwood is become scarcer each year. FAO data show that 21.6% of the Indian land mass is forested, and conservation efforts are in place to reverse previous loss. The effort is affected by the large and dense population and a slowing but still substantial birth rate (continuing to increase at 1.7% per annum, or 17% in a decade). Solar cooking has been viewed as one way to alleviate a number of India's problems and as such was supported by government efforts.
The Press Bureau of the Government of India reported in 2007 that there are 525,000 solar cookers installed in India.[1] The Press Bureau also reported in 2003 that, "The solar cooker programme has been expanded by introducing new designs for community use. Three solar steam cooking systems based on automatic tracking concentrating collective technology for cooking food for 600-3,000 people per day, and one system based on 'Solar Bowl' technology, have been installed. World's largest solar steam cooking system has been installed at Tirumala Tirupati. The system is designed to cook two meals for 15,000 persons in one day. Another system for 2,000 people was erected at Brahmakumaris Ashram in Gurgaon in July, 2002. Three community cookers for indoor cooking have been installed at a training hostel and an NGO's establishment in Leh. In all, six such systems have been installed under the MNES demonstration scheme. A total of 500 dish solar cookers and 60 community solar cookers have been installed so far."[2]
Archived articles
Climate and culture
Solar Cookers International has rated India as the #1 country worldwide for solar cooking potential. In the year 2020, the estimated number of people in India who will suffer from fuel scarcity is 157,400,000, but these people will continue to have ample access to the sun. In December 2007, the Indian Government instituted a program of rebates on various renewable energy devices including solar cookers. Solar cooking has even been recommended in the Rig Veda, a sacred Hindu text, stating: "All edibles ripened or cooked in the sun's rays change into super medicine, the amrita."
Fuels used for cooking
URBAN SECTOR
LPG (47.96%)
Firewood (22.74%)
Kerosene (19.16%) and
Other fuels (10.14)
RURAL SECTOR
Firewood (64.10%)
Other sources of biomass – crop residue (13.10%)
Cow‐dung (12.80%)
LPG (5.67%) is now increasing in importance. [1]
In a February 7th, 2015 article, The Economist reported that there are roughly 1 million deaths in India each year due to cooking fires[2].
Fuel subsidies
The Economic Times of India reports:
While 300 million people live below poverty line, making do with energy inefficient dung cakes, twigs and branches, and occasional bits of coal, the urban middle class and the rural rich are splurging on cheap petrol and diesel and even cheaper kerosene and liquified petroleum gas.
The subsidy is massive - hidden by a disingenuous device called oil bonds. Here are some rock solid facts. IOC, HPCL and BPCL are currently losing $137 million a day (i.e., Rs 582 crore per day at Rs 42.50 = $1). They lose Rs 16.34 for each litre of petrol, and Rs 23.49 for each litre of diesel sold in Delhi.
The subsidy on kerosene at Rs 28.72 per litre is over three times the current retail price; and the subsidy on a cylinder of cooking gas at Rs 306 per cylinder exceeds the retail price. The total under-recovery for the oil marketing companies for 2006-07 was over $19 billion. With oil prices touching $135, under-recoveries can be $50 billion this year, unless retail prices are substantially increased.[3]
The Telegraph (UK) reported in September 2013 that, "Food and fuel subsidies are gobbling up much of the budget, while investment atrophies."[4]
Solar cooking already has a significant presense in India, especially with large scale projects, but the potential remains for its use to still significantly replace the use of conventioal fuels. 
Cultural acceptance
In a report presented during the Asian Clean Energy Forum in June 2008, Soma Dutta, Asia Regional Network Coordinator for the Amsterdam-based ENERGIA International Network on Gender and Sustainable Energy, states that only 45% of India's 70% rural population have access to electricity, and over 80 percent still rely on firewood as their primary cooking fuel, the gathering of which is a responsibility that almost always falls to the women and girls in a society. The long hours and significant effort spent simply gathering firewood leaves them little time for education or employment. [5]
Introductions of new technologies fail in villages for many reasons, but most commonly due to a lack of knowledge and understanding of local cultural customs. Solar cooking has often suffered this fate despite the purported cost savings because it is not introduced in a way that suited the lifestyles of the individuals using it.
A solar stove is most powerful at the times of the strongest sunlight, which is mid-day and early afternoon. As in many agricultural populations, village farmers in India consume their biggest meals by early to mid-morning and then again late at night, after the sun has set. In addition, certain solar stoves are not conducive to Indian-style cooking which is done mostly with oil (with the exception of rice) and requires frequent temperature manipulation as well as stirring and flipping which was is difficult with many solar cookers.[6]
While technical constraints limit the types of solar cookers likely to be widely adopted in India, there is historic precedent for solar cooking in Indian culture. A passage in ancient Vedic texts state, " Sun cooked food improves cellular health and longevity of life. It strengthens health and mind removes three major physical disorders to do with digestion, blood and respiratory system, balances inner body temperatures, life, glows aura and keeps various obstacles away. Sun cooked food has great medicinal value. It enhances intellect, genius." ' Rig Veda'. - Reference from the princeindia.org website. See: PRINCE
See also
Resources
Blogs
Possible funders
Photographs
Reports
Articles in the media
NEW: 

May 2016: Waiting to exhale - The Hindu

NEW: 

May 2016: Ministry selected Aryans Chandigarh for developing as Green Campus - Punjab News Express

NEW: 

May 2016: India air pollution kills half a million per year, costs hundreds of billions – study - RT

NEW: 

May 2016: Making xacuti while the sun shines - Times of India

NEW: 

May 2016: GEDA's solar cooker initiative wins laurels - Times of India

NEW: 

April 2016: McGilligan demonstrates power of solar cooking - The Free Press Journal

NEW: 

April 2016: Roorkee IIT uses solar energy for steam cooking - The Tribune

NEW: 

March 2016: When summer arrives, go solar - The Navhind Times
March 2016: BIT Ras Al Khaimah Campus honoured - Khaleej Times
February 2016: A culinary date with the sun on Sankranti - Indian Voice
January 2016: Particular about particulates - The Economist
January 2016: Solar oven building workshop for women - The Times of India
December 2015: India's Solar Initiative and the Challenge of Climate-Safe Development - Living on Earth
December 2015: This solar cooker will work at night too - The Times of India
December 2015: IISc scientists develop solar cooking device - Deccan Herald
December 2015: Almora school leads by example, cooks midday meal using solar cookers - The Times of India
December 2015: Students all set to make PAU campus eco-friendly - The Tribune
November 2015: One in three Indians in 2040 will depend on firewood for cooking - The Economic Times
October 2015: NTPC installs solar thermal cooking system at Dadri power plant - The Hindu BusinessLine
September 2015: Neeri develops more efficient solar tech - The Times of India
August 2015: Solar power thrust for Ludhiana - The Times of India
April 2015: India: PRINCE Offers Solar Cooking Workshops for New Entrepreneurs - Global Solar Thermal Energy Council
March 2015: Will mini-micro solar remain a toy for the middle-class and rich in India? - Moneylife
March 2015: Fair Glow in Solar Energy - The Telegraph
February 2015: Pollution in India and China: Indian winter - The Economist
January 2015: Children to learn about clean solar cookers on festival day - gulfnews.com
January 2015: Healthy food via solar cooker - Moneylife
August 2014: Keshav Srushti opens 'Maha Suryakumbh' - The FREE PRESS Journal
February 2014: Sun Smiles on a Cold Desert - Independent European Daily Express
November 2013: More Indian schools to get solar cookers - The Hindu
August 2013: Solar cooking technology - The Hindu
June 2013: Go solar for healthier food' - The Times of India
April 2013: Vintage Visakha organized a demonstration of solar cooking at its office at Abidnagar. Solar cooking demo held - The Hindu
March 2013: Solar City on the beam - The New Indian Express
November 2012: Sun fuels hearth at Akshardham - The Times of India
August 2012: INDIA's FIRST & UNIQUE "GREEN ASHRAM" at the Solar Capital of India GUJARAT – A model & multiplier for Renewable energy and Sustainable Community - urvishdave
October 2012: Major Indian pilgrimage centres going green - AAJKI KABAR
June 2012: Gujarat septuagenarian taps solar power - Daily News and Analysis
June 2012: Ambaji temple goes green - The Times of India
April 2012: Soon, Golden Temple may dish out solar-cooked langar - The Indian Express
February 2012: Medical colleges into green mode for change - The Pioneer
February 2012: Farooq for encouraging renewable energy sources - IBN Live
December 2011: Plan to reap benefits of solar cooking system - The Hindu
June 2011: Shirdi's Prasadalaya achieves a first, using solar energy to make meals for devotees - Daily India.com
May 2011: Gurgaon goes green - Hindustan Times
August 2010: Sierra Club Helps Bring Green Jobs to India - The Bay Citizen
July 2010: Renewal Energy Park in India Set to Open During October 2010 - A to Z Cleantech
June 2010: Smoke-free solar cooker cooks up interest in this tiny hamlet - The Times of India
November 2009: "Every [Indian] individual/household should have a solar cooker," says Arvind Virmani, Chief Economic Advisor, Ministry of Finance, Government of India.
October 2009: Mass-market U.N. carbon scheme finds favor in India - Reuters
July 2009: Economic Survey urges Indian Government to eliminate cooking fuel/kerosene subsidies and ensure rural households have a solar cooker and a solar lantern - The Hindu, Business Times
July 2009: Solar energy to cook 30k meals at university - The Times of India
February 2008: Bharat hot on solar cookers, new energy - The Times of India
February 2008: Yes They Could, So They Did - New York Times
July 2008: India's Temples Go Green - Time Magazine
June 2008: India tackles climate change with renewable energy - The Guardian (UK)
June 2008: Cooking with the sun - The Hindu
June 2008: Kitchen for poor kids go high-tech (solar) in state homes - Express India
June 2008: Gujarat industry opposed fuel price hikes - Thaindian News
March 2008: Rewriting the Books in Ladakh - Cultural Survival Quarterly
March 2008: Black carbon pollution emerges as major player in global warming - Scripps Institution of Oceanography
February 2008: Fiscal policy to act as a tool to lighten the oil shock - The Economic Times
February 2008: Govt looking for consultants to tap CDM benefits - The Economic Times
January 2008: Everything under the sun - The Times of India
July 2007: Holy smoke! Religious places too earning carbon credits - The Times of India
April 2007: UN engages banks to light up rural India; Solar loans, energy access transform life for poor - EurekAlert
March 2007: Solar cookers save Indian emissions - NDTV.com
Audio and video
17:59

CST and Solar Cooker Excellence Award 2016
02:04

Aurangabad Setting A World Record By Cooking With Solar Energy
02:28

The Solar Bowl
05:59

12TH FEB DD NEWS METRO SCAN MUMBAI.
09:28

McGilligan Empowering young Rural and Tribal women with Solar Cookers
02:43

Mumbai solar cooking record story
10:00

Suryakumbha
02:52

Square Parabolic Solar Cooker
02:33

Haybox Easy cooker
06:43

Solar Cookers in India, Global Ideas
03:08

The Smokeless Village
Contacts
NGOs
Manufacturers and vendors
Government agencies
Educational institutions
Individuals
See also
References
↑ http://static2.wikia.nocookie.net/__cb20090624234723/solarcooking/images/8/8f/Performance_analysis_Solar_Parabolic_concentrator_for_cooking_applications_P._Rajamohan%2C_S._Shanmugan%2C_K._Ramanathan%2C_D._Mutharasu_%28January_2009%29.pdf