Webinars and online events
10 January 2018, Wednesday: (8-9am PDT, 15:00-16:00 GMT): Sector updates webinar - Solar Cookers International will sponsor the webinar, Solar Cooking Sector Updates, which is open and available to the public. It will give SCI and its partners an opportunity to promote sector knowledge sharing, coordination, and collaboration. Registration details will be shared at later date.
10 January 2018, Wednesday: (9-10am PDT, 16:00-17:00 GMT): Refugee Working Group (Conference Call) A one hour call is scheduled to follow the sector updates webinar. Registration details will be shared at later date.
NEW: 

16-18 April 2018: (Tiemcen) The Research-2-Practice Forum 2018: Energy, Water Security and Climate Change in Africa will be meeting at the Pan African University Institute for Water and Energy Sciences (PAUWES) in Tiemcen. Additional support from the German Government and in cooperation with a consortium of German universities (UNU-EHS, ZEF and ITT) led by UNU-EHS and the University Abou Bekr Belkaid in Tlemcen are jointly organizing the forum. The focus of the forum will be to promote and support applied and practice-oriented research and strategic partnerships in renewable energy, water and climate security in Africa. Information & submission guidelines, (due by 8 January 2018)
3-6 December 2017: (Kathmandu) Call for Posters The International Centre for Integrated Mountain Development (ICIMOD), jointly with the Government of Nepal's Ministry of Population and Environment and with support from the European Union, is hosting an International Conference titled "Resilient Hindu Kush Himalaya: Developing Solutions towards a Sustainable Future for Asia". This event will feature a special poster session dedicated to showcasing the innovative knowledge, solutions, and policies that young change-makers are contributing to for resilience-building in the Hindu Kush Himalaya (HKH). The aim of this special session is to give youth working in the HKH an opportunity to present their innovations in relation to the conference theme. The deadline is 8 September 2017 to submit posters. More information...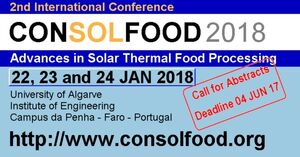 22-24 January 2018: (Faro) CONSOLFOOD 2018 is scheduled to take place at the Instituto Superior de Engenharia, Universidade do Algarve, Campus da Penha. This solar cooking conference will include oral sessions, keynote lectures, a round table discussion, and a poster session. The deadline for submission of abstracts for presentation consideration was 30 September 2017.
See also
Pages in category "Events"
The following 7 pages are in this category, out of 7 total.
Ad blocker interference detected!
Wikia is a free-to-use site that makes money from advertising. We have a modified experience for viewers using ad blockers

Wikia is not accessible if you've made further modifications. Remove the custom ad blocker rule(s) and the page will load as expected.