English
Construction and use
Das Solarkocher-Handbuch
The author has collected over many years of work experience will be provided with the solar cooker manual to all who are interested in sustainable technology. The book begins with a historical part, followed by the description of various types. The physical contexts and conditions await with technical explanations. Similar techniques, such as solar cooling, solar wax melter, etc. are explained. There are a number of pictures, many of which were not previously published. Future trends and possibilities are discussed. Text is in German. More information...
Domestic Parabolic Solar Cooker (Dish Cooker) Manual
Ajay Chandak
Professor Ajay Chandak is the founder of Prince India, a non-governmental organization in Dhule, India. Prince India recently completed an ambitious project that consisted of the design, manufacture, transport, installation, and commissioning for 300 parabolic community cookers at tribal schools in the Indian state of Maharashtra. He also teaches at a private engineering college in Dhule.
His manual is filled with construction details, and is aimed at entrepreneurs and solar enthusiasts wishing to build parabolic cookers. Read a preview of the manual at: Construction Manual for Domestic Parabolic Solar Cooker
For more information, and to purchase the manual visit: Prince India

Cooking With Sunshine
The Complete Guide to Solar Cuisine with 150 Easy Sun-Cooked Recipes
Cooking With Sunshine provides everything you need to get cooking, including:
Clear explanations of how solar cooking works and its benefits over traditional methods
Instructions for building your own solar cooker using inexpensive, easy-to-find materials—and information on where to buy a ready-made solar cooker
A selection of fun and super-easy recipes to get you started
A wide variety of recipes for main dishes, accompaniments, and desserts for both vegetarian and omnivorous diets
Creative menu ideas for special diets, tastes, and occasions
"...I have been cooking with the sun for years, and Cooking with Sunshine takes away the mystery and brings the deliciousness and adventure of solar cooking to the reader." — Artist and solar cooking advocate Mary Frank
Paperback, 224 pages. See Cooking With Sunshine web page for more information. Purchase from Solar Cookers International here.
The Sunny Side of Cooking
Solar cooking and other ecologically friendly cooking methods for the 21st century
The Sunny Side of Cooking is a practical, easy-to-follow guide for both beginning and experienced solar cooks. Includes:
How to choose the right solar cooker for you based on your climate and lifestyle needs
How different types of solar cookers work
How to use a solar cooker for baking, steaming, simmering, sauteing, toasting, broiling, and more
More than 100 vegetarian solar recipes and cooking tips (animal free)
The only solar cookbook that explains in detail how to solar cook tofu, seitan and tempeh
How to bake crepes, flatbreads and tortillas, pancakes, polenta, muffins, yeast breads and pastries
How to adapt slow cooker (Crockpot) recipes to a solar cooker
How to adapt your favorite recipes to a solar cooker
How to can foods in a solar cooker using USDA safe canning guidelines
How to create a year-round sustainable cooking system by combining the use of solar cookers, fireless cookers, pressure cookers, and biomass-fueled stoves and earth ovens

"Beautifully detailed and informative. I highly recommend it both for beginners and experienced solar cooks who may pick up some useful variations and additional uses. Her recipes make one's mouth water just reading them!"
— Solar cooking pioneer Barbara Kerr
Copyright (c) 2007
128 pages. 8 1/2 inches by 5 1/2 inches. Color cover, black and white illustrations, comb binding.
$14.95 + $3 shipping and handling. Wholesale rates available.

Contact Lisa(at)LisaRayner.com
Order by sending a check or money order to:
Lifeweaver LLC
P.O. Box 22324
Flagstaff, AZ 86002
Heaven's Flame
Joseph Radabaugh
This excellent 144-page book offers a great, comprehensive introduction to the world of solar cooking, including a large question and answer section, a long chapter detailing who's who, and detailed plans for a very high-performance cardboard cooker and detailed cooking instructions. You can see an example of this cooker here.
You can read an excerpt from this book here.
Order this book from Amazon.com (15% of purchase price donated to Solar Cookers International)

Solar Cooking for Home and Camp
This book gives clear and easy instructions on how to make a solar cooker using two cardboard boxes lined with aluminum foil and a few other simple materials that are readily available. Yaffe then completes the book with a number of tasty recipes like mushroom quiche and stuffed zucchini that you can cook in your very own solar cooker.
Solar Cooking: A Primer/Cookbook
A 96-page book of natural vegetarian recipes. Contains 24 pages of background including construction plans and cooking tips. Barbara Kerr, the inventor of the cardboard solar box cooker writes of the book, "The combination of the enhanced flavor of solar-cooked foods and Harriet's lovely, carefully balanced recipes is a total win!"

Cooking with the Sun: How to Build and Use Solar Cookers
A 115-page book with plans for building a plywood multi-reflector box cooker, a cardboard single-reflector box cooker, and a cardboard parabolic cooker. Contains 62 pages of American and international recipes.
Morning Sun Press
P.O. Box 413
Lafayette, California 94549
USA
Order this book from Amazon.com (15% of purchase price donated to Solar Cookers International)



Retained Heat Cooking ... the Wave of the Future Again
by Leslie Romano
Discover how easy it is to make and use your own off-the-grid cook box to cook uncommonly good food of all kinds. This is a frugal, time honored method of cooking that saves time, space, money, resources, nutrition and electricity. Includes sections on the history and science of retained heat cooking, how to make and use your own cook box, tips and suggestions based upon personal experience, recipes, homeschooling ideas and ten incredible advantages to cooking highly nutritious, perfectly cooked food with the natural, easy to implement retained heat cooking method.
50 pages. $5.99
To order:

On Your Way Towards Solar Cooking: The Why's and Wherefore's of Solar Cooking in Brief
Plus Nearly 50 Links to Solar Cooking Information, Reviews, Directions for Building Your Own, Places to Buy Commercial, and Cookbooks From Which to Make It All Happen
by Leslie Romano
Once you discover the significant benefits of cooking in ways other than on an industrially made stove in an electrified kitchen, you just can't stop! Become more prepared and more self-sufficient through solar cooking. This e-book will get you started.
5 pages. $1.99
To order:

The Carbon-Free Home: 36 Remodeling Projects to Help Kick the Fossil-Fuel Habit
With an endearing mix of down-to-earth practical solutions and funky DIY projects, this book provides readers with much-needed information on how to renovate habits and home to move closer to a zero-carbon existence. The Hrens, respectively a carpenter and a photovoltaic installer living in Durham, N.C., give specific and technical advice, based on their own experience, on how to lower energy use within and outside the house, with 36 projects ranging from simple and inexpensive activities like sealing drafts, resetting the water heater thermostat and planting potatoes in a barrel to more heavy-duty and costly tasks such as installing a green roof or a solar hot-water heater and replacing a lawn with a permaculture garden. Some projects, such as building an outdoor cob oven—which the authors themselves describe as time-consuming with low energy savings—will be of little interest to any but devoted backyard hobbyists. Converting from a flush toilet to humanure, which involves lugging five-gallon buckets of human waste to a compost pile on a weekly basis, is even less likely to be adopted by the urban dwellers the Hrens hope to influence. But just about anyone will find something useful to do in this book, and the detailed, clear and enlightening chapter on understanding home energy use is, alone, almost worth the purchase price. Order this book from Amazon.com (15% of purchase price donated to Solar Cookers International)
The Expanding World of Solar Box Cookers
by Barbara Prosser Kerr
Available online here. To order a printed copy, which includes photos and diagrams send $15 US to this address:
Kerr-Cole Solar Box Cookers PO Box 576 Taylor, AZ 85939
Or email kerrcole@frontiernet.net
Making the Most of Sunshine
A Handbook of Solar Energy for the Common Man
Table of Contents
An Interview with the author
Vikas Publishing House Pvt Ltd
576, Masjid Road, Jangpura, New Delhi-110 014
Telephone: 4314605, 4315313, Fax: 91-11-431087
orders@vikas.gobookshopping.com


South Asia Book, P.O.Box 502, Columbia MO 65205
sabooks@juno.com, Contact: Jerry Barrier.
Phone: 573-474-0116, Fax: 573-474-8124.
Cookbooks
Sol Food
Written by David and Ruth Whitfield, Sol Food is a cookbook, but it isn't just a cookbook. In its pages you'll find all the information and advice you need to start solar cooking in your own backyard, plus over 54 solar cooking recipes to put on your table. The Whitfields are the founders of the CEDESOL Foundation, and they share many of team's adventures, gleaned from over a decade of not-for-profit work promoting solar cooking and integrated cooking techniques in Bolivia and around the world. A percentage of the profit from book sales help fund thier efforts. Sol Food is offered as an ebook in PDF format. More information...
Anywhere under the Sun
A 2012 solar cooking eBook featuring recipes from around the world. Heather Stevens, Australian solar enthusiast and editor of the book invited solar chefs from around the world to submit their favorite recipe, photos and comments on solar cooking. The book is a visually stunning and comphrehensive, with recipes from around the world. The book can be downloaded as an eBook for $1.99(AUD) from http://www.thesunskitchen.com. 100% of the sale price is donated to Solar Cookers International to assist with their work encouraging solar cooking in the developing world.
A Month of SUNdays - Solar Cooking at Home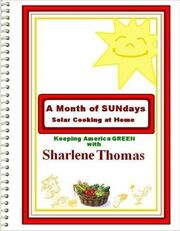 A Month of SUNdays, written by Sharlene Thomas, is a recipe book for both solar and conventional mainstream cooks. The cookbook include standard, original, and gourmet recipes, some including meat. For more information and to purchase...
This book was written to help everyone realize that using the sun's energy for cooking is practical and an effortless method of preparing delicious meals, saving our fossil fuels, and keeping America green. Solar cooking is no longer solely within the province of hikers, campers, or classroom experimentation. These everyday and gourmet recipes make it easy to discover just how delicious food tastes when cooked by the sun. In addition, you will find:
Tips and Techniques - a quick reference to basic solar cooking
Substituting Ingredients - adapting your own recipes
Breads - muffins, casseroles, yeast breads
Desserts - pudding cake, cookies, cobblers, pies, hot fudge cake
Meats - beef, venison, pork, and poultry, roasted, baked, in casseroles
Pasta and Rice - lasagna, spaghetti, manicotti
Seafood - cod, salmon, flounder, perch, haddock, and crab, baked, stuffed, and roasted
Soups - thick and hearty meals or light starters
Vegetables - casseroles, logs, side dishes
A Checklist for Solar Cooking - a quick list for beginners and old-timers, as well
Finding Solar Ovens - ready-built or build-your-own info
A General Guide to Cooking Times - meal planning based on foods and types of solar ovens used for cooking
See the energy savings on your utility bill almost immediately and enjoy a healthier lifestyle while doing your past to protect the environment for future generations.
Copyright (c) 2008
86 pps, 6"x9", color cover and two pages of colored plates, plus b&w pictures, comb binding.
$14.95 + $3 s&h.
Contact: sjthomas(at)mainstreamsolarcooking.com
Creative Handz
1280 White Memorial Church Rd
Willow Spring NC 27592
______________________________________________________________________________________
Heaven Sent Food
Heaven Sent Food, written by Jackie Harsha, is available either as an e-book and a printed version. The recipes were developed for omnivores who like to eat healthy, delicious food at affordable prices. The book explains solar cooking, different types of solar ovens, and offers 115+ delicious recipes. It's an easy to use, beautiful book that was illustrated by an award-winning artist. Solar energy is free - this book makes it possible for even the most inexperineced cook learn to cook for free using the sun's power, all four seasons. Once you eat solar cooked food, you will probably not want to eat any other kind. It's delicious, cooking it is free, and if you want to get the best flavors out of the food you buy, cook it with the sun. It's amazing.
Contact: (480) 986-2470
Arizona
For more information and to order the book, please visit
Eleanor's Solar Cookbook
A 93-page book containing more traditional American dishes. Includes a section on canning in a solar box cooker.
Available for $10 + $2/shipping from:
Cemese Publishers
P.O. Box 1022
Borrego Springs, CA 92004
Tel: +1 (209) 478-6318

The Morning Hill Solar Cookery Book
The Morning Hill Solar Cookery Book is your source for recipes, cooking techniques, and tips of all kinds for solar and conventional kitchen cookery. No matter what kind of cooker you have, you will be able to use the recipes in this book to produce hearty, healthy vegetarian food which will please all tastes.
Available for $15 postpaid from:
Morning Hill Associates
15013 Geary Crk Rd
Canyon City OR 97820
541-542-2525
morninghil@yahoo.com

Sabor Solar (in English)
The full text of the Sabor Solar Cookbook from Grupo Fenix shows how to cook Nicaraguan foods in a solar cooker. (Spanish version also available.)
French
Construction and use
Cookbooks
Du Soleil dans mon assiette
A new French-language solar cookbook titled Du Soleil dans mon assiette is available from Bolivia Inti-Sud Soleil. Fifty recipes, ranging from appetizers to main dishes to desserts, are nicely presented in this book along with full-color pictures. Several of the recipes also include tips for cooking with fuel-efficient wood stoves and heat-retention cookers. The book sells for 12.50 € ($16) plus shipping. Proceeds benefit the organization's projects in Andean countries.
Bolivia Inti-Sud Soleil
18 rue Gaëtan Rondeau
44200 Nantes
France
Tel: +33 02 51 86 04 04
German
Baupläne und Verwendung
Cooking with Sunshine
The Complete Guide to Solar Cuisine with 150 Easy Sun-Cooked Recipes von Lorraine Anderson und Rick Palkovic Cooking with Sunshine enthält alles nötige, um mit dem Kochen anzufangen, darunter auch:
Klare Erklärungen wie Solarkochen funktioniert und seine Vorteile gegenüber traditionellen Kochmethoden
Anleitungen zum Bau eines eigenen Solarkochers mit günstigen, leicht zu findenden Materialien - und Informationen darüber, wo man einen fertigen Solarkocher kaufen kann.
Eine Auswahl von lustigen und super-leichten Rezepten für einen gelungenen Einstieg
Eine große Auswahl an Rezepten für Hauptgerichte, Beilagen und Nachspeisen sowohl für Vegetarier als auch für Alles-Esser
Kreative Menu-Ideen für besondere ernähtungsformen, Geschmäcker und Gelegenheiten
..."Ich koche schon seit Jahren mit der Sonne. Cooking with Sunshine klärt Unklarheiten und bringt dem Leser das Leckere und das Abenteuer des Solarkochens nahe". - Künstlerin und Solarkochen-Verfechertin Mary Frank.
Softcover, 224 Seiten. Siehe die Cooking With Sunshine-Seite für mehr Informationen.
Kochbücher
Solarkocher
Solarkocher, Grundlagen, sowie praktische, sozio-ökonomische und ökologische Betrachtungen von Bernd Hafner, Willi Heizen, und Paul Krämer. Seite für mehr Informationen. Erwerb über diese Seitemöglich.

Die Parabel
Die Parabel, Broschüre über die Berechnung und Handhabung von Parabeln, insbesondere im Hinblick auf das Konstruieren von Solarkochern, ISBN 978-3-8442-4131-0. Erwerb hier oder bei jeder Buchhandlung.
Spanish
Construction and use
Cookbooks
Sabor Solar (in Spanish)
The full text of the Sabor Solar Cookbook from Grupo Fenix shows how to cook Nicaraguan foods in a solar cooker. (Spanish version also available.)
See also