In March 2008 a workshop was opened by McDonald Ganisyeje in Lilongwe under a local NGO Care & Support Network who have an Orphanage Centre in Area 23 / Lilongwe. Care & Support Network is a Local NGO carrying out Environmental conservations projects, HIV/ Aids programmes, Orphan Care,Youth programmes & Gender programmes. Solar cookers and Bio Energy stove production is one the main projects being carried out. The Bio energy stove does not use firewood and charcoal and this is ideal for use during the rainy season as an alternative source of fuel when a solar cooker can not be used. Only biomass rice husks, twigs, maize stocks, bricketts, saw dust etc. can be used. McDonald Ganisyeje is Co-ordinating the project with Care and Support Network on voluntary basis.
News and recent developments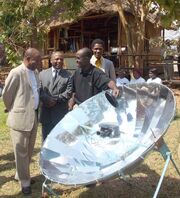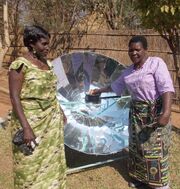 November 2012: Update from the Care and Support Network - The Care and Support Network is producing both parabolic solar cookers and CooKits and the women from Chimwemwe Centre produce briquettes from waste papers, sawdust, and maize husks as alternative source of energy. The theme of the function for this year was 'Tourism and Sustainable Energy' hence our presence there. We explained to the top government including the Minister of Tourism who visited our stands that use of solar cookers and briquettes is an alternative source of energy to using firewood and will help us protect our forests that are being depleted at an alarming rate. The Minister was impressed and bought one parabolic solar cooker the same day. Leading by example J! Land and Lake Safaris, a Tour Operator where McDonald Ganisyeje works full time provided logistical support for the solar cookers to be available at The Lilongwe Wildlife Centre where one of the parabolic solar cookers is stationed for demonstrating to the public. Land and Lake Safaris also provides waste papers from the office through the Lilongwe Wildlife Centre where the women collect them and make use for making the briquettes.
September 2009: The Care and Support Network has established a workshop where 10 women and 3 men produce about 25 parabolic solar cookers per year. Equipment and start up were financed by Bruno & Magda Weissengruber of Austria, members of ARGE Solar Austria. It also produces CooKits.
See also
Contact
See McDonald Ganisyeje.