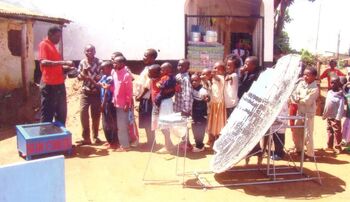 Camily Wedende is the director of Sun Cookers International in Eldoret, Kenya. He began teaching others about solar cooking in 1995, and he and his wife have trained over 300 people since then through 2010.
Recent news and developments
November 2012: Student Solar Cooking Science Projects, USA and Kenya - What began as a pilot project in Eldoret, Kenya has evolved into two sister organizations, Student Solar Cooking Science Projects, founded by Sharon Cousins in the USA and a sister organization in Kenya founded by Camily Wedende. Ongoing fundraising goals include renting a small work facility. Because of limited funding, the group is always looking for ways to produce a reasonable solar cooker for $10USD or less. The partnership that led to these projects began when Camily Wedende of Eldoret read about an American youth project advised by Sharon Cousins, and contacted Sharon asking for advice on working with young people. The pilot project, which involved twenty students ages 10-18, was a stunning success. The innovative approach teaches skills that will help the students in many areas of life. They hope to create a replicable model for the harnessing the tremendous energy and enthusiasm of young people for the advancement of solar cooking in their communities and beyond.
Spring 2010: Camily Wedende and Sharon Cousins (advising and encouraging via email) began a project to involve a number of Eldoret school children in solar cooking. Students helped construct three different types of solar cookers and have been running comparison tests on the cookers. If a small fund can be arranged for materials, the students each want to make one of the model they like best to take home and use. Contact Sharon Cousins if you would like to donate to this worthy project.
See Also
External Links
Contact
Camily Wedende
P.O. 1327
Eldoret
Kenya
Tel: +254-0724243798