Last updated: April 14, 2015      
See also: Global Calendar of Events and Past events in Cameroon
News and recent developmentsEdit
February 2015: A Development and Information Center, DevICe, has been established in Tatum, Kumbo, north of Bamenda in Cameroon. After two weeks of training, the staff continues to test different types of solar ovens, provide information about water hygiene, and help with simple water quality analysis. They will also look into solar cooking. The center is run by voluntary work with a small budget. However, they are able to use a professional pyranometer from Kipp & Zonen. The project is run in partnership with Engineers Without Borders - Sweden, and sponsorship by Inpsecta in Sweden. (Inspecta provides inspections, testing, certification, technical consulting and training services.)
November 2014: Vise Gilbert Chin, CEO/President of Leéiyen, reports they have already taught more than 100 people to use solar cookers, including parabolic solar cookers, and the Heaven's Flame and CooKit solar box cookers.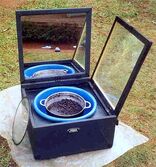 November 2007: The Organisation for Rural Education Simplicity (ORES) has been carrying out solar cooker research for several months. After experimenting with parabolic cookers, which they found difficult to keep focused on the sun as it moves, they chose to develop a solar box cooker that can cook for five people. The box can be closed to keep water warm overnight. Glass and mirrors are the only cooker materials that are not produced locally. Production cost is about $150 per cooker. Although ORES is based in Bamenda, in the western part of Cameroon, ORES hopes to promote the cookers in northern Cameroon where the Sahara Desert is encroaching and where the sun shines nine months per year.
The history of solar cooking in CameroonEdit
Paul Lebga Fonyonga, a teacher in Cameroon, taught two workshops on solar cooking in 2002.
[Information for this section was taken originally from State of the Art of Solar Cooking by Dr. Barbara Knudson]
Archived articlesEdit
Climate, culture, and special considerationsEdit
Northern part of the country: Sunny throughout the year and local sources of firewood are depleted. The north is a good region for solar cooking. Southern part of the country: Abundant rain and abundant firewood. (Source: Juan Urrutia Sanz, 2010-Feb-15)
ResourcesEdit
Possible funders for solar cooking projects in CameroonEdit
Articles in the mediaEdit
Web pagesEdit
Cameroon contactsEdit
Manufacturers and vendorsEdit
Government agenciesEdit
Educational institutionsEdit
IndividualsEdit
ReferencesEdit