Calendar of events
Comments

3
1,790pages on
this wiki
Deutsch, Español, Français, Indonesian, Italiano, Kiswahili, Kreyòl ayisyen, Melayu, Português, Русский, Soomaaliga, Tagalog, Tiếng Việt, Türkçe, Ελληνικά, தமிழ், नेपाली, 中文, اردو, 한국어, 日本語, العربية, فارسی, עִברִית, हिन्दी, ไทย, বাংলা, తెలుగు, ગુજરાતી, ລາວ

This page lists events related to solar cooking throughout the world. To add to this page, click the "Edit" button above or email event information to paul@solarcooking.org.
Online
Thursday, November 21, 2013 (Webinar): Do you want to learn about enabling and limiting factors that have been found to influence large scale uptake of clean cookstoves and fuels? If so, register today for the Winrock and U.S. EPA-organized webinar "Key Factors Influencing Adoption" from 11:00 a.m. – 12:30 p.m. Eastern Standard Time (EST). Dr. Elisa Puzzolo from the World Health Organization and Dr. Debbi Stanistreet from The University of Liverpool will present findings from the recently released systematic review "Factors influencing the large-scale update by households of cleaner and more efficient household energy technologies." Information and registration links...
Renewable Energy for the Developing World is a class offered online by Solar Energy International. The six week course will explore different applications for renewable energy technologies in developing countries. Participants will learn how to successfully accomplish sustainable development projects with renewable energy. Case studies will be presented on solar cooking, rural household electrification, appropriate building technologies, rural health care and micro-enterprises utilizing renewable energy. Start dates include November 4th, 2013, and April 21st, and November 10th, 2014. More information.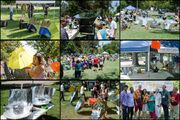 Saturday, July 18, 2015: (Sacramento) The 2nd annual Sacramento Solar Cooking Festival will be held once again in William Land Park from 10 a.m. - 3 p.m. The event is free and open to the public. Solar chefs interested in cooking at the festival are required to pre-register, which will begin in May, 2015. Attend mini solar-cooking classes, learn how solar cooking helps families around the world, and learn how to make a solar cooker yourself. Video of the 2014 festival can be seen at: Sacramento Solar Cooking Festival 2014
NEW: 

Saturday, August 8, 2015: (San Diego) Jim La Joie, designer of the All Season Solar Cooker, will present a 2 p.m. free class about solar cooking at the City Farmers Nursery located at 4832 Home Ave. He will cover the different types of solar cookers available and cooking techniques. When registering for the class you are offered a reduced price on an All Season's Solar Cooker. Sign up for this option prior to the class. More information...
NEW: 

Saturday, April 18, 2015: (Kalamath Falls) A free program, "How to Build and Use a Solar Oven," will be led by Brittany Johansen at 10:30 a.m. in the Klamath County Library, located at 126 S. 3rd St. She will explain the science behind passive solar heating and how to use and build a solar oven.
April 2015: (Dodgeville) An exhibition of Solar Energy Architectonics by Joel Goodman is scheduled at the Iowa County Courthouse (both floor levels), in Dodgeville, Wisconsin, USA for the month of April. Drawings and model photographs will be presented including: the BIETR (building interior evacuated tubes and reflectors) project, building integrated nonimaging reflector troughs (interior and exterior), thru-wall solar cookers, heliostats (2-axis tracking and 1-axis tracking linear Fresnel systems), spherical reflector segment bowls, and thermal storage.
See also