Calendar of events
Comments

3
1,781pages on
this wiki
Deutsch, Español, Français, Indonesian, Italiano, Kiswahili, Kreyòl ayisyen, Melayu, Português, Русский, Soomaaliga, Tagalog, Tiếng Việt, Türkçe, Ελληνικά, தமிழ், नेपाली, 中文, اردو, 한국어, 日本語, العربية, فارسی, עִברִית, हिन्दी, ไทย, বাংলা, తెలుగు, ગુજરાતી, ລາວ

This page lists events related to solar cooking throughout the world. To add to this page, click the "Edit" button above or email event information to paul@solarcookers.org.
April 25-26, 2015: (Altötting) - 21. Internationale Solarkocherkonferenz, EG-Solar e.V., Altötting, Deutschland, in der Staatlichen Berufsschule. Konferenzsprache: deutsch. Weitere Informationen...
August 14-16, 2015: (Riebau) The Solar Festival e.V. will be taking place at the former army barracks in Riebau, between Altmark and Wendland. The event will cover all things solar with demonstrations and musical entertainment. More information...
April 24 - 26, 2015: (Lucknow) The North India Solar Summit (NISS) is a major exhibition and conference for the solar industry within India. This will be the second edition of this conference. The conference appears primarily directed at the PV industry, but promoters of solar thermal technologies are also encouraged to exhibit. However, suggested solar thermal applications emphasize building technology. More information...
Saturday, April 11, 2015: (Tucson) Join Citizens for Solar for the 33rd Solar Potluck and Exhibition happening at Catalina State Park. Experience the flavors of solar-cooked food and explore solar appliances, exhibitions (ovens, fountains, coolers, lights, electrical systems), and solar arts. The event is co-sponsored by Arizona State Parks. The event runs 10:00 a.m. - Sunset. More information...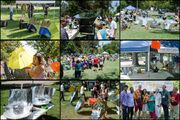 Saturday, July 18, 2015: (Sacramento) The 2nd annual Sacramento Solar Cooking Festival will be held once again in William Land Park from 10 a.m. - 3 p.m. The event is free and open to the public. Solar chefs interested in cooking at the festival are required to pre-register, which will begin in May, 2015. Attend mini solar-cooking classes, learn how solar cooking helps families around the world, and learn how to make a solar cooker yourself. Video of the 2014 festival can be seen at: Sacramento Solar Cooking Festival 2014
April 2015: (Dodgeville) An exhibition of Solar Energy Architectonics by Joel Goodman is scheduled at the Iowa County Courthouse (both floor levels), in Dodgeville, Wisconsin, USA for the month of April. Drawings and model photographs will be presented including: the BIETR (building interior evacuated tubes and reflectors) project, building integrated nonimaging reflector troughs (interior and exterior), thru-wall solar cookers, heliostats (2-axis tracking and 1-axis tracking linear Fresnel systems), spherical reflector segment bowls, and thermal storage.
See also