Deutsch, Español, Français, Hausa, Igbo, Indonesian, Italiano, Kiswahili, Kreyòl, Malagasy, Melayu, Português, Русский, Soomaaliga, Tagalog, Việt, Türkçe, Yorùbá, Ελληνικά, தமிழ், नेपाली, 中文, اردو, 한국어, 日本語, العربية, فارسی, עִברִית, हिन्दी, ไทย, বাংলা, తెలుగు, ગુજરાતી, ລາວ, ਪੰਜਾਬੀ, සිංහල, پښتو

This page lists events related to solar cooking throughout the world. To add your event to this page, email event information to webmaster@solarcooking.org.
Online
October 3 - November 13, 2016: Appropriate Technology for the Developing World - Are you interested in international development, humanitarian work, or helping others with renewable energy internationally? If you answered yes, this course, put on by Solar Energy International is for you! The first section of this course surveys technologies that aim to improve people's access to basic human needs: water and sanitation, food processing and cooking technologies, biomass, rural electrification, and appropriate building techniques. The second section of the class focuses on project development and implementation. Throughout this course the focus is on the community- their needs, how to guide decision makers to understand the benefits of different technologies, and how to learn from the community. Working with a community will ensure the success of an appropriate technology project. Register here...
August 5-7, 2016: Spitak Solar Cooking Festival - Guests will be able to stay for free at the Center in Spitak (donation are appreciated). The guests will need to pay for their own food. Spitak is 100 km. North of the capital Yerevan. Bus transport is available. For more information write vaskenconsulting@aol.com.

NEW: 

November 10-12, 2016: (Qingdao) The Solar Energy Forum-2016 is the first to take place in China. Organizers hope to have over 100 oral presentations in the field of solar energy. Those interested in presenting about solar cooking will be included in Session 4- Smart Solar Applications and Services, and should not delay in contacting organizers. The forum is intended to provide a platform for professionals around the world to exchange state-of-the-art research and development and identify research needs and opportunities in this emerging field. More information...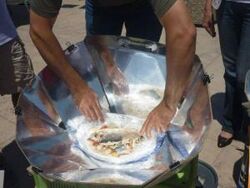 NEW: 

Sunday, June 12, 2016: (Limassol sea wall open theater): The Diamond Solar Cooking Show is a public event where we show citizens how anyone can use the heat of the sun as a simple and effective way to cook food, distill water or dry fruit. During the cooking time, we will have the opportunity to explain to people why sustainable energy is important and to help them discover the transition to secure, clean and efficient energy. At the end of the event, everyone can taste the food that we cooked. On the event site, we will also set up a kids' workshop in order to teach them how to create a solar cooker using mirror paper. The event takes place from 9:00 - 13:00 and the participation cost is €2 per person. More info...
January 16-22, 2017: (Vadodara, Gujarat) Solar Cookers International is organizing the next solar cooking conference to take place at the Muni Seva Ashram in Goraj (near Vadodara), Gujarat, India from 16-22 January, 2017. Topics to be addressed include: solar cooking, solar food processing, energy policy, marketing & scaling up, coalition building & entrepreneurship, and solar thermal industrial applications. Applications for abstracts are still being accepted on these topics and others. See a complete list of topics and submittal information.
June 7-10, 2016: (Florence): The 16th IEEE International Conference on Environment and Electrical Engineering is an international forum for the exchange of ideas and information on energy systems, taking place next summer in Italy. Delegates make presentations and discuss various issues, including clean and renewable energy solutions, for protection of our environment. Originally, authors were invited to submit original papers by January 31, 2016. Due to numerous requests, the manuscript submission deadline has been extended to February 15, 2016. More information...
NEW: 

October 5-7, 2016: (Capri) AEIT 2016 International Annual Conference: Sustainable Development in the Mediterranean Area, Energy and ICT Networks of the Future. The energy conference, with a broad range of topics, will focus on issues relevant to the Mediterranean region. More information...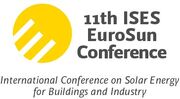 October 11-14, 2016 (Palma, Mallorca): 11th ISES EuroSun Conference - The International Conference on Solar Energy for Buildings and Industry is being organized by the International Solar Energy Society (ISES) , Asociación Espanola de Energia Solar (AEDES), and the University of the Balearic Islands. The conference "will be a unique platform to discuss the latest developments with leading solar energy specialists as well as policy makers and industry representatives. The congress will host topic sessions, keynote speakers, plenary sessions and open discussion forums, as well as social events where you will have the opportunity to network, to meet old friends and to make new contacts."
   Conference topics include:

Solar Architecture and Net Zero Energy Buildings
Solar Heat for Industrial Processes.
Solar Thermal Systems: Domestic Hot Water, Space Heating and Cooling
Solar Assisted District Heating and Cooling and Large Scale Applications
Testing & Certification
Solar Thermal Collectors and Solar Loop Components
PV and PVT systems for buildings and industry
Solar Resource and Energy Meteorology
Renewable Energy Strategies and Policies

Wolfgang Scheffler will make a keynote presentation on using solar thermal energy for steam generation. Registration is open until July 10, 2016. More information...
Saturday, June 11, 2016: (Cordova) Solar cooking allows you to cook your food while saving time, energy and money—plus it's fun! Gain an understanding of how solar cooking works and the pros and cons of a number of different types of cookers. We will discuss how and when to use your solar cooker and provide recipes that lead to successful meals. Try solar-cooked foods and learn about how solar cookers are helping change lives in many parts of the world. Price: $40. More information...
NEW: 

Sunday, June 19, 2016: (Jasonville): The Indiana Department of Natural Resources has organized an introductory solar cooking gathering at Shakamak State Park. It will take place at the nature center from noon until 1pm. Pre-register at the Park Office, limit of fifteen people. More information...
See also