Manufacturers and vendors
Category page | Redirected from Buy
Talk

0
Deutsch, Español, Ελληνικά, Français, Hausa, Igbo, Indonesian, Italiano, Kiswahili, Kreyòl, Malagasy, Melayu, Português, Русский, Soomaaliga, Tagalog, Việt, Türkçe, Yorùbá, தமிழ், नेपाली, 中文, اردو, 한국어, 日本語, العربية, فارسی, עִברִית, हिन्दी, ไทย, বাংলা, తెలుగు, ગુજરાતી, ລາວ, ਪੰਜਾਬੀ, සිංහල, پښتو
Last updated:
12 January 2017
A wide variety of solar cookers are available from manufacturers and vendors around the world. While some designs are easy to build yourself with inexpensive materials (See: solar cooker plans). Cookers that are available commercially can offer convenience, and are typically constructed from durable materials. Basically, cookers can be divided into three groups: Box, Panel, Parabolic. The table below lists strengths and weaknesses of the most common types. Determine which type of cooker might best suit your requirements. It is always best to buy a cooker from a local source since shipping costs can be very expensive.
Below you will find a gallery of some featured manufacturers and vendors followed by a complete list of such. To see Manufacturers and vendors by country, first choose a country.
To be added to this list, write to webmaster@solarcooking.org or follow these directions to include an article about your company.
Choosing a cooker
 

Advantages
Disadvantages
General characteristics

Inexpensive
Many models are collapsible for easy transport and storage
Can be used to bake breads and cakes

Achieves lower temperatures
Can't fry foods
Cooks only 1-2 pots of food
 

Advantages
Disadvantages
General characteristics

Can cook multiple pots simultaneously
Can be built from many different materials
Can cook large quantities of food
Don't have to be turned to follow the sun while cooking
Can be used to bake breads and cakes

Can't fry foods
Simple box cookers can lack adequate reflector area.
The box may shade the cookpot when the sun is lower in the sky. Manufactured box cookers often have a mechanism to tilt the glazing forward, while maintaining a flat cooking tray.
 

Advantages
Disadvantages
General characteristics

Cook as fast as a conventional electric burner
Can fry foods

More expensive than other models
Can blow over in the wind
Requires periodic realignment to the sun.
Bread baking requires dutch oven
Can damage eyes.
Solar Cookers for sale by country
North America
Canada
Mexico
USA
Buy from Solar Cookers International
Box, Panel, and Parabolic solar cookers are available through Solar Cookers International, the sponsor of this wiki, from their online ordering site: Solar Cookers International Marketplace. Proceeds help fund the many projects SCI is involved with around the world promoting solar cooking and water purification. Particularly in areas facing deforestation, and where smoke inhalation from traditional wood burning stoves is a serious health problem. The available solar cookers are listed below. See their site for a complete listing of accessories.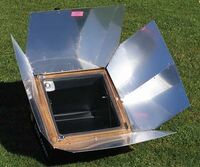 A high performance solar box cooker, the All American Sun Oven is made of durable molded fiberglass and kiln-dried hardwood for years of use. Anodized aluminum reflectors come with 15-year warranty not to rust. Reaches temperatures in the mid- to upper-300ºFs. Weighs 21 pounds and features a convenient carrying handle. Includes oven thermometer.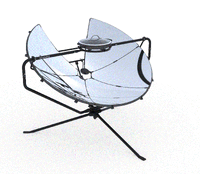 SolSource is a high-performance parabolic solar cooker that harnesses the energy of the sun for outdoor cooking. Perfect for your garden, balcony, backyard or rooftop, it is an innovative way to BBQ, grill, steam, bake, boil or fry. Inspired by the problem of indoor pollution from household stoves faced by rural families in China, SolSource is the first of a growing range of products from One Earth Designs.
The HotPot is a versatile solar cooker, good for use at RV parks, on the boat, in the backyard, emergency or disaster preparedness, and regular use. Reflectors are made of polished aluminum. The 3 liter (~3 qt.) steel cooking bowl is coated with UV absorbent food grade enamel and comes with a glass lid. Panels can be easily folded for storage. Cooking temperature ranges up to 250°F (120°C).
The durable Solavore Sport solar oven, with accessory package, comes complete with everything you need for solar cooking. You simply add the food and the sunshine. The large-capacity oven provides full sun exposure to two 3.4 Qt (3.2 L) pots. Each Sport always includes accessories of (a value of $35+ included in the purchase price).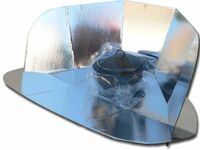 Elegant and deceptively simple looking, the CooKit is an affordable, effective and convenient solar cooker. With a few hours of sunshine, the CooKit makes tasty meals for 5-6 people at gentle temperatures, cooking food and preserving nutrients without burning or drying out.
The Haines Solar Cooker is a panel cooker that can be collapsed easily for transport. The curved shape focuses more light directly on the pot for better efficiency. A polycarbonate sleeve can be placed around a cook pot with a clear top, to eliminate the need for the cooking bag enclosure approach.
Other USA manufacturers and vendors
Asia
China
China featured gallery
India
India featured gallery
Philippines
Philippines featured gallery
Vietnam
Vietnam featured gallery
Australia
Australia featured gallery
Europe
Belgium
Belgium featured gallery
Cyprus
Cyprus featured gallery
France
France featured gallery
Germany
Germany featured gallery
Italy
Portugal
Portugal featured gallery
Spain
Spain featured gallery
Switzerland
Switzerland featured gallery
United Kingdom
United Kingdom featured gallery
Africa
Kenya
Kenya featured gallery
South Africa
South Africa featured gallery
Tanzania
Uganda
Uganda featured gallery
Other continents and countries not featured above
Pages in category "Manufacturers and vendors"
The following 168 pages are in this category, out of 168 total.
A

B

C

D

E

F

G

H

H cont.

I

J

K

L

M

N

O

P

Q

R

S

S cont.

T

U

V

Y

邢

青
Ad blocker interference detected!
Wikia is a free-to-use site that makes money from advertising. We have a modified experience for viewers using ad blockers

Wikia is not accessible if you've made further modifications. Remove the custom ad blocker rule(s) and the page will load as expected.