Last edited:
21 June 2016
Events
International conferences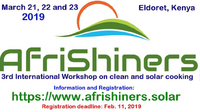 NEW: 

21-23 March 2019: AfriShiners - The AfriShiners 3rd International Workshop is taking place in Eldoret, Kenya. (Unfortunately, registration is full for this event). More information...
See also: Global Calendar of Events and past events in Bulgaria
News
June 2016: It is now possible to rent a solar cooker in Bulgaria and have the rental amount apply toward the purchase price if desired: http://hosasolar.bg (English version)
November 2015: Holger Sauer demonstrated in the town of Kocherinovo, Bulgaria, at 10 degrees on 23 November that solar cookers can be used year-round - 700 g potatoes were cooked in 1 liter of water in 25 minutes.

Video
History
Archived articles
Climate and culture
See also
Resources
Possible funders
Reports
Articles in the media
Web pages
Contacts
SCI Associates
NGOs
Government agencies
Manufacturers and vendors
Individuals
Government agencies
Educational institutions
See also
References