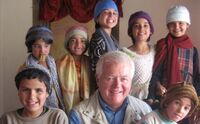 Budd Mackenzie operates the nonprofit Trust in Education, that promotes village-to-village programs and builds schools in Afghanistan. In 2010 they also began to ship a few solar oven kits to the area. The kits were prefabricated by Jack Howell, a long time advocate of solar cooking, and fellow resident of Lafayette, CA, USA.
News and recent developments
September 2010: An initial shipment of five solar cookers have been sent to Afghanistan.
See also
Contact
Budd Mackenzie
Trust In Education
PO Box 936
Lafayette, California 94549
USA
Tel. +1 (925) 299-2010